Shaheen, Ayotte team up on export promotion effort
Bill would expand U.S. outreach efforts to small businesses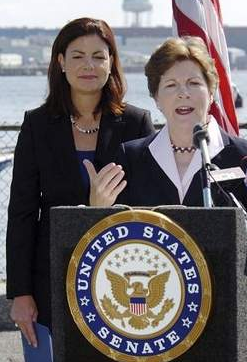 New Hampshire's two U.S. senators, Democrat Jeanne Shaheen and Republican Kelly Ayotte, have reintroduced a bill that would streamline the promotion of federal and state resources for small business exports.
The Small Business Export Growth Act was originally crafted in response to industry feedback from a 2011 Senate Small Business Committee field hearing and introduced by Shaheen and Ayotte in 2012.
The focus of the bill is to improve the coordination between federal and state agencies and expand outreach efforts to promote federal resources and opportunities for businesses.
The bill stresses consolidation of government offices, where necessary, which would be identified by a new working group within the Trade Promotion Coordinating Committee, a federal interagency that is chaired by the Commerce Department but has members from multiple federal departments and agencies.
The bill also would require the TPCC to incorporate recommendations from the Government Accountability Office, many of which are referred to in the bill, such as the need for consolidation and greater outreach by the Small Business Administration.
In June 2014, GAO released a report that criticized TPCC for failing to follow key collaboration practices that include "articulating common outcomes; agreeing on roles and responsibilities; monitoring, evaluating, and reporting on results; and coordinating resource planning."
GAO also stated it "found weakness" in the implementation of Export Outreach Teams, a TPCC initiative, in part because SBA was not fully monitoring its 68 district offices.
And the investigative arm of Congress discovered the Department of Commerce had no means to monitor the results of an initiative between TPCC and the Brookings Institution to encourage export promotion in metropolitan areas.
"Exporting represents a tremendous opportunity for small businesses in New Hampshire," said Shaheen in a recent press release. "If we make it easier for small businesses to reach foreign markets, we can help them expand, create jobs and grow our economy as a whole. This bipartisan bill builds on recommendations from New Hampshire small businesses to improve federal export assistance programs and further help small businesses sell their products overseas. It's a bill that will produce real results and we ought to act on it quickly."
Similarly, Ayotte praised the bill.
"New Hampshire small businesses can grow and create more jobs by exporting goods and services overseas, and our bipartisan legislation would improve coordination between regulatory agencies and reduce obstacles faced by small businesses seeking to boost export opportunities," said Ayotte. "This is a common-sense measure that will help small business owners better navigate the complexities of exporting their products so they can better compete in the global marketplace."
Shaheen supported a similar, but separate, export measure that passed in December in the 2015 appropriations bill. The measure sets aside $17.4 million for the State Trade and Export Promotion (STEP) program, up from $8 million in fiscal year 2014. The program would have expired this year without new funding.
In a press release issued by Shaheen's office, it said STEP has supported over $900 million in U.S. small business exports, producing a return-on-investment of 15 to 1 for taxpayers.
New Hampshire businesses exported $4.3 billion in goods and services in 2013.