Sequoya Technologies' energetic idea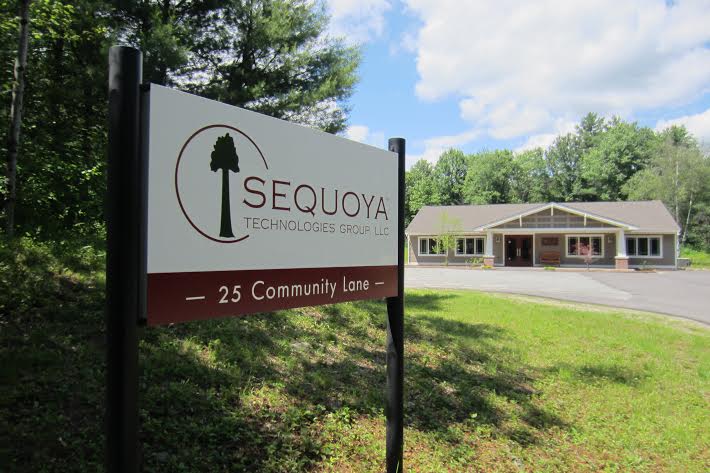 Sequoya Technologies Group is redirecting its energy toward sustainability in more ways than one.
The Peterborough-based IT services and software design firm has been taking the heat generated by its large server and redirecting it to other parts of the 2,200-square-foot office during the winter months.
By installing a simple system in the attic that includes an insulated vent pipe and fan, the heat is moved from the server room and pumped out into the front foyer of the office building. Though the company still needs to use propane heat, much less is needed – only $675 over a 12-month period.
"This is a very rudimentary design that just involved regular plumbing parts," said Debra Strickland, co-owner and finance and HR director of the firm. "I don't know if this system would scale up for companies with offices bigger than ours, but for us, it works fine. It works beautifully."
According to Strickland, in total, the company was able to make back the $750 spent on the project within a matter of months – a speed that surprised them considering the size of Sequoya's space.
The firm also has been experimenting with the fan and vent in the summer months.
"The AC unit in our server room is twice as efficient as the typical window unit," Strickland said. "This summer, we're experiment with using the system by piping the cold air out of the summer room. The jury's still out on whether or not that works, though."
Before installing the heating system, Strickland said, the company had already begun to work on a "human level outreach program."
Called Sequoya Seeds, the pay-it-forward program allows the firm's for-profit clients to donate a percentage of what they spend on Sequoya's services to nonprofits of their choice to be redeemed for their Sequoya services.
Strickland said the firm is just "barely dipping our toes" into everything they could be doing to give back and is looking forward to designing employee community volunteering outings in the future.
"It's hard to talk about your business without sounding like you're bragging. But after making a donation [like with our Sequoya Seeds program], they're happy to talk about you, for you," she said. "Moreover, it's just part of what it means to live in New Hampshire, where community values are so involved. It hits all the right buttons for us."
The "Just One Thing" Campaign is an 18-month effort put on by the New Hampshire Businesses for Social Responsibility. Its purpose is to challenge businesses to consider incorporating a sustainability initiative into their operations. Companies can celebrate their achievements and inspire others by sharing their stories on the campaign's webpage. To submit your story or read others, go to www.nhbsr.org/jot.
Correction: A previous version of this story was incorrect when it stated that Sequoya Technologies was based in Concord and its space was 22,000 square feet. The firm is based in Peterborough and the building is 2,200 square feet.