Senate measure would tie municipal hands on Airbnb rules
Inspections would be made more difficult under last-minute amendment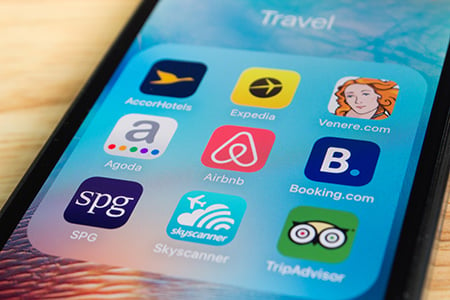 It would be a lot harder for municipalities to inspect vacation and short-term rentals, like Airbnb, under a last-minute amendment attached to House Bill 654, which was approved May 18 by the NH Senate.
Under the measure – which also establishes a committee to study regulation and taxation of vacation and short-term rentals – only if the municipality can get a court order showing that it has probable cause that the dwelling is "unfit for human habitation" can such inspections be made without the owner's permission.
"It distinguishes legitimate concerns from underground accusations," said Sen. Lou D'Allesandro, D-Manchester, in explaining the unanimous recommendation by the Senate Ways and Means Committee to tack on the amendment.
The amended bill also forbids a municipality from demanding a certificate of occupancy and defines a vacation or short-term rental as "any individually or collectively owned single-family house or dwelling unit or any unit or group of units in a condominium, cooperative, or owner-occupied residential home, that is offered for a fee and for less than 30 consecutive days."
The bill does make clear that the unit can't be for non-residential use, such as for retail, restaurant, banquets or events.
Sen. Martha Fuller Clark, D-Portsmouth strongly objected to the amendment on both procedural grounds – since the amendment didn't have a public hearing – and because "'unfit for habitation' will set a standard so high that the communities' hands are tied."
She also objected to including a definition of a vacation rental, since she said it should be one of the things a study committee would grapple with.
'At the 11th hour'
Online services like Airbnb enable people to rent property on a short-term basis. Although it started out with people renting out an extra room in their residence, it is increasingly being used to rent out unoccupied standalone apartments and sometimes whole buildings.
"If you have someone next to you renting every weekend, at what point does it turn into a business?" said Clark, noting that such Airbnb often competes with regular bed and breakfasts, inns and hotels.
But they are also private residences, and sometimes only rented out sporadically, argued Sen. Andy Sanborn, R-Bedford.
"When a friend comes to visit, it doesn't make it condemnable," said Sen. Andy Sanborn, R-Bedford, who said he was worried about the "heavy hand of enforcement" coming down on a single-family residence. "People have a right to invite others to stay in their homes."
Clark argued that the standard should be different when the unit is regularly rented out to paying guests. Clark sought to re-refer the bill, a motion that fell, 11-9, before the Senate amended the measure on a 15-7 vote and then passed the amended bill.
The House still has to accept the changes if the bill is to become law.
The amendment came as surprise to the NH Lodging and Restaurant Association, which was mainly hoping that the study committee would clarify that short-term rentals pay their fair share of the rooms and meals tax.
"I'm not sure why they are doing this at the 11th hour," said Mike Somers, president of the NHLRA. "If they really wanted to take this on, why wouldn't this be part of the study? This seemed like an easy piece. What has been proposed is now much more complicated than that."