Sen. Shaheen adds small business amendments to defense bill
Provisions encourage business relations between small firms and the federal government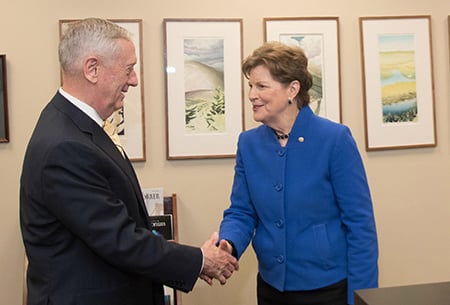 Within the annual defense bill that unanimously cleared the Senate Armed Services Committee last week are four provisions introduced by Sen. Shaheen to make it easier for small businesses to be awarded defense contracts.
Shaheen, who is ranking member on the committee, made the provisions based on her interactions with New Hampshire businesses regarding the HUBZone program, cybersecurity requirements, selling to military exchanges and the Small Business Innovation Research program.
One provision includes Shaheen's legislation, the Invest in Rural Small Business Act, which expands eligibility requirements to increase the pool of rural small businesses that qualify for the Small Business Administration's Historically Underutilized Business Zone program, also referred to as HUBZone.
While the law requires 3 percent of government contracts to be awarded annually to HUBZone firms, only 1.67 percent of federal contracting dollars were awarded to these businesses in 2016, according to the Senate Armed Services Committee.
Shaheen introduced the legislation in April after being contacted by Claremont-based Costa Precision Manufacturing, regarding difficulty qualifying for the HUBZone program. After Shaheen's intervention, Costa Precision became the state's only manufacturing company to be certified a HUBZone business.
Another amendment was added after Milpower Source, a small aerospace and defense contractor in Belmont told Shaheen the Department of Defense was not providing adequate information on how to comply with the Pentagon's new cybersecurity rules. Shaheen's amendment directs DOD to provide more outreach and low-cost cybersecurity assistance, through universities and other organizations, to small businesses handling military technology on non-federal information systems. (Last week, Patricia Toth, supervisory computer scientist at the National Institute of Standards and Technology, spoke about these requirements.)
Shaheen has also added a provision to encourage military retail stores, including the Army & Air Force Exchange Service, on 3,100 U.S. Army and Air Force installations worldwide to select more small business suppliers for its convenience and department stores. Shaheen added the language and contacted DOD after learning that Smoky Quartz Distillery in Seabrook was unable to get AAFES to add its products, despite Smoky Quartz being a veteran-owned small business.
And lastly, Shaheen added a provision to streamline the process to buy small business technology developed by the Small Business Innovation Research Program, which encourages small businesses to engage in federal research and development that has commercialization potential. According to Shaheen's office, the amendment will make it easier for federal agencies to buy technology developed by the innovation small businesses through the SBIR program. New Hampshire companies Hanover-based Creare, Subsurface Insights in Hanover and Ground Energy Support in Durham recently received Department of Energy SBIR awards.
"Small businesses not only form the backbone of our economy, but also play a vital role in helping our military meet its mission and defend our nation," said Shaheen in a press release. "Enhancing the ability of small businesses to compete for business is a win-win—supporting job creation and providing value for defense agencies. I am pleased this legislation includes my provisions to boost the small businesses that are critical to the defense industrial base."