Seasoning mix creator's plans as big as all outdoors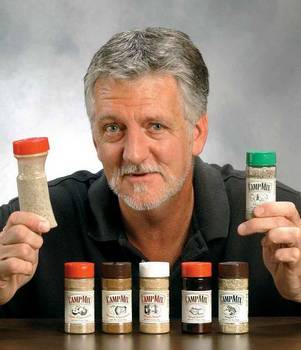 Stashed in a box somewhere in Tom Trayer's kitchen is an aged, melted plastic bottle bearing the remnants of a concoction of spices he mixed together 24 years ago to save space on a family camping trip.
The faded bottle, warped from the heat of Trayer's grill and well past its useful life, remains as a reminder of the beginnings of Camp Mix, the business Trayer launched 14 years later in response to the urging of friends and family who made his mix of grill seasonings a fixture at their own barbeques following that fateful camping trip.
Today, the original Camp Mix — a four-ounce blend of garlic, salt, onion, black and white pepper and celery salt — can be found on the spice racks and by the grills of a growing number of fans throughout New England.
Available throughout New England at meat shops, year-round farmstands, country stores, specialty food shops, online and through the outdoor catalog business Orvis, Camp Mix offers grill masters and home cooks flavorful consistency and ease when it comes to seasoning their creations.
"People just really love the flavor and the ease of use," said Trayer, owner of the family operation now headquartered in Londonderry. "We like to say Camp Mix is 'All in one, all purpose, all the time.'"
Staying true to that motto, Trayer has developed an entire line of Camp Mix seasonings – designed to carry users right through an entire day – culinarily speaking.
According to Trayer, Honey-Cinnamon, Maple Sugar and Apple Cinnamon Camp Mixes add a taste of New England to early morning bagels, toast, pancakes and cereals.
Spud Fixin' Camp Mix — created as a flavorful addition for potatoes — introduces a hint of onion, garlic, salt and paprika to soups, salads and even popcorn.
The lemony tang of Angler's Camp Mix makes seasoning the day's catch easy, and the original Camp Mix, with its simple pen-and-ink sketch of a tent Trayer slept in as a child when camping along the shores of Lake George, has been used by Trayer and other Camp Mix fans to flavor everything from meat and poultry to corn on the cob and Bloody Marys.
"Everything you need is in one bottle," said Trayer. "It just makes things easier."
Word of mouth
Trayer's growing success is indicative of the welcome the all-in-one seasoning has received in the kitchens, backyards and campsites throughout New England.
"I love the stuff," said Gregg Little, a New Boston contractor who takes over the family cooking duties during grilling season. "The funny thing is I have all kinds of spices in my cabinet, but this is so much easier and it's the same every time I use it. It takes the guesswork out of putting a great dinner together."
While Trayer declines to give exact sales numbers, he does say demands for Camp Mix "gets bigger every year."
"I think the best way to put it is we sell tens and tens and tens of thousands of units every year," Trayer said.
The growing success of Camp Mix has been driven by word-of-mouth, according to Trayer, who admits to giving away as much Camp Mix as he sells. He does so, however, believing that each person who tries the product becomes not only a customer, but a sales associate of sorts – talking Camp Mix up to friends and family members.
Trayer's willingness to lend a hand to nonprofits has proven to be another win-win situation. Originally approached by a Kingston woman hoping to sell Camp Mix to raise funds for a high school yearbook, Trayer now works with local Scout troops, providing the kids with a viable money-making product while introducing Camp Mix to a whole new market of customers.
"It really speaks for itself," said Trayer, a former manufacturing and materials manager for Digital Equipment Corp. who enjoys a softer approach to marketing. "I walk in and say, 'How many people do you have working here?' I give them a bottle for each employee and my card. By the time I'm done I have a bunch of new salespeople."
Realizing even he has limits, however, Trayer does enlist the services of four distributors who introduce Camp Mix products throughout the region.
Trayer also introduced a Web site, campmix.com, as a convenience to customers who have tried Camp Mix while visiting New England but are unable to find it in their hometown.
Not one to miss an introduction opportunity, Trayer includes one free bottle of Camp Mix with each Web site order (a six-bottle minimum), asking that it be passed on to someone new.
Trayer also is a member of New Hampshire Made and lists his products in the New Hampshire Made Products and Services Directory.
On-the-job training
The decision to maintain a soft marketing campaign was easy for Trayer who would rather focus his efforts on product development.
Other company decisions however – starting with its 1996 inception — weren't so easy.
Trayer hadn't given much thought to starting a business, but when time and opportunity presented itself following the downsizing of Digital in the early 1990s, Trayer decided to pursue the entrepreneurial possibilities friends and family believed were hidden within his all-in-one seasoning.
"I didn't set out to do this," Trayer said. "People kept telling me I had to or I should."
Today, still virtually a "one-man-show," Trayer divides his busy workweek between production, filling orders and marketing. A student of on-the-job training, Trayer said he's had to learn as he goes.
"I knew nothing about any of this. Nothing about trademarks, start-up costs, packaging," Trayer said. "There is no template or instruction booklet for starting a business."
Over time, however, Trayer has learned what he's needed to know to move Camp Mix forward and is now looking toward a promising, flavorful future.
The near limitless combinations of seasoning blends and changing culinary trends present Trayer with plenty of Camp Mix possibilities.
Realizing camping isn't the only way to enjoy the great outdoors, Trayer is considering introducing his products to those who enjoy mixing great food with other pursuits — perhaps tailgating or boating.
Trayer believes the additional product lines he is considering have the potential to bring in "at least $100 million in annual sales."
"We have been working on one particular brand name for a few years now. One thing we know is that this concept is simply too big for us to do it," Trayer said. "What we've created needs to be handled by one of the major food companies. We just want to partner with someone who can take what we have created and get it on every shelf of every supermarket in America."