Seacoast towns contemplate climate change
Coastal communities consider potential damage to property, economy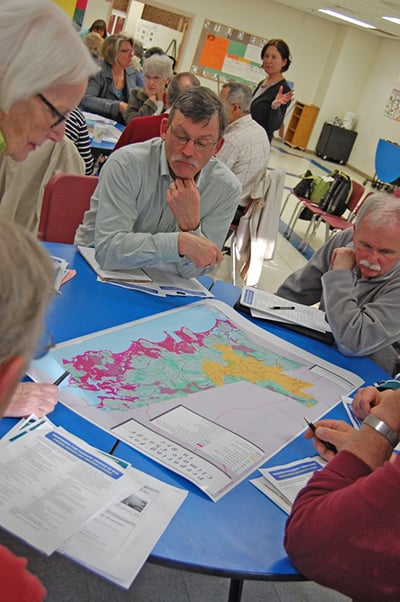 In the same way they meet to make decisions about building a new school or buying a fire truck, leaders and residents of New Hampshire coastal communities have placed climate change on their agendas, working with experts and examining data that describe how past and projected changes in climate affect the places where they live, work and play.
Communities from Seabrook to Portsmouth have held conversations to identify and implement measures to protect local values now and into the future, and preparing for events such as increased flooding of municipal, residential, and tourism areas and disruptions to businesses and local economies.
In the last 10 years, New Hampshire has submitted 12 "major disaster declarations" to the Federal Emergency Management Agency to recover millions of dollars in damages from severe storms.
Local decision-makers are using a new type of information that has made it possible to have scientifically based discussions about the relevance of climate change to their towns and cities. Regional climate assessments for northern, southern and coastal New Hampshire, available from the University of New Hampshire, are being used at the local and state levels to describe how the climate has changed and how it will likely change in the future, including increases in extreme precipitation events, higher flood risk and rising sea levels.
Community Rating System
Communities also are using data gathered locally — such as local knowledge about impact from recent storm events — to prepare for further climate change.
For example, Rye held a series of workshops last summer. "In Rye, it is not an option to ignore the effects of the changing climate," said Kim Reed, town planning and zoning administrator. "If we don't do anything, it may hurt the community." Residents stated their concerns over recent flooding to coastal roads and the impact of sea-level rise to coastal infrastructure.
Rye is now seeking to enroll in the Community Rating System, a FEMA program that rewards communities for reducing flood risk by incentivizing floodplain management activities that go beyond the minimum standards set forth by the National Flood Insurance Program, or NFIP.
Rewards are received by NFIP policyholders in those communities in the form of reduced flood insurance premiums, in some cases by up to 45 percent. Nearly 3.8 million policyholders in 1,296 communities participate in CRS, according to FEMA. Other communities in New Hampshire have their eyes on this program, too.
Hampton, Hampton Falls and Seabrook, through the Seabrook-Hamptons Estuary Alliance, also hosted a series of community conversations about climate change last summer.
In a 2012 study, the towns received assistance to use an economic impact model to understand potential damage from storm surge and sea-level rise.
Under a conservative scenario, Seabrook could see as much as $40.4 million in cumulative damages to critical public assets by 2050. In Hampton, those estimates reached $82.7 million. (The report is available online from Catalysis Adaptation Partners.)
As the towns considered enrolling in FEMA's Community Rating System, they discussed creating a uniform building code to streamline participation in the program and to enhance resiliency across the three towns. Given the state's extent of regulatory activity with wetlands and state infrastructure in the communities, the towns also identified strong coordination with state entities as a key action item.
Outreach in Dover
In the city of Dover, residents, city staff members, officials, businesses and students gathered over the winter to have similar conversations to identify what steps they can take to prepare for climate change.
"Dover has recognized that planning for the future should include an awareness of how climate change could affect property owners and various city services and facilities," said City Planner Steve Bird.
Dover has already conducted outreach to residents in and adjacent to the floodplain, an activity that will earn the city points in the Community Rating System. These efforts build on a 2012-14 effort in which the city engaged with more than 125 residents in role-play planning simulations about climate change.
Many of these community efforts have been made possible by funding from state and federal sources, including the NH Department of Environmental Services, the NH Coastal Program and the National Oceanic & Atmospheric Administration.
Chris Keeley is communities and climate program coordinator at New Hampshire Sea Grant and University of New Hampshire Cooperative Extension. This article is part of a collaboration between UNH Cooperative Extension and NH Business Review.