SCORE-ing points
Organization provides essential advice and assistance to NH entrepreneurs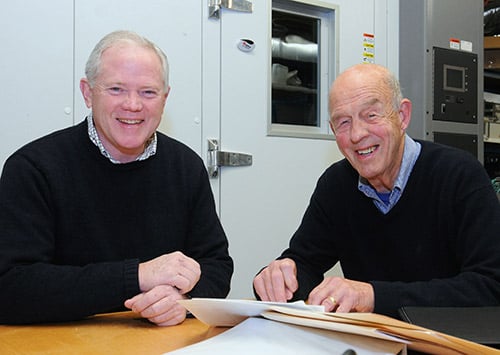 Recently retired, Richard Chappel was vacuuming his house in Rhode Island with a newly purchased Dyson DC25 when he encountered a problem.
"I soon realized that I was unable to stretch the hose to any more than four or five feet without the vacuum either rolling around banging into things or tipping over," said Chappel.
A phone call to Dyson led to a new hose with instructions to wrap it around the vacuum to help it relax, but the same result occurred.
That's when Chappel decided to develop the Vac Stop — a four-ounce polyvinyl chloride stand that attaches underneath the bottom clip around which a vacuum's power cord is typically wrapped. With the Vac Stop, the hose extends up to nine feet, he said.
"It will take care of every ball-type vacuum," said Chappel who has also tested it on the Dyson DC65 and Hoover WindTunnel. "It works out perfectly. It was almost like it was made for it."
After obtaining a patent, Chappel approached Dyson, but was told the company is working on its own solution. Dreaming of moving back to New Hampshire — where he and his wife had lived in Milford for a few years — Chappel then drove up from Warwick, R.I., for an appointment with Dick Kuhl at the Merrimack Valley SCORE office in Manchester.
Kuhl, a retired business executive with experience marketing for Fortune 500 companies such as Procter & Gamble and serving in management roles for Velcro and its subsidiaries, joined SCORE 15 years ago as a volunteer.
SCORE is mainly run by retirees, sharing their business expertise with aspiring or current entrepreneurs. The Merrimack Valley SCORE chapter — which is celebrating its 50th anniversary this year — is one of six in the state and among 350 chapters around the country, all chartered by the U.S. Small Business Administration.
Richard Chappel poses with the Vac Stop — a four-ounce polyvinyl chloride stand he invented — which allows one to use the full extension of the hose. (Courtesy photo)
"If anyone thinks they need help, they should find SCORE pretty easily," says Kuhl. "Many people think they know [how to be an entrepreneur], thinking it's simple and they'll do it themselves. Sometimes they can and sometimes they can't. Our business is not to encourage them to go ahead at all costs, but to encourage them and point out obstacles. Whatever they do, we stand ready to help them."
Potential market
Kuhl presented Chappel with two possibilities: selling the Vac Stop online or finding ways to get value out of the patent, which Dyson may attempt to circumvent and end up contacting Chappel to buy outright.
Chappel had hoped to sell the product as an accessory in a retail store like Costco, but Kuhl — who visited a few vacuum retailers — explained retailers only purchase products through wholesale distributors.
"You can't go into Walmart and say, 'I have this one product. Will you buy it?'" said Kuhl. "Big companies don't want a one-off product vendor. It costs them money. They buy some things direct, but other things they have a distributor who will buy products and ship them to a store."
Kuhl was also concerned about whether there is enough demand for Chappell's product. Chappell had found a couple of hundred customer complaints online, but that is not a good national sample for a retailer, said Kuhl.
"I don't know that there is a sufficiently broad enough market for this to be a business of any size, but it could be something done on social media, done from his house. And who knows? He could make a few bucks that way on an ongoing basis perhaps," said Kuhl.
MacGrath in the anechoic chamber, which is designed to absorb outside electromagnetic waves in order to determine what signals are emitted from the product. (Jodie Andruskevich)
Essential advice
There is no limit to the amount of time one individual can spend with a SCORE counselor.
In fact, Kuhl has worked with one client for about eight years.
He was the second counselor assigned to Ken MacGrath, a compliance engineer who started up his own electromagnetic compliance testing facility — Core Compliance Testing Solutions — in Hudson.
"I went to the Small Business Administration, and I told them what my plans were and asked if they had anyone who would be willing to help me. The person I spoke to said, 'Yeah, we could help you, but you may be better served by a SCORE counselor,'" said MacGrath.
At the time, MacGrath was constructing his test facility. With the help of his brothers, MacGrath disassembled a fiberglass building in Massachusetts that was then reconstructed on his family's farmland in Hudson.
"The only metal we have above the floor level are the hinges and door knob — everything else is fiberglass," said MacGrath.
It was vital that the building be constructed with a material that did not block electromagnetic interference, which Core Compliance measures to detect possible interference with electronic products.
"The radiated emissions test — that's when we're looking for how [the product] could potentially interfere with radio stations, TV, police calls," said MacGrath.
The facility also has chambers used to block outside signals, to detect electromagnetic emissions from products, which have a standard set by the Federal Communications Commission. And Core Compliance tests for radiated immunity, creating an electrical signal that is aimed at the product to determine if it is immune to radio signals from a garage door opener, remote control or cell phone.
Core Compliance has performed testing on products that include the Segway, a robotic arm and such medical devices as defibrillators and computers.
MacGrath tests radiated emissions. (Jodie Andruskevich)
Since it was during the recession when Core Compliance was starting up, MacGrath capitalized on equipment sales — a double-edged sword, since it was also potential customers who were closing down.
He was familiar with the testing, but needed guidance on setting up the business and running it.
Kuhl helped Core Compliance obtain ISO 17025 accreditation, recognition for having a specific quality system in place.
"Dick had experience with that," said MacGrath. "All the help he gave me in getting the accreditation — I don't think I'd have it without his help."
"It took us about a year or so from the time we started to institute an ISO quality system. It involved doing a quality manual that sets up policies and procedures in a number of areas, from personnel to keeping proper records to correcting mistakes when you have them and making sure you don't make the same mistakes again. Every manufacturing process is specified," said Kuhl.
Kuhl also helped MacGrath develop a flyer and create lists of potential customers.
"He kind of nudged me along to call people," said MacGrath, who said Kuhl still visits every Thursday to tend to bookkeeping and other matters.
"He's just been there," MacGrath said. "I've had people – like I wouldn't have my business if my brothers didn't help me, if I wasn't getting this equipment at such a good deal, but Dick is probably the key, above everyone else. He's probably the one who's made the biggest difference."