School buses exempted in House seat-belt bill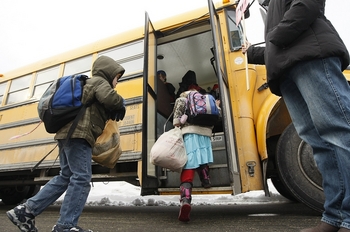 While drivers and passengers in New Hampshire could soon be required to buckle up, students riding on school buses will still be allowed to sit freely without the protection of a seat belt.
A bill making its way through the Legislature, HB 383, would make it mandatory for drivers and passengers to wear seat belts, making New Hampshire the last state to enact such a law.
The House of Representatives passed the bill last week, but it still needs to be reviewed by the House Ways and Means Committee to examine the proposed fines.
The Senate and Gov. John Lynch will also need to approve the bill for it to become law.
The bill, however, specifically excludes school buses from the seat belt mandate. Rep. Sally Kelly, D-Chichester, the prime sponsor of the bill, said that was done intentionally.
Her primary concern is with drivers and passengers of motor vehicles, not school buses, which she said statistics have shown are already extremely safe when compared with other forms of transportation."School buses are incredibly well designed for safety," Kelly said. "It's one of the safest forms of transportation."
Currently, only smaller school buses are required to have safety harnesses for students in New Hampshire. Kelly's bill would also exclude taxicabs and motor vehicles older than 1968.
Data from the National Highway Traffic Safety Administration seems to back up Kelly's claim about safety. More than 42,000 people are killed in traffic crashes on U.S. roads every year.
Every year, approximately 450,000 public school buses travel about 4.3 billion miles to transport 23.5 million children to and from school and school-related activities.
On average, every year, six school-age children die in school bus crashes as passengers, according to the data from the traffic safety administration.
Not everyone is convinced that seat belts shouldn't be required on school buses. Alan Ross, president of the National Coalition for School Bus Safety, is a staunch advocate for requiring all school buses to be outfitted with seat belts.
"The laws of physics aren't suspended because the vehicle is large and painted yellow," he said.
Ross argues that the only reason seat belts aren't required is because the school bus industry is allowed to set the standards. It's all about money, he said.
"They have all sorts of spin and misinformation to try to continue their profitable status quo," he said.
Ross said his organization's pro-seat belt position is endorsed by the American Medical Association. School bus companies spend millions of dollars lobbying against legislation requiring seat belts on school buses, he said.
Kelly said there have been lawmakers who have said they wouldn't be able to support the bill because it exempts school buses. But she believes that is being used as a red herring for those who are simply against the state imposing a mandate on seat belts.
Currently, only drivers and passengers 18 and younger are required to wear seat belts in New Hampshire. By requiring seat belt use for all, "it's protecting the family," said Kelly.
David Rauseo, director of transportation for the Nashua School District, said one of the major factors in requiring seat belts would be the cost.
"You'd have to go and retrofit all the buses, which would limit seating capacity, which would mean a third more buses," he said. "That's a huge cost."
Rauseo said it would also take time to buckle in all of the kids.
But Rauseo said he, too, firmly believes that school buses are designed to be safe forms of transportation, even without seat belts. School buses are safer than most forms of transportation because they utilize "compartmentalization," Rauseo said.
That means the seats on school buses create a protective area of closely spaced seats that absorb energy. Rauseo acknowledge that adding seat belts could increase safety, but it's not clear how much of a difference it would make.
Elaine Frank, director of the program Safe Kids New Hampshire, said her organization has not pushed for seat belts on school buses primarily there are more significant safety issues that need to be addressed with school bus travel.
Frank, who works in the injury prevention center at Dartmouth-Hitchcock Medical Center, said there's a far greater risk of injury when students are waiting at bus stops or crossing the street after getting off the bus.
"School buses are built differently than passenger vehicles," she said. "They are big and high off the ground. If they are involved in a crash, it's usually the car that suffers most of the damage."
According to the National Highway Traffic Safety Administration, pedestrian fatalities account for the highest number of school bus-related fatalities.
There are about 17 such fatalities a year, two-thirds of which involve the school bus itself and the rest involving motorists illegally passing the stopped school bus.
Frank said if the data were to show that students being injured on buses were a serious problem, she would support any changes that would help to make children safer.
That being said, Frank acknowledged that it can also be confusing when children are told they should wear seat belts in cars, but not on the school bus.
"When it's explained to kids, I think they understand there are different rules in some places," she said.
Frank said there are some communities in New Hampshire that choose to have seat belts on their school buses.
There are some states that do require seat belts on all school buses. New York was the first to adopt such measures. California, Florida, Louisiana and New Jersey also have the requirement.
Texas has passed a law that will require seat belts on school buses starting next year. Ross said there were 23 states considering similar legislation last year.
"We're making slow progress, state by state community by community," he said. "It comes up as a discussion in some communities. Many school boards choose to add seat belts."
Colorado is in the process of considering legislation that would require all school buses to be equipped with three-point shoulder and lap belts and that all passengers wear them.
School districts would have five years to add seat belts to new buses or retrofit buses purchased since 2004.
The National Highway Traffic Safety Administration's 2002 report to Congress found that the addition of lap belts did not improve occupant protection for the severe frontal impacts that were studied in the report.