SBDC's assistance can be invaluable to NH small businesses
Advisors provide advice on financing, introducing new products, business sustainability and more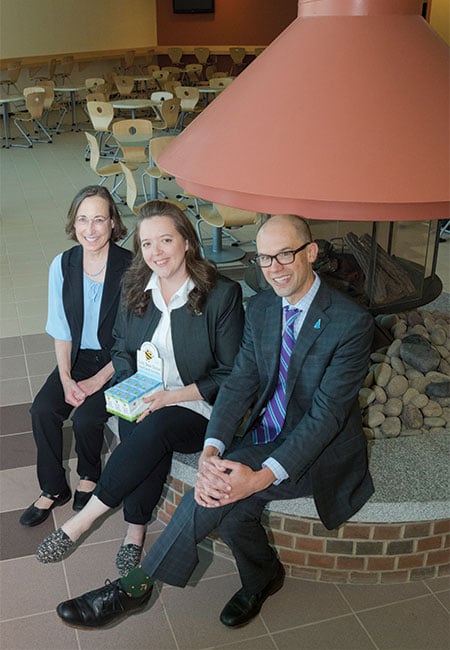 When Joyce Dales began experimenting with manuka honey to develop Cold Bee Gone — a homeopathic nasal swab remedy — she was following the procedures one would take to sell salsa, not a pharmaceutical.
"There's no 'here's how you become a pharmaceutical guide' on the [U.S. Food and Drug Administration]'s website," said Dales, who embarked on the venture with her husband Jeff. "You have to cross all the same hurdles that Merck has to; I almost gave up for three years in a row."
Fortunately, there was the assistance of Hollis McGuire, regional manager of the NH Small Business Development Center's Nashua office and certified business advisor.
For no charge, McGuire helped the couple determine what tasks to contract out and those they could handle themselves to keep costs down.
The Daleses hired an FDA compliance attorney who connected them to a homeopathic expert who they also hired as a consultant to help in the registration process. When they were ready for large-scale production, the Dales signed a contract with an FDA-regulated factory in Connecticut and purchased a $5,000 nozzle required to handle the product's thick consistency.
Then it came time to sell the product in stores.
"That's where the SBDC and Hollis saved us in a major way," said Dales. "We acquired a broker, and they were a wonderful broker, but Hollis had warned me, 'You don't need a broker, you're good at selling it yourself.'"
Sure enough, Dales ended up cutting ties with the broker and walked into natural food stores herself with samples.
"
If someone is satisfied with the services we provided, they
'
ll recommend us to their peers, and that
'
s a successful pipeline for us because it
'
s validation that we
'
re doing is helpful,
"
says SBDC State Director Rich Grogan.
"It was easy to convert stores into customers because it's a unique product and it's a simple product. I think people now are looking for simplicity," said Dales, who made the decision to avoid using preservatives in order to appeal to the all-natural consumer.
Three years after registering with the FDA, Cold Bee Gone is sold in over 80 stores across the country, and Dales plans to scale up her distribution and production.
She recently attended a pitch clinic, or mini-"Shark Tank," hosted by the SBDC — a partner program of the U.S. Small Business Administration — where she received constructive criticism on her pitch to investors.
"I cannot be more sincere in my feelings of what that organization has provided for us," said Dales. "Hollis has given me spot-on advice from day one. And every time I thought I was right and she was wrong, she was right. If it was not for Hollis we would have made some fatal mistakes that would have stopped our progress."
Making connections
"We continue to pick [Hollis'] wealth of knowledge and networking to reach other business folks or government entities, and to seek out potential funding to support the growth of the business," says Tom Gannon, vice president of commercial operations at Intrinsyk Medical Devices in Salem.
McGuire helped the startup obtain a loan from the Regional Economic Development Corporation of Southern New Hampshire to begin operations in early 2015, after taking a year and half to register with the FDA and obtain ISO certification and the CE Marking required to sell in Europe.
In the meantime, the company received notices of design and functional patents for its products, including the Allay Neonatal/Infant Heel Blade Safety Lancet, which shaves rather than punctures skin to collect blood samples from infants, and the more broadly used Solace Pressure-Activity Clinical/Safety Lancet.
Aware of the company's need for an international market, McGuire connected Intrinsyk's team to the state Department of Resources and Economic Development and federal agencies, including the Export-Import Bank.
Thus far, Gannon has attended five international trade shows and signed contracts with companies in Iran, Mexico and Norway, to name a few.
"As the World Health Organization pushes countries to be more accepting of and use more clinical safety devices, like our safety lancet and heel blade, we need to make sure we get in at the right time and make sure our pricing is correct," said Gannon, who is also seeking McGuire's assistance to attract further capital to expand Intrinsyk's inventory.
Financial assistance
When David Boynton and Josh Henry were seeking capital to open 7th Settlement Brewery in downtown Dover, SBDC advisor Warren Daniel helped organize "a mosaic of funding" for the effort, as Boynton described it.
The brewery and restaurant sought community capital from the nonprofit Seacoast Local, held a crowdfunding campaign, created a mug club presale program and received funds from the Strafford County Economic Development Corp. as well as an SBA loan with a local bank.
"I have an MBA, but I'm not a financial accountant," said Boynton. "Three years ago, I had very little experience with banks, and Warren worked on how to present our information best to them and how to work through the financials, so it was realistic."
"Finance is probably 90 percent of what brings clients to us," says SBDC State Director Rich Grogan. "And that can be anything from they need money to they're out of money to financial literacy in terms of learning to read financial statements."
Through working with SBDC advisor Julie Glosner, Mike Appolo, founder of Appolo Vineyards in Derry, hired a CPA to get his books in order and valuated the business to prepare for attracting investors. Glosner has advised Appolo on business loans and grants and pointed to legal resources.
"She's more than an advisor — she's a coach," said Appolo. "It's a wide spectrum of things that I would have to hunt and peck around the internet to find. She was able to bring them to me or point me to connections I can make."
Seeking financial assistance through the SBDC can also be invaluable, since the SBA partner program is unbiased.
"We're able to landscape for our client and understand the whole range of financial possibilities," said Grogan. "And we have a lot of relationships with a lot of lenders and financial organizations so we're able to make that connection for the client."
In some cases, lenders will refer businesses to the SBDC for assistance in completing documentation or in the case that a business is not quite ready for a bank loan.
Trouble ahead?
Businesses are also referred to the SBDC through DRED, which funds approximately 25 percent of the organization's budget.
"Part of our progress over the last couple of years is we've expanded the number of locations where we do advising to 17 around the state," said Grogan. "We're literally in every nook and cranny of the state, and so I like to get out to all of those communities and see people, see who clients are, talk to our staff members and the community members out there."
Grogan himself puts approximately 35,000 miles of work-related travel on his car each year.
But the SBDC could face some hardships ahead. The Trump administration has proposed a 12 percent cut to the SBDC, meaning an $83,000 reduction in funds for New Hampshire's SBDC, "which is massive," said Grogan. "Our budget fluctuates between $1.2 and $1.3 million. I like to remind people — we don't have buildings we can wait to paint. We're talking about people and computers. That's all we have."
But what keeps Grogan up at night is the administration's proposed elimination of the Community Development Block Grant program that supports incubators like the Hannah Grimes Center in Keene, the SBDC itself and its work with clients, as well as the USDA Rural Development program.
"There are a lot of variables out there," said Grogan.
There were no variables when Joyce and Jeff Dales received from the SBDC. In fact, Dales said that she would not have a company if not for the SBDC, which she would have utilized much sooner had she realized "the level of expertise that was available."
"That would have saved me a year's worth of heartache of what to do," she said. "I'm glad we stuck with it — I'm glad we didn't quit. There were at least 10 times we thought about cutting our losses, and I'm so grateful to Hollis that we didn't. She reminded us, 'So few companies get to where you are. You can't quit.'"