Rules of the Uber road
Can rural areas accommodate ride-sharing?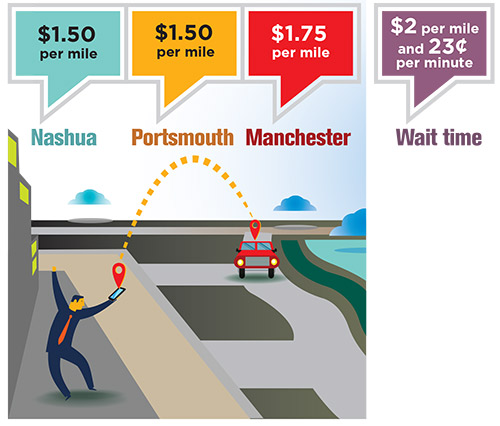 Ride-sharing services, such as Uber and Lyft, are taking hold in New Hampshire. Already, they're in a near-handful of the major cities in the state — Manchester, Concord, Nashua and Portsmouth. But how it grows and whether ride-sharing is workable in less densely populated areas of the state are still question marks.
Uber, according to its website, hopes to bring jobs and offer safe transportation for customers in the areas it serves. There are Uber drivers in 401 other cities, and counting.
"Together we're energizing the local economy, helping make streets safer from drunk driving, and fostering a less congested environment," the company says on its website.
Using a ride-sharing app, customers are able to hail their driver using their phone by dropping a pin of their location on a map. The base-fare rate depends on where you are. It's $1.50 per mile in Nashua and Portsmouth, while Manchester's rate is $1.75 per mile.
Riders also have to pay $2 a mile and 23 cents a minute for wait time.
Though the ride-sharing services do address New Hampshire's need for more public transportation, there are still many factors that need to be addressed, according to city officials around the state.
Manchester Mayor Ted Gatsas says his main concern has to do with the lapse in insurance protection for drivers and customers. The fact that a driver's normal auto insurance ceases to cover any accidents while the driver is working for a ride-sharing service could pose a major problem should one occur.
"It's about safety," Gatsas says. "That's what it's all about."
Echoing those words is Manchester Police Assistant Chief Carlo Capano. "All of us would love to see them in the city," he says, but "public safety is our primary responsibility."
Capano also says he hopes any city ordinance or state law would hold ride-sharing services to the same standards as taxi businesses. This would mean that drivers for companies would be required to complete background checks, random drug tests and have proper insurance to protect both the driver and any passengers.
"We just want to make sure it's fair and equitable," he says.
Speed bumps
Manchester officials are currently working on crafting a city ordinance pertaining to ride-sharing services. Capano, who says the department has not responded to any Uber-related calls, expected the ordinance to be adopted sometime in April.
Other cities, like Portsmouth, already have one in place.
In September, Portsmouth officials adopted an ordinance that requires that all drivers-for-hire register with the city clerk. The drivers must show proof of commercial insurance and that they passed criminal background checks.
There are eight licensed Uber drivers in Portsmouth, Mayor Jack Blalock says, but he adds that he doesn't see it being a replacement for classic taxi services. Instead, he says, it's a companion to that business model.
"I know many people who do [use ride-sharing services], including my children," he said. "They enjoy it, they said it was very easy."
But while younger people might be more drawn to the app-based service, he says, the classic model still has its benefits.
For example, if during a price surge — when the rate for an Uber ride is hiked due to high demand — customers could save by simply calling a taxi.
'Compelling reason'
New legislation under consideration in the NH Legislature would impose state regulations on ride-sharing services. Under the measure being considered in the Senate (it has already been approved by the House), the state's Department of Safety would regulate any digital ride-sharing service working in New Hampshire.
"The most compelling reason why we want to pass this legislation, when it comes to ride-sharing, is the issue of insurance," says Rep. John Hunt, R-Rindge, one of the main sponsors of the bill.
If implemented, the law would require companies to provide at least $300,000 of primary automobile liability insurance for death, bodily injury, and property damage in an accident.
The legislation would trump any city or town ordinances already in place. This, according to Hunt, would solve any issues that might come from each separate municipality having it's own guidelines and regulations.
Hunt says for the most part, the legislation has been met with little opposition. One of the only concerns were about the high insurance costs companies face, which was already changed.
Hunt said he's hoping that it will be easily approved by the Senate.
Mayors Gatsas and Blalock are both in favor of the bill, saying that it would help make the jurisdiction more clear.
"I think we need to have the state regulations," Blalock says. "Most ride-sharing services don't operate in one community."
Who's next?
Although the ride-sharing services have started to take root in other parts of New Hampshire, some communities might have to think more creatively about how to attract them to their part of the state.
"The question is, how does that business model translate to a more rural area?," says Phil Suter, president of the Greater Keene Chamber of Commerce.
In Keene, for example, many local officials are interested in bringing the services there.
Having Uber or a similar ride-sharing service in the Elm City would help to alleviate many challenges the region faces, Suter says, including a lack of public transportation.
"To have some of those services would make it easier for people to connect with other transportation hubs," Suter says, such as the Amtrak train station in the neighboring town of Brattleboro, Vt.
They could also provide an attractive employment opportunity for those in the area who might be looking for a part-time job or a post-retirement activity to keep busy while making money, he says.
But Representative Hunt says he's not sure if the demand is there in the Monadnock Region.
"If there was Uber here in Rindge, that would be very helpful," he says, explaining how people without cars could use it to get to and from work. "[But] it does need to have a critical mass of customers and drivers [in order] to work. I don't see it having a big impact in a rural area."