Rochester-to-Ossipee rail upgrade wins $1.4m federal TIGER grant
But 20-mile North Country project looks like it's been rejected again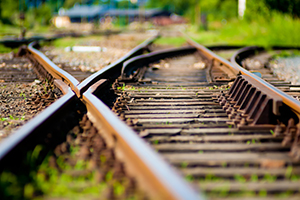 New Hampshire is getting a $1.4 million federal grant to upgrade a section of a freight rail line from Rochester to Ossipee, but apparently will not be getting a pricier upgrade of another freight line going through Berlin, according to a press release from the state's congressional delegation.
The competitive TIGER (Transportation Investment Generating Economy Recovery) grant — part of a $2 million project — would enhance a 42-mile section of deteriorating rail section owned by the New Hampshire Northcoast Corp., a subsidiary of Boston, Sand and Gravel. (Companies currently ship gravel and propane up a line parallel to Route 16.)
The railway will also put in $450,000 to improve the line and the state will kick in $150,000.
The upgrade brings the entire section up to industry standard, enabling the tracks to carry cars with more freight. It also would repair a washout, extending it seven-tenths of a mile north, opening "hundreds [of] acres in Ossipee for new economic growth," in the words of the grant application.
The upgrades will help in attracting tenants to the Granite State Business Park, a 200-acre site in Rochester, according to Marc Ambrosi, a transportation planner with the Strafford County Regional Planning Commission.
Ambrosi added that the upgrade will also help lower the amount of truck traffic up Route 16, easing congestion and wear and tear on a highway that is crucial for bringing tourists into the North Country.
But unlike Route 16, the rail line will still end in Ossipee 22 miles before reaching Conway. The state owns most of the right of way of that gap, but that line has long been abandoned.
A rail study conducted about a decade ago estimated that it would take $18 million to upgrade that stretch — a project for another day.
"This is a great first step," said Ambrosi. "That would the next phase."
Without that phase tackled, the Northcoast line also won't reach the St. Lawrence-Atlantic line, which connects Maine to Quebec. The state Department of Transportation submitted an application for a $8.275 million TIGER grant to upgrade 20 miles of that line that are not up to industry standard.
But the congressional delegation was silent on that grant, which means, according to several sources, that it failed. Both NHBR and the delegation's attempts to confirm the fate of the grant with the federal DOT were not successful.
If it were to be turned down, it would mark the fifth time the North Country grant was rejected.