River Valley Community College develops health care cybersecurity experts
Community partnerships keep degree program relevant to workforce needs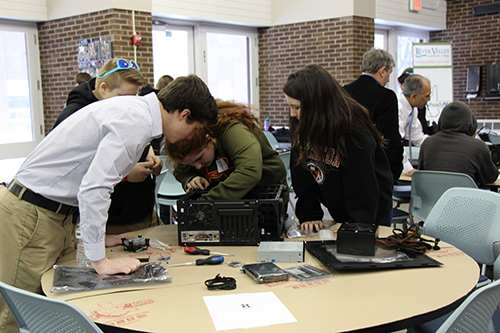 Developed in cooperation with community partners, River Valley Community College is now offering a health care-focused cybersecurity degree, one of few such degrees offered in the country.
Funded initially by a National Science Foundation grant, RVCC's Cybersecurity and Healthcare IT Associate degree and certificate programs are the evolution of a health care-specific IT program the college had created in response to federal mandates for electronic health records and securing private patient health care data. After collaborating with IT specialists at hospitals across New Hampshire, compliance professionals, and others involved in the information security community, it was clear there was demand for not only making health records electronic but also highly secure.
"As the healthcare industry continues to rely on digital tools and software solutions to care for patients, the need to build electronic and data transfer systems to support and protect the information has dramatically increased," said Robert S. Morris, RVCC's program director for the college's Computer Technology/Cybersecurity and Healthcare IT programs. "By involving national and local partners in developing our program's curriculum, our students get a holistic view of both healthcare and cybersecurity, and are poised to respond to the security challenges of today and tomorrow."
RVCC's Cybersecurity and Healthcare IT curriculum was crafted in partnership with Dartmouth College, a member of the Institute for Information Infrastructure (I3P). I3P is a consortium of leading universities, laboratories and non-profit institutions dedicated to improving cybersecurity infrastructure.
RVCC is able to keep the program current and relevant by maintaining partnerships with local industry. Red River, a New Hampshire-based IT company that works with government agencies, is the current site for RVCC's Cybersecurity and Healthcare IT student internships.
There, students learn how to solve issues around data center security and network infrastructure in healthcare, as well as across commercial, civilian, defense, and intelligence markets. The program prepares students to pass industry standard certifications for cybersecurity and information technology through in-class and real world instruction.
"The hands-on portion of this program and its unique focus on healthcare cybersecurity sets our students up for success in this industry," Morris said.
For more training on the topic, RVCC has created several ways for students to learn, including a cybersecurity bootcamp where students attend Dartmouth's Secure Information Systems Mentoring and Training institute, which approaches cybersecurity defense from a hacker's perspective. Morris, who is pursuing a master's degree in digital forensics and is a RVCC graduate, also leads programs that teach students to build PCs and boost their technical literacy.