Rising costs scrutinized at NHBR health forum
Inefficiencies, unnecessary spending drive ongoing hikes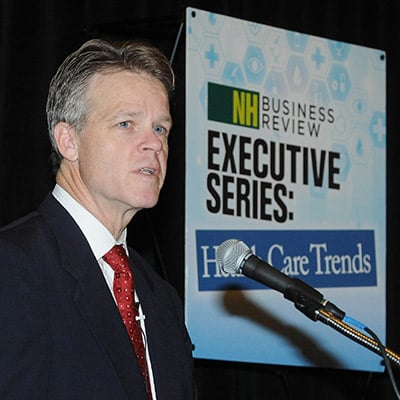 The United States is not doing enough to curb health care costs, primarily driven by unnecessary services, excess administrative costs and inefficiently delivered services, said Ed Prewitt, editorial director of NEJM Catalyst and keynote speaker at NH Business Review's Health Care Trends forum held Thursday at the Grappone Conference Center in Concord.
Since 1980, U.S. health care spending has skyrocketed far beyond all other industrial nations, doubling the amount of health care spending per capita in Germany and Canada.
"We are far and away the largest user of health care per capita in the world," said Prewitt, noting the growth started skyrocketing after 1980.
"Until then, the U.S. and other developed countries were tracking pretty closely, but it shot up. We've bent the cost curb just a little bit as a country. That's still not very sustainable."
According to the National Academy of Medicine, one-third of health care spending, or $750 billion, is unnecessary. The largest share, $210 billion, is attributed to unnecessary services, followed by excess administrative costs, at $150 billion, and inefficiently delivered services, at $130 billion. Prescriptions account for a fifth of costs, said Prewitt.
And with nearly half of middle class or higher-income people who buy individual insurance without Obamacare subsidies facing premium increases of 52 percent in 2018, and one-third of Americans with high-deductible plans, no wonder there is discontent with the current health care model.
"Overall, the situation in New Hampshire is pretty good compared to a lot of parts of the country, but there is uncertainty," said Prewitt. "There are going to be fewer insurer partners and there is concern over Medicaid funding."
Medicaid and Medicare could see cuts via the federal budget process or through measures tacked onto tax reform proposals, said Prewitt.
Value-based care
Prewitt noted there are a few avenues to provide cost savings in the U.S. market.
Americans are often unaware of available resources that allow a comparison of costs and quality, such as NH Health Cost, which allows consumers to find the best provider or hospital to perform a procedure — of course, keeping in mind that it must be in their health insurer's provider network. However, Prewitt warned that people should be wary of publications that claim to do their own analysis, since their data is often incomplete.
In the health care industry, there is a growing focus on value-based care — providing efficient care with price based on health outcomes. Prewitt said New England has embraced value-based care more than other parts of the country, specifically naming Dartmouth-Hitchcock as a leader.
In terms of regulating hospital costs, Maryland is the only state in the country that has started doing so, though with some lateral ability for hospitals to influence their prices.
Adding to health care costs are mental health issues, such as clinical depression and drug and alcohol abuse, which have a significant cost impact. Drug abuse alone costs employers $18 billion in sick days and medical expenses.
Addiction crisis
Prewitt's overview set the stage for the panel that followed, focusing on how mental health and addiction issues affect the workplace.
The panel was comprised of Harvard Pilgrim Health Care Vice President Dr. William Brewster, John Burns, director of SOS Recovery Community Organization, attorney Adam Hamel of McLane Middleton and Alex Ray, owner of The Common Man Family of Restaurants.
"Fentanyl, I know all too many people who have died recently from that drug," said Alex Ray, owner of The Common Man Family of Restaurants (far right). "My particular thing is AA; I try to get [employees] in personally." To Ray's right (from right to left) are Adam Hamel, John Burns and Dr. William Brewster.
Burns noted that with so much attention on the opioid crisis, the greater addiction crisis is being overlooked.
"When the opioid crisis is over, it's going to be another drug crisis," said Burns, who listed stimulants, methamphetamines and cocaine as common additive substances, as well as alcohol.
"Alcohol kills a lot more people," said Burns.
Approximately 70 percent of employers are reporting prescription drug misuse as a problem and almost 30 percent of employees say they have family members who are struggling with addiction, said Hamel.
"Employers should really be getting individualized advice from their attorneys or counsel," said Hamel. "The first step is a cultural step and that is making sure you have in place policies and programs," as well as ensuring employees there are resources available to help, often through company's benefits providers.
Ray, who has set up two addiction centers, one of which was sold to Easter Seals, tries personally to get employees struggling with alcohol abuse into Alcoholics Anonymous, even before they can get into a treatment program, where there is often a two- to four-week waiting list.
"Most of the people who need professional help don't have any money because they used it all, so they come and say 'I need help' and I say 'What can you do?'," said Ray.
But employers need to be careful about how they approach employees they suspect are experiencing an addiction. Hamel said employers should focus on performance as a point of conversation, asking what the company could do to help employees, allowing them to open up versus providing a diagnosis.
Creating workplaces where individuals feel safe to speak about it have a huge impact, said Burns, who spoke of his personal experience of eventually opening up to his employer at the time about his daughter's addiction.
His employer was completely understanding and supportive, Burns said. "I had always been a loyal, hardworking employee, but I'll tell you I would have moved mountains for them from that day on," said Burns.
Brewster, whose son also experienced addiction, noted it is an issue that affects many employees, either directly or through their family members.