RGGI compromise falls flat in committee
House, Senate conferees fail to agree on funding changes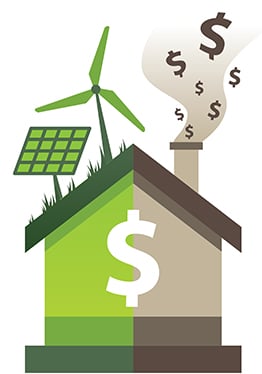 A compromise that would have meant lower electric rates for businesses and increase money available for energy-efficiency projects for municipalities, schools and low-income residents, failed in a committee of conference, when House members refused to budge from their position.
"We are trying to reach a compromise," said Sen. Dan Feltes, D-Concord.
"I don't see room for compromise," said Rep. Michael Vose, R-Epping, who chaired the committee.
At issue was how to spend the estimated $20 million the state receives through the Regional Greenhouse Gas Initiative.
When RGGI was first launched in 2008, New Hampshire was one of the few participating states to direct its funds to energy-efficiency programs, but the RGGI fund was raided two years ago, signaling an end to all that. Lawmakers rebated most of the funds to ratepayers, holding on to $3.1 million ($1 per kilowatt-hour) and directing most of that money for low-income weatherization and municipal and school projects. Some went to business programs, mainly aimed at larger users, but that funding was minuscule.
House Bill 208, as amended by the House, would rebate all of the money to ratepayers. The Senate's version would have fully rebated RGGI money to commercial users, but put all of the money now rebated to residential customers – about 80 cents per monthly bill – to increase funding from $2 million to $5.4 million for municipal-school energy projects and raise the funds available for low-income weatherization from $450,000 to $2.3 million.
Feltes offered a compromise: rebate $1.3 million – or less than 10 cents a month – to residential customers and lower the municipal-school and low-income funding to $4.5 million and $1.91 million.
"It will mean less jobs and energy savings," said Feltes. "But we felt the House wanted more rebates."
But Vose criticized that approach, saying it "goes in the wrong direction. It doesn't do what the House wants to do – to try to lower the energy rates even a small amount."
After a brief recess, Sen. Jeb Bradley, R-Wolfeboro offered a compromise, an amendment he had backed in the Senate that was defeated, 13-11. Bradley's amendment would have kept the status quo as far as rebates are concerned, but direct the $570,000 currently spent on commercial energy-efficiency projects to the municipal-school and low-income projects.
"In the spirit of compromise," Vose said, he offered to divide that amount by three, with a third going to rebates. That would increase the rebate for residential customers by roughly a penny a month.
"It's a philosophical debate," said Rep. Herbert Vadney, R-Meredith, he said. "It may mean pennies, but those pennies add up."
When Senate conferees proposed meeting the following day to discuss the counterproposal, House conferees refused, killing the bill.
Because of the ideological impasse, the current law will continue, practically resulting in outcomes that neither side wanted. About $1 per kWh won't be rebated to businesses. Instead, the money, representing 60 percent of the state's RGGI funds – will go to programs primarily benefiting residents and municipalities, and the program for mostly larger businesses will continue.