ReVision Energy, Upper Valley affordable housing effort honored
NH Businesses for Social Responsibility's Cornerstone and Partnership for Innovation Awards presented May 17
ReVision Energy was presented with the Cornerstone Award at New Hampshire Businesses for Social Responsibility's Cornerstone and Partnership for Innovation Awards, presented May 17 at the Grappone Conference Center as part of NHBSR's 22nd annual spring conference.
ReVision Energy was honored for approaching sustainability comprehensively over its 20-year history, not limiting its impact to the carbon-reducing value its products create. They add value to their workplaces and communities by diving into justice, equity, diversity and inclusion, encouraging their team members to incorporate inclusion into their daily interactions and decisions. The employee-owned company also works to provide a solid living wage and keeping the ratio between their highest and lowest-paid employees relatively at a ratio of 4 to 1.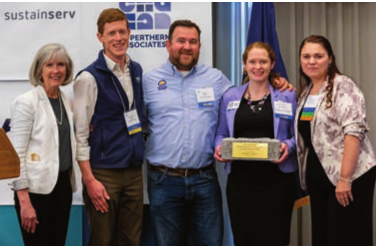 Michelle Veasey, left, executive director of NH Businesses for Social Responsibility, presents the organization's Cornerstone Award to representatives of ReVision Energy.
Also honored at the event were the partners in the Upper Valley Affordable Workforce Housing Fund, which was presented with the Partnership for Innovation Award. The partners — Mascoma Bank, Hypertherm, Hanover Co-op, Dartmouth Health, Dartmouth College and King Arthur Baking — have invested their money to support the development of affordable housing in a region that is sorely lacking it.