Retired gay trooper sues State Police for discrimination
Claims 'good-old-boy' culture 'rife' with gender bias and sexual harassment incidents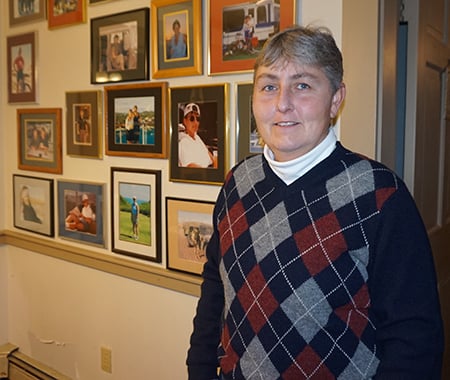 Carrie L. Nolet is suing NH State Police claiming she was twice passed over for promotion from lieutenant to captain because she is a woman and a lesbian.
During her 20 years as a trooper, Nolet said she was subjected to sexual harassment in a "good-old-boy" culture that so severely intimidated her and other women that she still suffers from anxiety and depression two years after retiring in 2013.
During her entire career, "the NH State Police culture has been rife with pervasive incidents of gender bias and sexual harassment too numerous [for her] to recall every instance or every exact date," Nolet wrote in the lawsuit filed in May in U.S. District Court in Concord.
Nolet said she was also terrified that her colleagues would find out she is gay.
"There was a lot of derogatory talk about gay troopers," Nolet said during interviews. "It's not seen as something people can openly discuss. It was very stressful."
Assistant Attorney General Rebecca Woodard filed the state's response to the suit on Oct. 9, denying Nolet's allegations. Beyond the court filing, Woodard said the state would have no comment.
Nolet, who lives in Chocorua, described the State Police as a male-dominated organization in which men commonly used language that belittled women, minorities and homosexuals.
"Male troopers called each other "P—-" to imply that they were not being tough enough and/or acting like women," wrote Nolet, who is representing herself in the lawsuit.
"Other lewd and demeaning comments from both troopers and sergeants alike included emailed jokes," she wrote.
Nolet's lawsuit claims she was passed over for captain by two men with less experience, education and training, including having no military leadership experience. They were promoted, she claims, because they were friends with Col. Robert Quinn, commander of State Police.
One of the men retired soon after being promoted to captain, which boosted his retirement pay and opened the position again, Nolet said. The next man promoted to captain had less education, experience and training as well, Nolet said.
"Generally among the rank and file, the atmosphere is that it is unfair for everyone," Nolet said. "Statistically, I intend to show it is more unfair for women."
AG's response
Nolet cross-filed her discrimination complaint with the state Human Rights Commission and the federal Equal Employment Opportunity Commission in 2013.
In February, the EEOC notified Nolet of her "right to sue," stating it didn't have enough information to determine whether any laws had been violated. The EEOC said the lawsuit had to be filed within 90 days.
Assistant Attorney General Woodard responded to Nolet's sexual harassment allegations in the suit:
"The Defendant is without personal knowledge or information sufficient to form a belief as to the truthfulness of the allegations in this paragraph and therefore they are denied."
To the allegations of gender discrimination in employment, Woodard wrote: "To the extent facts are alleged, they are denied."
Last week, Colonel Quinn said he would get more information to respond to InDepthNH.org, but as of Nov. 1 hadn't done so.
Hoping for support, Nolet said she sent a copy of her lawsuit to Gov. Maggie Hassan, but she hasn't heard back from Hassan or anyone in the governor's office.
InDepthNH.org requested an interview with Hassan, but she didn't return phone messages. Her spokesman, William Hinkle, sent an email.
"All allegations of this nature are taken seriously and investigated thoroughly by the state. As this is an ongoing case at the federal level, I would refer you to the pleading or the New Hampshire Department of Justice, which is representing the Department of Safety in this case," Hinkle wrote.
Anti-woman atmosphere
Vulgar conduct was rampant in the State Police, Nolet said.
"When speaking about women in leadership within NHSP and women in high positions in politics, male troopers used the terms 'b—-' and the 'C' word," Nolet wrote.
Nolet recalled one incident in which a male supervisor stared at her breasts while commenting that instead of having corrective eye surgery, she should have given him "something better to look at."
She took that to mean she should have had breast augmentation surgery.
"I can remember even as a probationary trooper hearing stories about a woman being brought to tears in training by one firearms instructor," Nolet said. It became an often-repeated joke, she said.
Comments were made that women were weak and didn't belong on the job, she said.
"Certain guys didn't want women on their shift because they didn't think they could back them up," Nolet said.
Military background
Nolet, 48, a Berlin native, is also retired from the U.S. Army Reserves, where she attained the rank of major.
After graduating from Berlin High School, Nolet went on to Worcester Polytechnic Institute on a four-year Army ROTC scholarship. At Worcester Polytechnic, she captained the field hockey and softball teams and was inducted into the sports hall of fame.
In 1989, Nolet was commissioned a second lieutenant in the U.S. Army Reserves as a military police officer and was promoted to first lieutenant in 1992.
She deployed as Alpha Company commander of the 368th Combat Heavy Engineer Battalion to the combat zone Operation Iraqi Freedom in 2003 and commanded 135 soldiers for a year in a desert remote outpost.
Although Nolet found the male behavior insulting soon after joining New Hampshire State Police, she did not think that she could avoid it because it was so deep a part of the culture, she said.
There was no way she could complain to supervisors, Nolet said, because they were engaged in the same kind of behavior.
A 2012 employment survey of all of State Police personnel showed Nolet's concerns were on the minds of others as well, according to an email Quinn sent to all personnel to provide an overview of the survey results.
The email, dated Feb. 23, 2013, was copied to Safety Commissioner John Barthelmes.
"I want to focus on the major topics sexual harassment, safety, morale, communications, promotions, discipline, working environment, training, equipment, etc.," Quinn wrote, according to a copy of the email obtained by InDepthNH.org.
"I have identified many areas where I can make improvements and areas where I can do a better job," Quinn wrote.
Backlash expected
"I filed suit primarily because I was tired of being passed over for promotion by less qualified men and seeing other women going through the same sort of ordeal," Nolet said.
She wants the promotional system changed to be an objective, transparent and fair process, she said.
Assistant Attorney General Woodard's filing said Nolet failed to state a claim and failed to make a case for discrimination.
According to Woodard's response, 15 female troopers have attained the rank of sergeant, four females have obtained the rank of lieutenant and one of those troopers attained the rank of captain, major and executive major.
That's not enough, Nolet said.
Nolet said she expects a backlash, but believes she is doing the right thing.
While her lawsuit does seek damages as determined by a jury, she said money is not the reason for filing the lawsuit.
"It's not about money," Nolet said. "I just want [the discrimination] to stop."
InDepthNh.org is a New Hampshire-based nonprofit investigative news website. Nancy West can be reached at nancywestnews@gmail.com.