Report tracks video game industry's impact
New Hampshire's neighbor ranks in top seven for gaming industry employment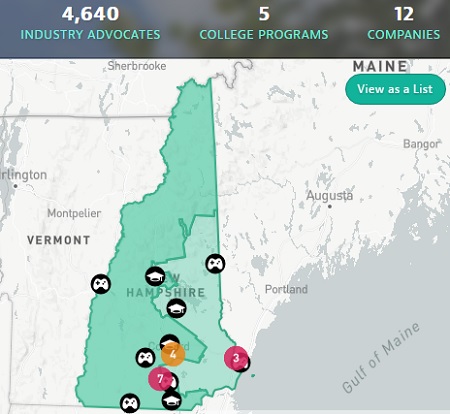 The video game industry is a fast-growing and lucrative sector, as highlighted by "Video Games in the 21st Century: The 2017 Report", a recently released report by the Entertainment Software Association. In fact, the industry — which consists of 2,457 video game companies and indirectly supports 220,000 jobs in 50 states — added more than $11.7 billion to U.S. GDP in 2015. That's a 3.7 annual growth rate over the 2013 value added.
According to the report, the video game industry directly supports 65,000 jobs, with 28,000 were employed by larger publishing firms while approximately 37,000 were employed by smaller developer firms.
California was overwhelmingly ranked 1st in game company employment, with a whopping 54 percent of all employees in the state working in the gaming industry. It was followed by Washington, Texas, New York, Illinois and Florida. The only New England state to rank in the top seven was Massachusetts, which ranked 7th with 2 percent fo all employees in the gaming industry.
According to U.S. Census data, from 2012 to 2014, the video game industry grew 14.13 percent – more than food manufacturing (2.20 percent), custom computer programming services (1.18 percent) and aerospace product and parts manufacturing (0.60 percent). From 2013 to 2015, direct employment in the game company industry grew at an annual rate of 2.9 percent, with the average compensation (including wages, employer contributions to pensions, insurance) was about $97,000.
Part of the sector's growth is driven by an increase in demand. Sales for computer and video games have increased from $10.1 billion in 2009 to $24.5 billion in 2016, according to a combination of government and industry sources. Sixty-three percent of U.S. households are home to at least one person who plays video games regularly, says the report.
The Entertainment Software Association also published an interactive website that documents industry advocates, college programs and companies in the gaming industry in each state.
New Hampshire has five college programs focused on gaming, at NHTI, Plymouth State University, Daniel Webster College (now SNHU), Lakes Region Community College and Southern New Hampshire University.
Companies included are: Pixelight Games in Rindge, Solecismic Software in Amherst, Tiltfactor Laboratory in Hanover, TOO DX in Weare, Virtual Basement in Concord, Zco in Nashua, Bit Fry, LLC in Portsmouth, Chondrite Games LLC in Freedom, Mecha Software in Bedford, Medaverse in Dover, RobotLovesKitty in Manchester and Houghton Mifflin Harcourt's sales office in Portsmouth.
The report did not directly mention Game Assembly, a Manchester-based gaming incubator.