Report sees boom in integrated cloud services
Hampton-based firm sees plenty of room for growth in sector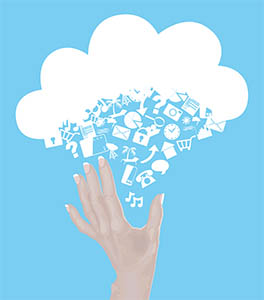 A recent report from Hampton-based Technology Business Research sounds like a great opportunity for New Hampshire's growing technology sector. Evidence shows the cloud computing services market is not only booming but businesses are relying on more cloud services that "talk" to one another.
The technology market research and consulting firm conducted a survey with 1,600 cloud purchasing decision-makers in large enterprises from the U.S., United Kingdom, Germany, France, China and India. TBR found 50 percent of the companies operated one cloud service, and 20 percent of those operated two or more cloud services that were integrated.
Integrating different cloud services – such as connecting the customer relationship management software from Salesforce with the financials, performance management and other business functions managed by SAP software – allows businesses to develop a complete picture of their company.
For 2014, TBR says the integrated or "hybrid" cloud market will reach $7 billion. And that space will continue to grow as more businesses seek cloud services to utilize the data they collect.
"Depending on what level of integration, you can really connect almost anything to each other," says Jillian Mirandi, senior analyst at TBR. "Say you wanted Amazon Web Services to connect to your on-premise computing storage – you could connect that."
Mirandi says a retailer may especially consider that option around Christmas time, when traffic to its website increases substantially and data centers could be already reaching their maximum, from the other 11 months of data.
"Instead of building out your data center, you could leverage Amazon Web Services so the computing storage goes to AWS instead of crashing your site," says Mirandi.
Manchester-based Dyn, a global provider of cloud-based Internet performance products, continues to enjoy success with enterprise-level clients like Netflix and Zappos.
Dyn announced this morning it is seeking reseller partnerships with companies like Nexum – a solution provider specializing in networking and cybersecurity products – to reach enterprises that buy their cloud-based services at once, mainly foreign firms.
Dyn expects growth in the Asia-Pacific region where increased web traffic is requiring more of companies to ensure their websites and other services, like streaming videos, load efficiently without lag time, says Dyn spokesman Adam Coughlin.
(Typically a video streaming site has a few different content delivery systems; Dyn manages to route traffic through the system that works best for a particular region and at that time of day).
And there's a lot of room for growth for cloud services, according to the TBR report, as 50 percent of the large enterprises interviewed do not have a cloud, and 30 percent have adopted just one cloud service.
Small and medium-sized businesses are also adopting cloud services as well, to a smaller degree.
Mirandi says smaller businesses fall into the more traditional IT buyers category, purchasing individual cloud-based software its IT teams will hook up and integrate.
Enterprises are more "complex," requiring a pre-built system integrator. The most common products used by those surveyed were IBM Cast Iron, Dell Boomi and Informatica.