Report paints picture of legal marijuana as a growth industry
NH wins some praise for rules governing medical pot facilities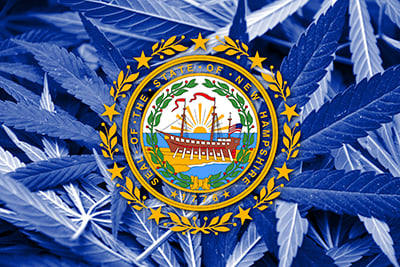 Want to boost the economy? You can do your part by buying pot.
According to Marijuana Business Daily's recently released 2015 factbook, for every $1 of legally sold marijuana, an additional $2.60 of economic value enters the U.S. economy.
That doesn't include paraphernalia or consumer media that exists regardless of marijuana laws. Instead, it encompasses businesses reliant on legalization: cultivators, testing labs and companies selling specialist goods and/or services to dispensaries, such as security services and seed-to-sale software.
Twenty-three states and the District of Columbia have legalized medical marijuana, among them, Colorado, Washington, Oregon and Alaska have also legalized recreational marijuana. The marijuana industry as a whole is projected to rake in $11 billion in gross national product for 2015, growing to $23-$29 billion in 2019.
In medical dispensary sales alone, marijuana sales are projected to grow to $8 billion in 2019.
While significant, Marijuana Business Daily – a B2B resource in the industry since 2011 – has noted delays have slowed its projections. Previously, the group projected marijuana sales to reach $8 billion a year sooner, but revised estimates based on a "more conservative growth curve."
Regulating the industry is taking longer than expected. In 2014, California medical dispensaries were shut down in Los Angeles and other major cities due to regulatory issues. In Washington, regulators took six months longer than expected to get recreation retail up and running. Massachusetts' delay in implementing legalized medical marijuana in 2012 has left roughly $50 million per year on the table, says Marijuana Business Daily.
New Hampshire, one of 24 states evaluated in the factbook, was praised for a concrete set of regulations for the medical marijuana industry, reducing volatility.
Under a law passed in 2013, the state will license up to four nonprofit medical marijuana facilities.
Still, delays could hamper the progress of New Hampshire's medical marijuana industry, says the report. The Granite State received a B- in business stability (better than California's D+, but below Arizona's B), with hopes of a stable environment if New Hampshire moves forward with licensing in the first half of 2015, as planned.
The state Department of Health and Human Services is in the process of awarding four dispensary licenses, but "there is always the possibility of unexpected delays and lawsuits tied to the licensing process," says the report.
In terms of business opportunity, New Hampshire received a B- as well, with the idea that ancillary businesses will pop up to support dispensaries.
Still, despite regulatory delays, the national marijuana industry is growing, with 2015 projected revenues for recreational sales in Colorado and Washington – between $800 million and $1 billion – surpassing M&M's national sales, says the report. If adult use were legalized nationwide, the report projects annual revenues between $40 billion and $45 billion, surpassing wine and e-cigarettes.
Marijuana legalization spells jobs as well, with 40,000 to 60,000 jobs being added nationwide in the marijuana and related industries (growers, retailers, testing labs and infused product makers). If marijuana were legalized nationwide, it would add over 250,000 jobs in the U.S., many of them above minimum wage, the report claims.