Report: NH among top states for manufacturing health
But when it comes to logistics, the state is lacking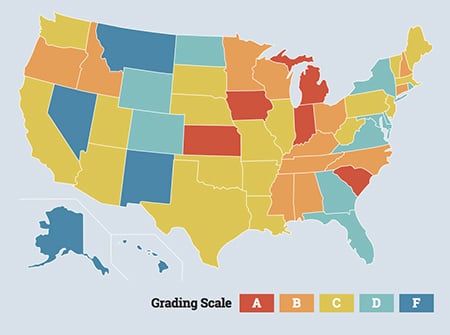 New Hampshire is among the top dozen states when it comes to the health of their manufacturing sector, but it should be doing better, says a newly released report from Ball State University.
New Hampshire received a B grade in overall manufacturing health but an F in logistics health, according to data compiled by the Muncie, Ind.-based university's Center for Business and Economic Research.
The department conducted the 2015 Manufacturing and Logistics Report Card on behalf of Conexus Indiana, the state's advanced manufacturing initiative.
The report grades each state on overall health of the manufacturing and logistics industries, the state of human capital, cost of worker benefits, state tax climate, expected fiscal liability gap, global reach, sector diversification and state-level productivity and innovation.
The report is based on calculations of various government data, including from the the U.S. Census Bureau, Bureau of Economic Analysis, U.S. Department of Transportation Center for Transportation Statistics and the U.S. Patent Office.
New Hampshire received an A in human capital, C in worker benefit costs, D+ for tax climate, C- for expected fiscal liability gap, B+ for global outreach, D for sector diversification and C for productivity and innovation.
"New Hampshire improved its grades in the global position category from C+ to B+, and expected fiscal liability gap category from D to C," said CBER Director Michael Hicks. "The state could be a much stronger manufacturing state given the strength it shows in core areas of importance to manufacturers."
What category is of the most concern to Hicks? New Hampshire's tax climate, which Hicks said "could be better."
New Hampshire's grade dropped from a C- to a D+, though all New England states fell into the D range, with Rhode Island receiving an F.
But New Hampshire was the only New England state and one of five states nationwide to receive an A in human capital. Maine and Vermont received Bs, while the rest of the region fell into the C range.
"If I were a manufacturer in a particularly high-tech activity – the medical devices or that sort of field – that required very sophisticated workers and a small operation with a high-value product that you don't need to move on trains, New Hampshire would be very attractive to me," said Hicks.
'Alive and well'
While the manufacturing community in New Hampshire and nationwide has expressed concerns about a lack of STEM education, Hicks thinks the concern is more linked to a large number of baby boomers set to exit the workforce than an actual STEM shortage at least yet.
"We haven't seen the necessary wage increases that would come with the STEM shortage," since the recession, said Hicks. Plus, even in Indiana, he's seeing the business community reach out to schools that agree to teach students mathematics and statistical processes in return for hands-on experience at an internship.
Technical and community colleges are the sweet spot for manufacturers, said Hicks.
"In new manufacturing positions, they don't usually hire people who don't go to college," said Hicks. Nationwide, from 2006-2007, the educational attainment shift occurred, where now over half of manufacturing workers have some college classes under their belt.
But while New Hampshire has the quality of people, it lacks an abundance of them, said Hicks.
"I would go so far to say modern economic development really has to be attracting people, not jobs," he said. "There's strong statistical evidence that movement of people to jobs has been replaced by jobs moving to people."
While business taxes remain a factor, Hicks says businesses and manufacturers are more focused on where they will find and retain workers.
And an expected fiscal liability gap plays into that, too, although New Hampshire is safe in the C range, which Hicks called average, and "average is fine." He immediately pointed to six states where the local and state gap are so alarming that businesses can expect a negative shift in the tax climate.
And an F in logistics – mostly involving transportation and distribution concerns – doesn't bother Hicks either, who said artificial joint manufacturers and other high-tech components for computing devices or robotics can easily be shipped via FedEx.
"Manufacturing is alive and well, and 2014 was the record year for manufacturing," said Hicks, who expects 2015 will top that.
"But we're doing it with a lot fewer people, and that gives the erroneous impression that it's a dead end for a young man or woman looking for career," he said. "The types of businesses that are doing better in manufacturing as a whole are very profitable, tending to be smaller businesses. So the big 2,000-employee factories still exist … but the smaller facilities, the ones that would fit easily into a smaller, middle-sized New Hampshire town is really the future of the American manufacturer."