Report: Great Recession took its toll on N.H. kids
Child poverty rate climbs as national well-being ranking falls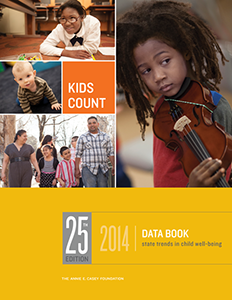 The steep economic downturn and the long recovery following it had a significant impact on children in New Hampshire, according to the latest report ranking their well-being in the 50 states.
According to the Kids Count Data Book, compiled by the Annie E. Casey Foundation, New Hampshire dropped from the best place in the nation to raise a family to fourth in the most recent listing.
The overall ranking is based on four factors: economic well-being; education; health; and family and community.
It was the economic toll that prompted New Hampshire's overall drop in the rankings.
The state fell from seventh to 12th in the economic well-being category, while it maintained its positions of fourth and first in education and family and community, respectively, and rose from 16th to 13th in the health category.
According to the report, the rate of New Hampshire children living in poverty increased from roughly 9 percent in 2005 to 16 percent in 2012. Significantly, the 2012 rate rose from 12 percent in 2011 – from about 33,000 to about 42,000 kids in a single year. The statistic coincides with the 26 percent (or 72,000) children whose parents lacked the security of a full-time job in 2012, even with a state unemployment rate for parents of only 3 percent during that same year.
"I think we've seen this partially a story about the economy and that we haven't recovered as quickly as some of the other states (near us)," said Ellen Fineburg, executive director of New Hampshire Kids Count.
Two of New Hampshire's neighbors, Massachusetts and Vermont, help the top two ranks nationally, with Iowa coming in third. The three lowest-ranked states were Nevada, New Mexico and Mississippi.
But Fineburg also said the results "tell a story about our ability to invest more in kids. We have to pay attention to what this report tells us and think about what we can do better."
According to economist Dennis Delay of the New Hampshire Center for Public Policy Studies, "I think every study like this is designed to try and get policymakers to focus on certain aspects and come up with policies to address those problems," he said. "I hope policymakers would take this opportunity to look at the issue and try to understand it."
He said other areas, such as teen substance abuse and increasing costs for low-income housing, should be taken into consideration as well when determining the well-being children.
Fineburg said she hopes that the issues presented in the report will be addressed, particularly in the health category. Though the state did improve in that area, she said, she believes that more can be done.
"Young people need to feel like this state cares about them and is invested in their future," she said. "We need to put the resources into insuring we're doing the best for our kids."