Report: Eversource leads in energy efficiency
Possible state-mandated standards could add to clean energy use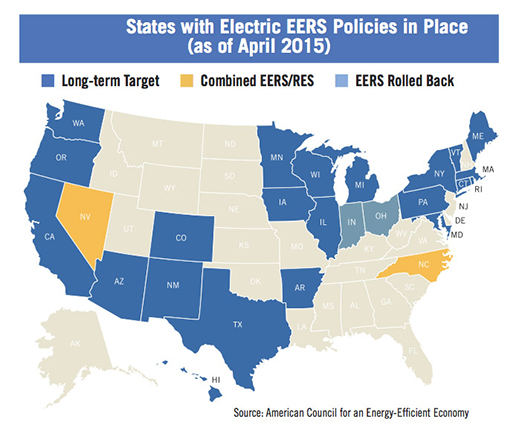 Eversource has been ranked no. 1 in energy efficiency among 30 U.S. investor-owned electric utilities, according to a report by sustainability advocacy group Ceres and the research firm Clean Edge.
But there may be room for increased efficiencies, with the growing possibility that New Hampshire state could soon join the five other New England states in setting energy-efficiency resource standards, or EERS, for utilities.
"Benchmarking Utility Clean Energy Deployment: 2016" ranks public utilities based on energy-efficiency savings, renewable energy sales and electric market sales using 2014 data. Eversource earned the top spot for incremental annual energy efficiency and life cycle energy efficiency and placed seventh in renewable energy sales as a percentage of electric sales.
"The energy-efficiency component is how utilities are helping their customers become more efficient, and more broadly how they're helping the economy become more energy efficient," explained Dan Bakal, director of electric power at Ceres. "In most states, utilities have energy-efficiency programs where they offer various kinds of rebates and offerings to customers, and then they can estimate the energy savings from the programs they implement."
In New Hampshire, according to Eversource spokesperson Kaitlyn Woods, the utility is "helping residential customers, as well as businesses, schools and municipalities to save significantly on their energy costs through a variety of programs that offer rebates for projects that enhance energy efficiency."
Among the projects, she said, are partnerships with communities around the state to convert streetlights to LED fixtures. Among them are Manchester, Allenstown, Goffstown, Franklin and Derry and Nashua.
In 2014, Eversource's energy-efficiency programs resulted in an estimated $180.7 million in savings for customers, said Woods.
"On the energy-efficiency piece, there's been a lot of progress and the information analytics have improved dramatically, so there are much better ways for utilities working with other information companies to get more targeted on how they offer their energy-efficiency offerings to customers," said Bakal.
That can drive energy efficiency, said Bakal, "because when people realize they're in the bottom third of their comparable neighbors, it gets them to figure out where they can improve, where are the problems, so there's a lot of different ways energy efficiency is becoming more accessible for customers."
Energy-efficiency standards
The report already saw an improvement, with five utilities achieving savings of more than 1.5 percent of annual sales, up from just two companies in 2012. In 2014, Eversource saw 1.87 percent in incremental annual energy efficiency savings and 20.20 percent in life cycle energy efficiency, according to the report.
The report notes that 13.08 percent of Eversource's 54 million MWh originates from renewable sources, including Northern Wood Power (a 50-megawatt biomass facility fueled by wood chips in Portsmouth), a 51-kilowatt solar array at the Energy Park facility in Manchester, Silver Lake Solar facility (an eight-acre, 1.8-megawatt solar facility in Pittsfield, Mass.), a 12-acre solar facility in Springfield, Mass., and another 22-acre solar generation facility in Springfield.
"What we're seeing is certainly a lot of wind, a lot of solar energy, in some states there's geothermal. There can be some biomass, landfill gas, meaning when you cap a landfill and then burn methane," said Bakal. "Those are the main ones. And small scale hydro. We're not including large scale because there's a lot of large scale hydro that was built a long time ago, and there's still small scale hydro, what they call run of the river hydro."
It's government policies that are the strong drivers of clean energy, said Bakal, who pointed to the renewable portfolio standards that set goals for utilities to increase the amount of renewable energy provided to their customers and energy-efficiency resource standards that set energy savings goals for utilities.
New Hampshire is the only state in New England to not have energy-efficiency resource standards, or EERS, in place, but that could change soon.
In 2015, the state Public Utilities Commission filed a docket to create the EERS program. In May, the PUC held a hearing in May where all stakeholders presented their settlement agreement.
"The expectation is a decision could come on anytime," said Kerry Holmes, energy analyst at the state Office of Energy and Planning. "The hearing was in early May, so it's possible we could have an official order in the next couple of weeks."
If the PUC decides to move forward, utilities would be required to submit a plan for PUC review and approval to achieve efficiency goals by Jan. 1, 2018, starting with savings targets of 0.8 percent for electric and 0.7 percent for gas. The EERS may have to be run by the state legislature, depending on how the PUC decides to implement the program.
"The PUC docket is a significant step toward establishing a formal energy efficiency goal for New Hampshire," Amanda A. Merrill, director of the Office of Energy and Planning, told NH Business Review. "Implementation of an energy efficiency resource standard will help us to reduce demand, protect valuable resources, create jobs, and keep more of our energy dollars in the state."