Rental costs continue to rise in Granite State
N.H. Housing survey finds higher vacancy rates falling too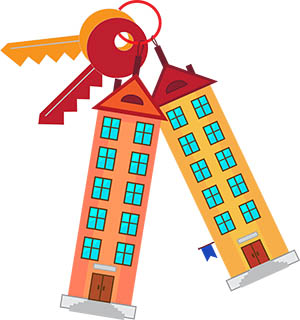 In its recently released annual Residential Rental Cost Survey, the New Hampshire Housing Finance Authority reported a decrease in the number of apartment vacancies as well as an increase in rental costs statewide – results that don't make for a friendly rental market.
The survey, designed to pinpoint the needs and priorities for housing programs in New Hampshire, said that vacancies for highly sought two-bedroom apartments have decreased by 3 percent, lower than the minimum 4 percent that would be indicative of a balanced rental market.
"Vacancy is really what we can consider the turnover rate," Bill Ray, the managing director of policy planning and communications for NHHFA, told NHBR. "When vacancy is down, that means the demand is up."
The median rent – including utilities – for a two-bedroom apartment, the most sought after in the state, increased by 3 percent, to $1,108 a month, the survey found. That would require a potential renter to have an income of at least $44,300 a year. But, with the 2014 renter household median income only estimated to be $36,595, the report claimed that only 14 percent of the two-bedroom apartments surveyed are below what renters can afford.
However, Ray said the results were "expected" due to the number of foreclosures in the state as well as changing demographics.
"We had done some research earlier and looked at the demographics of the state and the population shift, how people are aging," Ray said. "When you put all that together, we kind of knew that there would be continuing pressure on the rental side of the market."
Though Ray estimated that roughly 70 percent of New Hampshire residents are on the ownership side of the market, he said that the remaining renters "should be a little bit concerned" about the state of the market, although costs and availability vary depending on the county they live in.
The largest percentage increases in rents were found in Grafton and Carroll counties (14.2 percent and 10.9 percent respectively). But their vacancy rates (3.9 percent and 3.6 percent) are relatively high, especially compared to the 2.1 percent availability found in the Hillsborough, Rockingham and Strafford counties.
Though one response might be to increase supply by building more apartment units, Ray said that new rental construction is often on the "higher side of the market."
He did say, "We're anticipating seeing some pressure to increase 'in-law apartments,' which are an accessory to the main house," Ray said, explaining that this living arrangement provides more affordability for renters.
In the end, though, Ray said, "the market will respond to this slowly, but it all depends on what happens with the economy and the homeowner side of the market. One thing we like to remind people … is that rental stock is very important to our labor force. Not everyone is going to be able to afford or even wants to own a house."