Regional report spells out advantages of advanced manufacturing
N.H. has a good start in pushing advanced manufacturing, study finds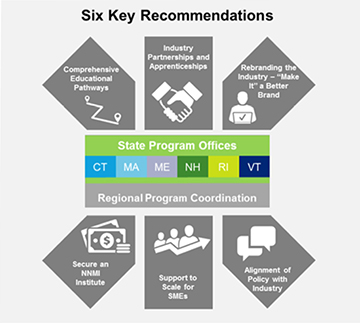 When a report compiled by global consulting firm Deloitte and the New England Council declares New England is preparing to "trailblaze the new technology frontier," it's worth paying mind.
In fact, advanced manufacturing has the potential to not only pull New England out of the recession but also become an economic power engine for the region, says "Advanced to Advantageous: The Case for New England's Manufacturing Revolution," an update to a 2010 report.
While traditional manufacturing has struggled to rebound from the recession, advanced manufacturing has "been able to return to, and in some cases surpass, prerecession levels for shipment value, GDP and employment," says the report.
New England has "industry clusters" and "capability clusters" that demonstrate this promise in advanced manufacturing and innovative technology.
Industry clusters – a high concentrations of firms and employees relative to the general economy – include focus areas like aerospace and defense; medical devices and biotechnology; semiconductors and complex electronics; signal processing, navigation, optics and measurement; and precision machining.
New England also has "capability clusters" in software and artificial intelligence, sensors and automation, and advanced materials.
But the "window of opportunity is closing," warns the report, pointing to problems in the region.
Of course, the biggest hindrance to growth is a lack of skilled workers, which prevents manufacturers from expanding, especially as baby boomers retire.
The skills gap has been well known. In February, the New Hampshire Manufacturing Extension Partnership released a survey in which 53 percent of manufacturers in the state said they needed skilled workers in order to grow.
Other challenges are policy, regulatory and cost-related. As the report states, "R&D tax credits and training funds, although beneficial to larger, established companies, are less applicable to smaller, startup advanced manufacturers."
Add a complex regulatory environment, which the report said interviewees wished to be "more clear, reliable and predictable." Most companies employ staff to analyze and process regulatory documentation, said the report.
And energy, an aging infrastructure and tax policies are driving up the cost of doing business in New England. The report said many companies are "persistently approached by 'lower cost' states with comprehensive business attraction and relocation packages."
The report suggested a six-point "action plan" for New England, some of which is in action in New Hampshire already.
The report suggested a stronger connection between educational institutions and industry to encourage innovation and apprenticeships, as well as career pathways in high school with vocational training and apprenticeships. There's also the need to rebrand the industry, as clean and high-tech versus traditional manufacturing's dirty work.
Zenagui Brahim, president of NH MEP, points to the success of Manufacturing Week in exposing high school students to advanced manufacturing.
"We had Manufacturing Week last year – the second year since we started it – and we had 1,100 visits from high schools to 54 manufacturers, that's very big," said Brahim. "The first year we did it was 2013. We had 850 visits to 35 manufacturers, so it's growing."
Thirty-seven other states were promoting Manufacturing Day when New Hampshire joined in 2013, but New Hampshire was the only one to make it a weeklong celebration. It has led to Brahim giving presentations to show other states its success.
Last year, 84 percent of students said in NH MEP's survey that they were only somewhat informed, if at all, of advanced manufacturing in New Hampshire. After their tours of manufacturing facilities, 88 percent of students said they'd be more likely to consider a career in manufacturing.
"The movement is there, the movement has started some time ago, and it keeps growing," says Brahim. "STEM programs are being discussed across the whole state."
The report praised New England for its competitive advantage with respect to an "intricate network for cross-sector relationships that have evolved over time," though stressed more is needed.
"The coordination of the collaboration should be strengthened more and more, and we should sustain it," said Brahim. "We've gone a long way."
The sponsors for Manufacturing Week illustrate that, he said. In addition to NH MEP, there is the Division of Resources and Economic Development, the Business and Industry Association, the New Hampshire High Tech Council, the Community College System of New Hampshire, Keene State College, the state Department of Education, among others.
Brahim also praised work being done by the University of New Hampshire.
But the report suggested New England vie for federal funds to form a National Network for Manufacturing Innovation Institute, which would be an existing educational institution or organization that would serve as a manufacturing center in the region.
President Obama has proposed the goal of 45 NNMI advanced manufacturing centers in the U.S. New England could apply for a future round of Revitalize American Manufacturing and Innovation Act funding.
The report also recommended support for small and medium-sized manufacturers to adopt new technology and the need to adapt policy so it's comprehensive for the industry.
For now, talking is a good first step, and Brahim said each of the New England state's manufacturing extension partnerships are doing just that, sharing challenges and best practices.
The report concludes: "By working together to tackle the most pressing challenges facing the industry, what begins as a collaborative conversation amongst colleagues today has the potential to create industry-transforming impact for the New England region tomorrow."