Recovery effort spreads Hope
Manchester, Concord centers open, with more seen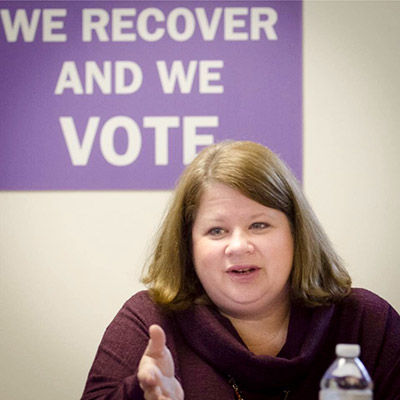 Think of it as a large-scale Rolodex for different substance abuse recovery support services in your community.
That's how Cheryl Coletti, a board member for Hope for NH Recovery, describes the recovery centers the Manchester-based nonprofit organization is setting up throughout the state.
In the last year, the organization has facilitated the openings of a recovery center in Manchester last summer and another in Concord this month.
"We just want to open doors throughout the state for people to get the love and support they need while they're trying to get healthy," said Holly Cekala, director of recovery support services at Hope.
The Manchester Recovery Center – which this summer will be moving into the refurbished former Hoitt Furniture building at 140 Central St. – is designed not only to be used by those in recovery, but family and loved ones as well, so they can get the support they need. It provides a variety of different services, such as support group meetings, yoga classes and life skills workshops like resume building.
Already, Coletti said it's been heavily utilized by many in the community.
"We saw 1,000 people in the first month," she said.
The Concord addiction recovery center opens this month at 85 South Main St.
Coletti said no specific plans have been made as to what programs will be hosted at the new center, but she did say a drop-in resource center will be available for residents. The rest will be decided by what community stakeholders say they need.
"It's a blank slate," she said. "It's what you as a community tell us what you need."
'Not a moral failure'
Part of this is due to the centers' funding methods.
Financial support comes from both public and private outlets. Investments from local businesses and organizations cover around half the cost to keep the center running, Cekala explained.
The rest comes from other revenue streams, such as donations, fundraisers and grants, she said.
Investment gives employers access to all the programs and resources Hope has to offer, like recovery support services and training.
Scott Lawson, owner of The Lawson Group in Concord, who has helped with the purchase of the Concord building, said the partnership can be essential to helping keep workers and their families safe and happy.
The investment, he continued, is really no different than donating to a charity designed to benefit research or treatment of a disease like cancer or diabetes.
"You have to get over the fact it's not a moral failure," he said. "It's a disease."
About 10 different communities have reached out for advice on setting up recovery centers, according to Cekala, including Berlin, Salem, Plymouth and Keene.
George Hansel, a Keene city councilor, said he and other city representatives are looking at different options for partnering with organizations like Cekala's to bring a recovery center to the Elm City.
One of the main characteristics about Hope for NH Recovery that sticks out to Hansel is the engagement with the business community, a move he said will help provide reliable funding.
"A lot of organizations have become so grant-dependent. I just don't think that's the most sustainable model we should be striving for," he said.
Treatment beds
The ideal solution would be to bolster some of the programs at Keene's Serenity Center, which already hosts some of the city's 12-step support programs, like Alcoholics Anonymous and Narcotics Anonymous.
Linda Rubin, who chairs the Serenity Center's board of directors, said representatives from both Hope and FedCap, a federal program that provides funding for local programs, recently presented the options the two had.
She said the goal is to figure out both which organization and what sort of collaboration will work best.
"We're just really in the exploratory phase to see what will work with the existing center and the services that we offer," she said.
Though Rubin said she applauds the work being done throughout the state to create more recovery centers, she hopes others will work to continually solve all parts of the puzzle of substance abuse and addiction throughout New Hampshire.
In particular, there's treatment. She said the Granite State comes in at the bottom for the number of beds available for those in need.
"As a state, in the long run, it benefits us if we have the treatment opportunities for people that we do not really have yet," Rubin said.
Hansel echoed these words, adding the necessity for increasing prevention programs as well
"They complement each other," he said. "They have to be equally valued and supported."