Recent college grads have a PLAN for zero waste
In its first year, UNH-inspired startup recycles 65 tons of waste from nine campuses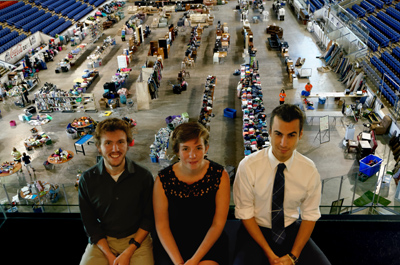 With the school year just getting underway, one nonprofit has been able to provide college students with an environmentally friendly way to check off the items on their back-to-school list.
The New Hampshire-based startup known as the Post Action Landfill Network (or PLAN) was able to keep 65 tons of waste out of landfills during its first year, collecting reusable items from students after classes ended in the spring. With nine different colleges and universities working as PLAN members, they were able to clean and resell waste – anything from clothing to furniture to electronics.
"This year, schools saw that they earned more than the [program] cost to run," said co-founder Brett Chamberlin. "It works. It fundamentally works."
The nine colleges that participated in the program the first year were the University of New Hampshire, the University of New Haven, Tulane University, Eckerd College, University of Massachusetts Amherst, Colby-Sawyer College, Northeastern University, the College of William and Mary, and Purchase College of the State University of New York.
In order to complete the feat, the two-man team of Alex Freid and Chamberlin last spring worked with student volunteers from the different campuses to collect reusable items that were discarded after classes had ended to be organized, cleaned and either sold or donated back to students during a move-in weekend yard sale.
Overall, this worked out to be beneficial for all parties involved.
"The membership fees are less than the total cost of all the benefits," said Chamberlin. Members receive rebates, discounts and the opportunity to attend seminars, webinars and other workshops based on the idea of zero waste.
Future goals
Having both graduated from college in 2013, Freid, a philosophy and politics major, and Chamberlin, a journalism and politics major, have known each other since attending Oyster River High School in Durham together.
During their time there, the two were able to implement a program that took the high school's waste and "converted it into single-stream recycling," according to Chamberlin. With experience in waste management, Chamberlin said that the biggest challenge for the two in the past year has been the technical aspects of running a nonprofit.
"We didn't study business," said Chamberlin. "We were just two politics majors, which is really what drew us to this."
PLAN, according to Chamberlin, is working to show that the differences between nonprofits and for-profits are not as black and white as they might seem. Already, he said, they've had success in designing an income flow so that they "aren't constantly fundraising," allowing them to focus more on the goal of building sustainable relationships that will allow their business to continue to thrive in the future.
The team, which has had eight interns in the last year and recently hired Faye Christoforo as its full-time campus coordinator, looks forward to expanding their zero-waste mission. The team will continue to work on new, more effective tactics and ultimately develop a model to be used on college campuses throughout the country, making PLAN a broker for recycling.
"We want to change the way that industries address waste and disposing it," said Chamberlin. "We want to help bridge that gap."