Rapid Machining's CEO Jay Jacobs named Entrepreneur of the Year
Inventor Dean Kamen discusses potential of ARMI at NH High Tech Council event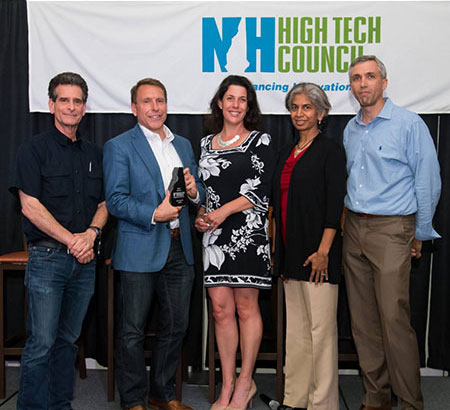 Jay Jacobs, owner and CEO of Nashua-based Rapid Manufacturing, was named Entrepreneur of the Year at the NH High Tech Council's event on June 13 at Southern New Hampshire University.
Working as a manufacturer's representative in the 3-D printing and additive manufacturing space, Jacobs originally founded RAPID in 2001, focused on efficiently delivering sheet metal parts from manufacturers to customers. In 2009, Jacobs launched Rapid Machining, which has grown to become one of the largest prototyping machining manufactures in the U.S., with 325 employees.
During his speech, Jacobs asked entrepreneurs to stand in the crowd before asking the rest of the audience to stand.
"I think it's important recognize an entrepreneur does not stand alone. An entrepreneur has an ecosystem and you are part of the New Hampshire entrepreneurial ecosystem and this is a great celebration for entrepreneurs tonight," said Jacobs. "What is an entrepreneur does is really provide the spark by demonstrating the worst thing in life is not failing, it's not trying, and I'm glad I tried."
Other finalists included Jason Syversen, founder and CEO of Manchester-based Siege Technologies, and Kevin Isett and Warren Kett, CEO and CSO, respectively, of Lebanon-based Avitide Inc.
Inventor Dean Kamen, CEO of DEKA Research and Development Inc., announced the winner after receiving a ball containing the winner's name from a robot designed by a local FIRST Robotics team of students.
Kamen spoke earlier in the night about the vision of a bioengineering industry in Manchester, with the upcoming opening of the Advanced Manufacturing Regenerative Institute, better known as ARMI, in the Manchester Millyard.
Kamen recalled his move to New Hampshire over twenty years ago.
"I started renovating one of these old mills – the smallest one I could find at the time – it was bigger than what I need – but I just thought what a magnificent place, on the river, historic, at the time a 150-year-old building, and I wondered how the city could abandon this magnificent thing and build out around it," said Kamen. Kamen discussed the struggle he faced with the City of Manchester to obtain a certificate of occupancy since the milllyard was considered an industrial zone and related it to the overall feeling he encounters of resistance to change. Kamen stressed the need for occupants of the state to change its image and sell what is great about New Hampshire, the New York-native's adopted home.
Kamen has been meeting with industry partners as well as at events with former Vice President Joe Biden and Speaker of the House Paul Ryan where he has discussed the promising new industry of regenerative health in New Hampshire.
The medical industry is the fastest growing industry in the country, at an estimated $3 trillion, said Kamen. Most of that cost is due to treating disease but not curing them.​
Kamen quoted Albert Einstein that "Brilliant people solve problems, [but] geniuses prevent them," referring to polio as one example of what the regenerative industry could do for kidney failure.
"We are on the cusp, I think, of building an industry," said Kamen. "And we've got partners from around the country. Yes, $80 million from the DOD, but another well over $200 million from industry giants that want to be part of this, big pharma, automation companies, AutoDesk, Rockwell, University of New Hampshire. We could get this thing to critical mass and we could do to regenerative medicine what a couple of little towns like Palo Alto did for the semiconductor industry except the whole semiconductor industry is no where near the scale of health care. That's a big opportunity."