Questions proliferate over health care in NH
Providers, insurers mull a possible post-ACA world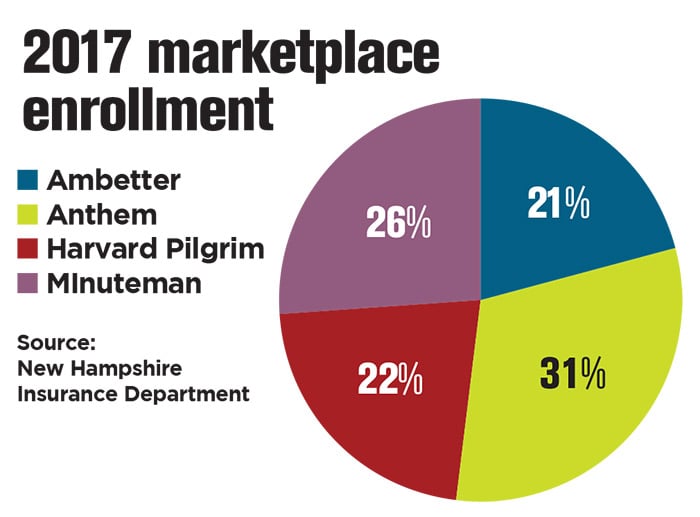 Minuteman Health, a Consumer Operated and Oriented Plan, or CO-OP, created via the Affordable Care Act, might be the last health insurer standing for individuals in New Hampshire. That is, if Obamacare dies or staggers around wounded after changes sought by the Trump administration and Republican majorities in Concord.
"We do intend to be in the market in 2018," said Tom Policelli, CEO of the Massachusetts-based company that has grown to become the state's second-largest insurer in the individual health market.
No other insurer on the individual market has seconded that sentiment.
Anthem Blue Cross Blue Shield, the largest, and once the only, insurer on New Hampshire's ACA exchange, said it is considering cutting back or ending health insurance for individuals nationwide.
Harvard Pilgrim Health Care, the other Massachusetts-based nonprofit, declined comment on the issue, and Ambetter, a product of Centene Corp., which serves those who entered the exchange through Medicaid expansion, has not responded.
And the NH Hospital Association, whose members helped propped up Medicaid expansion along with the insurance industry, offers no guarantee that they will continue to do so should the federal government pull back on ACA reforms. Indeed, the organization may take the state to court again over disbursement of Medicaid dollars.
At risk is the health insurance of nearly 92,000 New Hampshire residents — 49,000 on the individual exchange and another 43,000 via Medicaid expansion, according to the latest NH Insurance Department numbers, which are somewhat lower than previous estimates.
But how many will actually lose coverage is anybody's guess.
New Hampshire should fare better than most states, since only two-thirds of exchange users in the Granite State receive federal subsidies, compared to 85 percent nationwide.
'Business as usual'
What a difference an election makes. A year ago, the individual market was thriving in New Hampshire. Its four insurers and a 2 percent increase in rates were the exception to the rising costs and lack of competition that afflicted most of the rest of the nation.
Thanks to Medicaid expansion, individuals made up 38 percent of the New Hampshire health insurance market in April 2016, compared to 23 percent in December 2014. And the rate of uninsured residents has fallen from 11 to 6 percent in the last five years. Uninsured emergency room visits were cut in half. New Hampshire health care costs, once among the 10 highest in the nation, were moving closer to the middle of the pack.
At this point, theoretically, nothing has changed.
Ray White, broker with Cornerstone Benefits.
"It's business is usual," counseled Ray White, a broker with Bedford-based insurance agency Cornerstone Benefits. "Some people are saying I don't have to buy health insurance. That's not true. There is no way they are going to unwind things that fast."
Changes proposed
The unwinding may have already started with the deadline for insurers to file their plans for 2018 only a month or so away. While the congressional majority grapples with what "repeal and replace" means, the Trump administration has begun to act.
The Internal Revenue Service, for instance, in deference to a Trump executive order, announced on Feb. 3 that it won't be enforcing the individual mandate this tax season. It will accept returns without those complicated 1095-B proof-of-coverage forms that employers have sent out over the last few months.
Certified public accountants, like Andrew Lane of Lane Rifkin in Derry, recommend filing them anyway, since last time the 1095-B requirement was waived, the IRS just put the penalty on your tab.
The IRS "can't come around knocking out your door," Lane said. "but they can suck it out of your refund. If you never have a refund ever again, you'll be all right, I think."
In addition, the Centers for Medicare & Medicaid Services (CMS), the federal agency that runs the ACA, has proposed new rules, cutting the time frame to sign up for individual coverage in half, making it harder to sign up outside that window. It also wants to loosen the rules over what coverage insurers must offer and what kind of network they provide.
Congress could go much further. At deadline, the latest plan emerging from the House would replace exchange subsidies with advance tax credits, increasing with insured age, that could be used for any insurance program, from anywhere, with few requirements about what would have to be offered. The plan also would eventually replace Medicaid (including Medicaid expansion) with a fixed subsidy per person, or a block grant.
There won't be any mandates for coverage for larger employers or individuals, and there won't be any penalties, yet it would still require insurers to provide the popular (and expensive) provisions: coverage for those under 26 on a parent's insurance plan and assurance that those with preexisting conditions will get coverage, although there is some thought of reviving costly high-risk pools to provide that coverage. The pools would be funded by commercial insurers, which would presumably shift that cost to their other policyholders.
But White, a former Republican state senator, doesn't believe in the end that a lot of this will happen. "It would be political suicide to take that away," he said.
Certainty sought
What Congress will actually pass is an open question. But that may not matter if insurers get so jittery that they simply pull out of the market all together.
Humana already did so on Valentine's Day, the same day that Mark Bertolini, CEO of Aetna, said that Obamacare was in a "death spiral," because healthy people weren't signing up, leaving a sicker pool behind, driving up premiums which drive away even more healthy people.
Anthem expressed the same concerns last fall.
"We still need certainty about short-term fixes in order to determine the extent of our participation in the individual market in 2018, and we will be watching developments closely in the first half of 2017 as we evaluate our longer-term strategy for the health insurance exchanges," said Anthem CEO Joseph Swedish last fall. The company has yet to commit to competing on the New Hampshire exchange, said spokesman Colin Manning.
Anthem currently has the largest percentage of members on the New Hampshire exchange, at 31 percent, followed by Minuteman's 26 percent, Harvard Pilgrim, 22 percent, and Centene's Ambetter, 21 percent.
Anthem and Harvard Pilgrim both have a major share of the state's employer business and Centene is handling the state's Medicaid managed care contract. Minuteman is starting to pick up group business, but it mostly covers individuals, with 24,000 in the Granite State, as opposed to 9,000 in Massachusetts.
The company grew by 50 percent last year, said Policelli. Still, there it faces some "significant structural issues," primarily how the exchange will be set up.
For one, he said, the federal government has been too lax in allowing individuals to enter and exit an exchange outside the signup period due to a change in circumstances, such as the birth of a child or the loss of a job, which allows them to game the system, getting coverage right before an expensive procedure.
"It doesn't make sense. You can't buy homeowner's insurance when your house is on fire," said Policelli. "You get it when you get your mortgage."
The proposed CMS rules, he said, would require documentation and insist on those who let their premiums lapse pay up and wait before they can sign up again.
'Steady as she goes'
A bigger problem is modified risk adjustment – what insurers with healthier populations pay insurers with sicker populations.
The federal formula penalizes fast-growing insurers that have managed to cut costs, Minuteman contends. In fact, it has sued the federal government over it, though Policelli said the case won't be resolved "before my kids have kids."
Policelli also is hoping for changes in the medical loss ratio rule, which requires insurers to spend a certain percentage on medical costs or send out refund checks to subscribers. That standard is harder to meet with lower-cost plans, which makes insurers steer customers to more expensive ones. A simple limitation on profits would be preferable, he said.
Paula Rogers, a lobbyist for Anthem in New Hampshire, also sees the initial CMS rules as a positive step. Another one would be a delay in the filing deadline for insurers, which is usually around April. Sure, the filing is just first draft, and the rates aren't set until the fall, she said, but once an insurer commits to the market, "it's hard to back out."
Meanwhile, she said, the company is trying to proceed under the premise that things will roughly stay the same. "Steady as she goes," she said.
She suggests that state legislators do the same. So does the state Business and Industry Association of New Hampshire.
Lucy Hodder, director of health law and policy programs at UNH.
"There is just too much fog in Washington," said Kevin Flynn, a vice president at the BIA who heads up its health care advocacy. "There is a little reluctance to put the accelerator down when we know that the wheels are just going to spin."
So far, lawmakers appear to be taking that advice. The House Commerce Committee, for instance, recently voted to kill two bills, proposed by Rep. J.R. Hoell, R-Dunbarton. One would have repealed Medicaid expansion and another would have allowed the sale of health insurance products from other states with no state mandates.
The latter measure, he said, allows the "natural laws of the free market economy" to create more competition and would drive down costs. It would mean less of a role for New Hampshire regulators as well. If you have a problem with a Florida product, Hoell said, "you'd have to handle that in Florida."
At deadline, Hoell suggested that there might be a fight on the House floor on March 9 to retain rather than kill the bills. But both measures have their critics.
"Will you have a plan degenerate to least common denominator?" said Lucy Hodder, director of health law and policy programs at the University of New Hampshire, about the no-mandate bill. "Will you allow plans that discriminate or not engage in prompt payments?"
Cutting costs
Hodder also worried that block-granting Medicaid would be particularly difficult for New Hampshire, which generally benefits more from the program than other states.
One way has been through New Hampshire's Medicaid enhancement tax, which enables the state to collect some Medicaid money to balance the state budget while skimping on distributing disproportionate share hospital money that was supposed to reimburse hospitals for uncompensated care.
The Hospital Association sued over that policy, settling in 2014 for a fixed amount of money — $236 million in the 2018 fiscal year and $243 million in 2019. But in February, Gov. Chris
Steve Ahnen, president of the New Hampshire Hospital Association.
Sununu presented a budget that would only provide $166 million in each of those years, prompting the threat of more litigation.
"We are already last in terms of reimbursement under traditional Medicaid," said Steve Ahnen, president of the NHHA, who noted that the state's aging population will require more care, not less. "How would paying even less impact that care that we need?"
Hospitals are already stressed by helping to pay the Medicaid enhancement tax, a payment that is scheduled to rise after 2018. The association could not commit to paying still more, Ahnen said.
Yet all is not doom and gloom. During the years under the ACA, hospitals, providers and insurers have been working to cut costs.
"There are a lot of innovations in patient-centered care," said Hodder. There have been some upward pressures, particularly when it comes to the price of prescription drugs, which now account for nearly a fifth of all health care costs. Still, "premiums have not gone up dramatically, utilization has not gone up dramatically. We are definitely making progress on the cost curve," said Hodder.
Employers are also looking to cut costs, agreed Steve Gerlach, an attorney with Bernstein Shur who specializes in health care. Many are starting to insure themselves, an increasingly more viable way for relatively smaller businesses to avoid the impact of regulations, thanks to third-party administrators and increasingly sophisticated software. Employers have to agree to be on the hook for at least the first $20,000 per employee.
"You would be trading front-end risk to reduce premium costs," he said.
Employers are also turning toward defined contributions, simply splitting the costs with employees, or covering just the employee, who must decide whether to pay for adding the family. These are trends happening in the larger group market, no matter what comes out of Washington.
As White noted, "the insurance world isn't going to come to an end. I've been selling insurance for 30 years, and 27 of them have been before the ACA."
Opponents of Obamacare have wanted to blow it up, he said, and defenders have excused its worst aspects. "The truth is somewhere in between," he said.
Bob Sanders can be reached at bsanders@nhbr.com.