Q&A with: Yankee Publishing President Jamie Trowbridge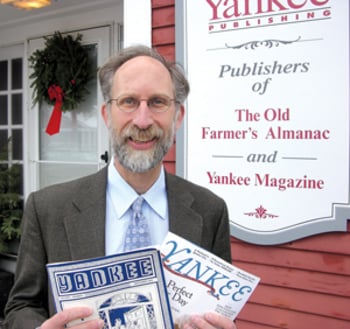 Yankee Publishing, the Dublin-based family-owned company that publishes Yankee magazine, the Old Farmer's Almanac and other publications, celebrates its 75th anniversary this year. For the past decade, Jamie Trowbridge has been at the helm of the company, which was started by his grandfather with the aim of celebrating the values that bind New England together.
Q. A 75th anniversary is quite a feat, both in the number of years and that you're still a family-owned company.
A. When Yankee started, people were really reading magazines in great quantity for information and entertainment. Now we have so many more choices than they had then. Yankee is doubly unique in that all the descendants of the founders are still shareholders. It is not the kind of family business where one branch bought out another.
Q. How many descendant shareholders are there?
A. About 20. There is an appreciation for the mission of Yankee magazine that binds us together. We all don't live in New England anymore, but we have an appreciation for what New England stands for. That keeps us going as a family and as a corporation, which is one of the reasons we've lasted 75 years without splintering.
Q. Consolidation has been rampant in the publishing industry. Has there been a lot of pressure to consolidate?
A. Sometimes yes. Right now the threat to traditional magazine publishing businesses is different from what it was 15 years ago. Then, it felt like if you didn't belong to a conglomerate you were going to get squashed. Now, of course, the threat is more likely going to come from someone in their garage who's going to start a Web site and replace us.
Sometimes it feels like staying independent is a strategic disaster, and other days it feel like the best thing we could have ever done. Part of our independent streak can be traced to the New England values that we celebrate. New Englanders like independence. They don't like to think they're just a cog in a machine.
Q. Your grandfather said distribution was the key to success. Is it still?
A. Most regional magazines only serve their region. In the case of Yankee, all along, half of the readers we serve live outside the region. We think that is because New England has a really strong hold on the people who love it. Even those that don't live here want to stay connected to it, and they use Yankee to do that.
Q. The magazine industry is struggling. How do you and the industry win these people back or do you need to reinvent your industry in light of the many changes?
A. There is no question in my mind that the core audience that consumes Yankee the way it does now will get smaller, but the total audience for what we have to offer in all the different ways we can serve them will expand. People will continue to care about New England and trust Yankee. The days of people searching for information and taking whatever they get are declining. The Internet information consumer is becoming more discriminating because they've realized that there is just so much garbage out there. That will work to our advantage. If I'm going to learn how to grow tomatoes, am I going to learn from tomatoes.com or from the Old Farmer's Almanac?
Q. Will you sell content or give it away?
A. We don't expect advertisers' support is going to provide the kind of compensation we need to provide these services. That is not to say that everything will cost. The model for paid media which won't get that much advertising support will be to give away a certain amount for free and then when you come a little deeper into the service you pay a little more.
So for that driver in Stowe, Vt., we'll provide a restaurant recommendation for free, but will charge a fee for the foliage driving tour. We'll deliver it right to their phone and they can listen to the audio. The question is can we make it compelling, priced right, and will the Yankee brand name distinguish it from the free content?
Q. There has been a shift away from the print magazine and toward the Internet.
A. Our Web site serves a different audience from our print audience. The Web site users are coming for a very specific piece of information. For example, we have a very robust travel and recipe data base. We just started the Yankee Advantage Club. It is a premium subscription offer that has more benefits than just getting the magazine. We're going to send them an e-mail newsletter, additional content in different formats, and extend benefit offers from iconic New England brands and travel destinations. It is an experiment.
On the business side of things, the magazine industry has done a really good job of training the American public not to pay very much for a magazine subscription. We've always relied on consumer rather than advertising revenue. Competitive pressures have pushed our rates down and with all the changes in the industry and because of the recession, the media landscape is changing. What you're going to see is more and more magazines trying to charge more for the single copy and the subscription. We think that offering these additional benefits may be one of the ways we can get consumers to justify paying more for our magazine.
Q. Two years ago you embarked on some significant changes, including changing the size of the magazine. How has it all shaken out?
A. Right off the bat, we got a lot of complaints from our readers. People basically liked the old size and didn't like change. We expected that. It is basically the same magazine except it comes in a different box. We were very reluctant to make the change. We talked about it for 10 years, but we could see the need and felt we couldn't put it off any longer.
People like to browse the magazine, not read it from cover to cover. So you need to arrest them with something visual to make them stop and read a page in the magazine. The change has been very successful.
Q. Yankee seems to have shorter snippets of information rather than features. Is that part of an industry trend?
A. Yankee is still a magazine for readers. We still run one or two long narrative features, but it is not as feature-oriented. It is more rigidly formatted around service, travel, food and home. Readers are looking for information and inspiration. They are looking for ideas and stuff they can use. We're trying to stay with the times as to how people are using the medium and meet that need for service.
My demand to the editors is to keep the tone of Yankee the same. Even when we write a service piece, there is a storytelling aspect to it.
Q. What's Yankee magazine going to look like in the future?
A. Twenty years from now, you'll probably still be able to buy a print subscription, but it's going to cost you a fortune. The big buzz is some kind of a tablet computer on which people will feel comfortable, like a Kindle, except with a rich visual experience. It will transform the reading media industry. That is the way we'll read our news and get a lot of our information. The reading experience on the tablet will be 20 times better than what we presently have. It sounds futuristic, but it's right around the corner.
It is not a question of if — it's a question of when. There is a lot of hope in the industry because it is a way of reducing the biggest cost, making and delivering, not in creating the content. Simultaneously, there is a fear.
Q. Is New England losing its mojo?
A. No one would deny that New England is changing. The question is, is it changing fundamentally or superficially? The threat is there, but it has always been there. In our first issue, (Yankee founder) Robb Sagendorph wrote about the threat to New England.
We think old New England is alive and well. There is a spirit in New England, which includes independence, ingenuity, going against the grain and not taking the easy route. That sprit is alive here, but not just in the people that came over on the Mayflower. New England is diverse. What does that person in New Haven have in common with a person in Littleton? It is the values that New Englanders appreciate.
There have been other magazines that have come out about New England but haven't succeeded. They were trying to tie New England together as geography without using the value system. The glue that holds New England together is this value system.