Q&A with: Workforce housing exec Dick Ingram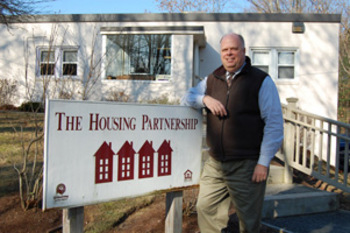 During his tenure as president of the Greater Portsmouth Chamber of Commerce, Dick Ingram discovered that chamber members were focused on one issue above all others.
"Affordable housing for their workers was their biggest concern," Ingram said. It was a significant economic development issue that everyone in the business community talked about because it was becoming increasingly difficult to find housing for workers and to recruit them from out of state. New Hampshire's hot real estate market was paradoxically hurting the state's economic growth.
Ingram decided to confront the issue head-on in July 2007, when he left his chamber post to become executive director of The Housing Partnership, the Portsmouth-based organization founded in 1988 to deal with issue of affordable housing. The reason for the job shift? "I'd be a hypocrite if I didn't put my money where my mouth was," he told NHBR.
Ingram knew that talking about workforce housing was easy. Making progress was more questionable and had led to a long trail of small victories and bigger setbacks as communities and developers saw little economic self-interest in encouraging widespread affordable housing growth.
Ingram, who lives in North Hampton, previously held posts as executive director of Big Brothers Big Sisters of the Greater Seacoast and had a longtime career in the financial sector as a senior executive with firms such as Arthur Andersen & Co. and Mellon Trust.
---
Q. How do you think the current financial crisis will affect workforce housing initiatives?
A. The world is turned upside-down right now. It's like being caught in a windstorm — there are a lot of unknowns, but some potential benefits, due to dropping real estates prices. At the New Hampshire Housing Conference in October, we were briefed that the state was ahead of the curve nationally and will bottom out earlier and not so deep.
Q. What are you seeing in terms of credit and investment?
A. Fannie Mae was the biggest investor, at around 30 percent in projects like ours. Regional banks clearly have less of an appetite for projects like ours. I think they are looking forward to pretty straightforward investments and not those dependent on federal low-income housing tax credits, which is our largest single source of capital for projects that often cost as much as $6 million.
Q. How are you adapting to the shifting economic environment?
A. Our challenge is thinking differently in this market. We know that investors will shy away from potentially marginal projects. For example, we are looking at possibly buying property in this down market, developing it and selling it while offering to manage the property.
One thing I've learned is that there is no one-size-fits-all solution. It's true that we all got our brains beat in the last year with skyrocketing oil prices and snow removal. But every region in New Hampshire has different workforce housing needs and challenges.
There are opportunities, because we have a successful track record for investors, and we are more locally banked than in other regions of the country. We are dealing with institutions (Citizens Bank, Bank of America and TD Banknorth) who didn't invest heavily in the type of debt securities that have hurt so many others.
Q. What is the Housing Partnership portfolio?
A. We own and manage 14 properties with 230 units that house 550 people. Affordable housing for them is the ability to pay between $800 and $1,000 a month. We will begin construction of another 63 units (in Kennebunk, Maine, and Rye, N.H.) that will start in the next few weeks. It takes a while — as much as 3-1/2 years — for these to come on line.
Our strategic goal is to add 50 units a year for the next five years.
Q. Have dropping real estate prices altered the workforce housing dilemma?
A. Only marginally. The gap was already too high for potential lower-income buyers, around $100,000, and it's gone down to $70,000 to $80,000. That's not enough to make a difference.
Q. How important was the passage of workforce housing legislation in Concord during the recent session?
A. The legislation – Senate Bill 342 — signed by Gov. John Lynch put the issue of workforce housing front and center in the Legislature. It defines workforce housing and requires communities to offer affordable and reasonable opportunities for workforce housing development.
Essentially, it put into law the court case (Britten V. Chester) that ruled that communities can't discriminate as they have in the past. It was a big policy victory. It's also becoming more and more obvious that the new Obama administration is poised to act, and act with some vigor.
Q. What's the best book you've read lately and why?
A. It's one I've read and re-read again and again – "Forest Hills Diary: The Crisis of Low Income Housing" by Mario Cuomo. It was written in the early 1970s, and I keep going back to it because it's inspirational and shows the difference that one person can make as a community organizer.
He was one guy willing to take the beating, to be the shock absorber and honest broker so a community consensus could emerge (about the need for diverse housing). The same questions and issues (Cuomo) raised then are with us today of how common the problems are from city to city and state to state.