Q&A with: Winemaker Amy LaBelle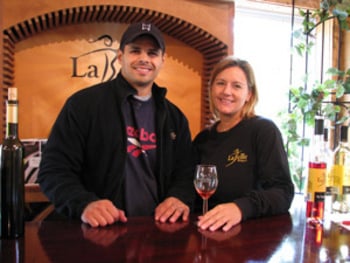 Autumn is a busy time for most winemakers, but it's an even busier time of year for LaBelle Winery in Amherst as it begins production of not only grape wine, but wines made from apple, blueberry, raspberry and even jalapeno peppers.
This autumn is especially hectic as winemaker Amy LaBelle, 38, who still puts in hours as a corporate attorney at Fidelity Investments in Merrimack, along with her husband Cesar Arboleda, 37 — LaBelle Winery's business manager and a former IT professional — and son Jackson, 2, welcome newborn son Lucas into the winemaking business.
<hr>
<B>Q. How did you get your start in the winemaking business? </b>
<B>A.</B> In 2001, after I graduated from law school, I was on vacation that summer in Nova Scotia and took a side-trip to a winery that was making blueberry wine. I looked around this tiny little place and said, "Oh my gosh! I think that I'm supposed to be doing this."
When I got home, I purchased many books about how to make wine and I read them all. By the end of August, I made my first batch of blueberry wine in my little brownstone in Boston.
During that year, I made many gallons of wine — I made apple, I made cranberry.
<B>Q. When did you start commercial production?</b>
<B>A.</B> 2005 was our first commercial season. For most of the first two seasons, we partnered with Alyson's Orchard in Walpole. We made tons of apple wine that year — 400 gallons.
2007 was the first year we made wine here [in Amherst]. Now we're up to just under 3,000 gallons. That's actually mid-size for a New Hampshire winery. It's very small on a world scale.
We currently have 16 flavors out. That's a lot to manage for a small winery.
<B>Q. How does New Hampshire's state-run liquor operation affect your distribution plans?</b>
<B>A.</B> The Liquor Commission here is kind of interesting. They carry us in 12 of their stores, but they make that decision. The winery association has been working with the commission trying to get a little more exposure in the stores and a little better shelf placement.
I think the one thing that will really make the difference is customer pull-through when they start requesting our wines at the liquor stores that don't carry some of our other kinds.
<B>Q. How does a new winery get into a grocery store like Hannaford or Shaw's?</b>
<B>A.</B> That's really hard. For us, it certainly involves decisions on how we want to be perceived, what stores we think match up with our marketing and our branding.
Thus far, we haven't wanted to be in grocery stores because we've been focusing on more of the boutique stores. That's not to say we won't expand out further as our customer base gets bigger.
It also is a factor of capacity and production. You cannot run out.
<B>Q. How's the wine industry doing in the state? </b>
<B>A.</B> It's a growing industry in the state. We have 19 licensed wineries in the state now, I think. We also have the New Hampshire Winery Association. It's a cooperative association.
All of our wine has to good. If someone comes to the state one time and tastes a wine that is bad, the state will get a reputation for making bad wine. It's in all of our best interests to be on the same page.
<B>Q. What's your flavor profile philosophy? What are you working towards?</b>
<B>A.</B> Grape wines are wonderful, but there's such a big world of wine out there that needs to be explored that has nothing to do with grapes.
The trouble is fruit wines have really gotten a bad rap because of saccharine-sweet commercial wine products. You can take any fruit and ferment it with the same quality and style as a grape wine. And there's no reason why we can't drive that quality.
We also have to re-educate the public. If I can just get these [wines] into people's mouths. If I could just get somebody to try the Dry Apple wine and realize it's not at all sweet and it would be perfect with dinner.
Right down to our packaging, we're trying so hard to change people's thoughts on fruit wine. We've chosen to use natural cork instead of something like a screw cap.
We do make grapes wines, and they're wonderful and lovely, but certainly our fruit wines are where we have a lot of room to experiment.
<B>Q. How do you decide what kind of fruit would make a good wine?</b>
<B>A.</B> Some are really a gamble, like the jalapeno. That was my first cooking wine. I only made that because one year I had all these pepper plants. I could make only so many fajitas.
So I fermented them just like any grape wine – whole fermented jalapenos; there's nothing else in that wine. It is very spicy, but it won't knock you down. I've been making that for about five years now.
My cooking wines don't have the added sodium, unlike the ones in the grocery stores, which have 5 percent sodium added so they're unpalatable and they can be sold in places without liquor licenses.
So people can drink [LaBelle's cooking wines] if they want to.
The Heirloom Tomato makes a pretty good summer cocktail, over ice with some mint, and a little sugar. It's pretty refreshing. We also have a Sweet Onion wine.
The other flavors, too, just come from messing around. I had some raspberry and some blueberry grappa. So I blended them together with some sugar and some brandy and made a mixed berry port-style wine.
We currently have 16 flavors out. That's a lot to manage for a small winery.
<B>Q. How has the economy this past year affected your business?</b>
<B>A.</B> It hasn't here. It has affected our wholesale accounts — restaurants, stores — we're in 40 stores now.
Customers weren't in the restaurants or the stores, so they didn't buy the wine. So those sales were down a little bit in the first half of the year.
Retail sales have been great here at the winery at our open houses and at the farmers' markets. We count on the farmers' markets for our outlets because we don't have retail presence here [at the winery] on a regular basis. We do five of them a week. The rain earlier just killed us this year. It rained every day in June. That was like a whole month with no income.
The truth is, nationwide, wines in the $20 and under market weren't really hurt. People, instead of going out, were picking up or cooking dinner and a bottle of wine.
So we're really doing all right. We're just hoping for a strong end to the year.
<B>Q. Running a winery seems exceedingly difficult because of all the regulatory issues.</b>
<B>A.</B> It is a highly regulated industry. Take my labels, for example. I've sent in the same three labels to the TTB [the federal Alcohol and Tobacco Tax and Trade Bureau], one might say "Alyson's Orchard Dry Apple" as opposed to just "Dry Apple" or something. One will be accepted, one will be rejected.
Thank God I'm a lawyer. I don't know how people who are not manage it. There's a lot of paperwork.
<B>Q. What are your plans for the future?</b>
<B>A.</B> We're going to spend some time this winter and revamp our business plan. We have to decide if we're going to stay here, or if we want to go down to a site on [Route] 101 or someplace a little more "retail-y." And whether or not we want to incorporate other aspects like weddings. That's a big decision that changes the flavor and the feel of the business.
We're honestly trying hard to do that all-American dream. We have such an opportunity to grow here in New Hampshire. We love it here.