Q&A with ValChoice founder Dan Karr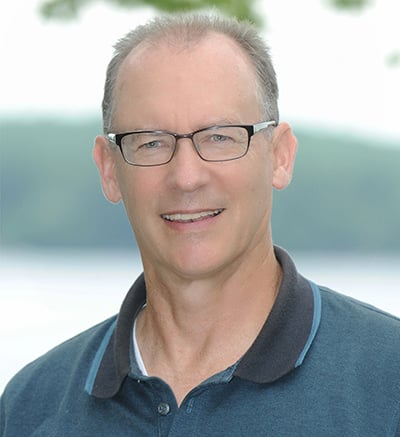 Dan Karr founded Bedford-based ValChoice after a life-changing experience. While commuting to work one morning, he was hit by a car and admitted to the intensive care unit, where he began his recovery from broken ribs, a collapsed lung, three slipped vertebrae in the neck and a fractured hip. Having car and health insurance, and not being responsible for the accident, Karr thought everything would be covered. Instead, he was hit with nearly $100,000 in medical bills.
Eventually, Karr recovered the money and wrote about the experience in his book, "Injured Money." It was while writing the book that he came up with a solution: a grading system for consumers that brings transparency to the insurance industry. ValChoice, founded in 2013, has received five entrepreneurial awards since November 2015, most recently receiving the $120,000 Microsoft BizSpark Plus Award.
Q. Why didn't insurance cover your medical costs?
A. When I had my accident, my health insurance company didn't pay my medical bills, and I didn't find out until someone sent me a letter saying they would send me to collection. I thought, "This has to be a mistake," because I was insured. There wasn't anything my health insurance company could do unless I filed a suit. The next was my own auto insurance because it turns out the other driver didn't have enough insurance to pay the bills. One, I could see some technicality, but three? That's when I thought, "I have got to do something about this."
Q. What type of insurance does ValChoice grade?
A. Right now, we grade car insurance, and we're taking one type of insurance at a time. I think it's important to make sure we do it perfectly and get everything working so it's easy to use, and once we're absolutely totally complete on car insurance, the next we're going to do is home insurance.
Our focus is on consumers. Virtually everyone in America has car insurance, so over time we'll expand our portfolio of offerings.
Q. How does the analytics system work?
A. We analyze companies, and what we show is how good a company is in three different dimensions. How good they are in their pricing, which people care about a lot, and how good the company is about actually protecting you. Do they stand beside you and pay your bills or run for the hills? The third dimension is how good of a service they provide.
Q. How do you make this information comprehensible for consumers?
A. In our free report, we present a fuel gauge image to show how that company compares to other companies selling that type of insurance. If the needle is to the left of straight up and down then that's a below-average company. If it's to the right, that's an above-average company. We also offer a premium report where we break that one gauge down into three – how good is the price is, how good is the protection and how good the service is. Many people just get our Comparison Report where we show that persons insurance company compared to three of the best in their state.
Q. And you're also selling this to insurance agents?
A. If you think about Carfax, it initially was sold to the consumer, and they bought it because they would know if the used car they were buying was good before they own it. Eventually, it was offered by the car dealership and the consumer didn't need to buy it themselves, and I think that will happen here. [Insurers] can show how their product compares to other products in the market, so it's a great differentiator, if you sell a good product. About 50 percent of insurance agents can use our product.
Q. How will consumers use this information?
A. This kind of information has never been available before so people had no way to comprehend this and incorporate it into the decisions they made. In fact, a lot of people don't think there's a difference between the companies, but they're not the same at all. Now that information is available, and we have more than cute jingles. I think people will start to make a more informed decision.
Q. How are you attracting consumers?
A. So far it's been through public relations efforts. We will soon start to promote it on social media as well. And we have other approaches as well.
In terms of making money, there are two ways. If a consumer wants more than the basic report on a single company, then there is a charge for it. There's also the subscription service we sell to the agents representing good companies.
Q. Looking back now, with all of the programming and data mining involvement, how did you reach where you are now?
A. Whenever you're doing something that's never been done before, it's not easy. It's very challenging to figure out all the different aspects of the business in order to make it thorough, yet easy to use and understand. But it's exciting to see the progress and how it can help people.
I just get a thrill when people download a free report. They know more about insurance than they did before, and they can make more informed decisions to protect themselves. You need to know your fall back and your safety net will be there for you.
Q. You've won several awards. What do you think of the entrepreneurial network in New Hampshire?
A. I think New Hampshire has just been incredibly friendly, to our startup anyway. It's been fantastic to have all of these different competitions available to get this company off the ground. It's been rewarding in that respect. It's also been nice because it's really hard work to get a company launched, to get a product developed, so after a lot of hard work, seeing these independent panels of judges say what we had done was significant and useful really felt good. It felt like an accomplishment.