Q&A with: UNH Law School Dean John Broderick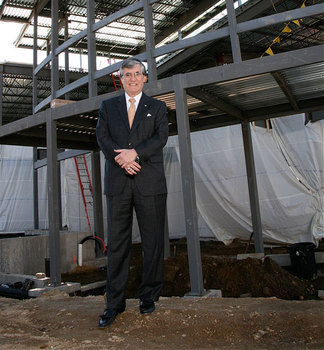 John Broderick, 63, retired last year as chief justice of the New Hampshire Supreme Court and soon after accepted the twin jobs of dean and president of the University of New Hampshire School of Law, formerly Franklin Pierce Law Center, in Concord.
While the school has prided itself on the advantages of being a small school with plenty of opportunity for student-faculty interaction, Broderick sees those virtues as not incompatible with the long-term advantages of being part of the state's largest and oldest university.
Looking back on a career in law that has already been long and satisfying, the rookie dean is already neck deep in his administrative duties and hopes to find time to teach as well, as he did for 11 years at the Tuck School of Business at Dartmouth College.
The son of a high school science teacher, Broderick was born in Norwood, Mass., and is a graduate of Holy Cross College in Worcester. He earned his law degree at the University of Virginia and moved to New Hampshire to join the Devine Millimet law firm in 1973. He was for some years in partnership with former New Hampshire attorney general and governor Steve Merrill and was appointed by Merrill to the state's supreme court in 1995. He was appointed chief justice by Gov. Craig Benson and stepped down seven years in advance of the mandatory retirement age of 70.
He takes the helm of the state's only law school at a time of expansion for both the school and the university as a whole. He discussed with NHBR his vision for the school and the challenges that lay ahead.
Q. Has the job been a good fit?
A. Well, it's been a wonderful transition. I love the job. I'm still learning it, obviously. The faculty here is first rate. The staff has been very welcoming. And there are a lot of moving parts, which I find challenging. And I've enjoyed my association, which is ongoing, with university officials.
Q. Are there some advantages to the fact that you haven't spent your whole career in law schools?
A. There are probably some disadvantages, but I think there are mostly advantages and that is this: I have great respect for scholarship. I relied on scholarship for my 15 years on the Supreme Court. I taught classes at the Tuck School for 11 years. So I value it. I think not having been in academia my whole life allows me to see contours and marketplace demands that maybe I wouldn't have seen if I were inside an academic building all my life. So I hope I bring some strengths, though I still have much to learn.
Q. What do you like about New Hampshire in particular?
A. People here seem more genuinely interested in their communities and in each other. They seem more engaged in the civics going on around them. They're not easily impressed, which I've always admired. And they're sufficiently cynical so that the truth finds its way to the surface.
Q. You chose the University of Virginia for your own legal education. What are the qualities you look for when you look at a law school?
A. It was probably different then than now. Back then, it was, "How highly ranked are you?" I didn't have much of a relationship with the faculty. They were researching, writing, and I didn't have much interaction with them. They didn't seem particularly student-friendly. Today, I'd want to know what they would teach me about being a lawyer, whether they could get me ready to be a lawyer in the 21st century and whether I would have some interaction with the faculty, because a lot of the best learning happens other than in the classroom. Whether my alma mater, the University of Virginia, fits the bill I just described today, I don't know. But looking back, it didn't fit the bill I've described today.
Q. I take it this school does?
A. I think this school does, in the sense that this is fairly small. The population of students here is about 450 for all three classes and graduate students. This school, as you may or may not know, was started in a farm not far from downtown Concord in 1973. So it started in a very entrepreneurial way, and it's always had a little bit of a chip on its shoulder, in a good sense. They're very proud of what they have accomplished here, which — particularly in respect to intellectual property — is amazing.
Q. A big part of your job as chief justice was administrative. But you were also dealing with some interesting legal questions that you had to grapple with that were, I'm sure, often very challenging. Do you miss that?
A. Some. When I left the court after 15 years, it was my choice — I could have stayed another seven years. But I realized slowly that the stacks of briefs seemed to be getting higher, that the nights of reading and the weekends of reading seemed to be getting longer, and I did not want to give in to the temptation, which exists, to maybe not read as carefully, to study as long and make as many notes. And so I didn't want to do that.
So I realized the year before I left that it was time for me to leave. Not because I didn't love the work or the administrative job. But I wasn't satisfied that I would be able to continue to bring to the job the same level of involvement that I thought the job required.
Q. What is your sense of what is it that draws young people into a career in law?
A. In my case, I saw law as vitally connected to the society in which I lived. I saw lawyers making a difference, whether in the Legislature, in local offices, at the school board level or in Congress — they seemed vital and it seemed important to me to be able to have that skill.
Because I had a great interest growing up in government and politics and it seemed to me that law was important if I went in that direction, but if I didn't, it would still allow me to be a contributing member of my society in an important way, at least as I saw it. So I think people who come to law school have an interest in the world around them and feel that the law degree and the law training will allow them to make a difference.
Q. If and when you have time to teach a course here, what would you like to teach?
A. Actually, if I could teach a course here, I would teach a course entitled, "Lawyering." The study of law and the practice of law, though connected, are not necessarily the same. The best lawyers I knew were lawyers who understood the context of their client's problem. They had extraordinary judgment, they were very good at counseling people, and they understood that it was a profession, not a business. Law school does a wonderful job of providing you with the intellectual bulk you need and with the training you need to look up the answer, to find the case and to analyze the case. Lawyering is another level down, which is the capacity to put all of that into a larger context so you're worth $250 an hour to somebody.
There would be, I would think, the opportunity to say something like, "This is what the textbooks say it is, but in real life, in real courtrooms, this is how it works."
Well, let me give you an example. When I was with Devine Millimet and Norman Stahl was there – he's now a senior status First Circuit judge – he asked me to look up an answer on a tricky banking question. And up to that point in my life, I'd only had a passbook savings account, so I was not terribly sophisticated on banking law. So I spent a fair amount of time in the library and I did a memo and I thought, "Wow, I've really nailed this." So I proudly marched up to Norm's office a week later, and he smiled and said, "Have you talked to the client?" I said, "No." He said, "What does the client need? What are the client's needs?" I said, "I have no idea, Norman." He said, "Well, how can you give them an answer if you don't know what their needs are? In the context in which the problem arises, you have to understand their business, and where they find themselves."
And that was a very good example to me that lawyering is not just looking up the answer. Sometimes it is. But Norman was sending me a strong message, which said, the problems arise in some context. And the answer often has to consider the context. They didn't teach me that in law school.
Q. The announcement of your coming here included something about creating a school within the school or a department of intellectual property law? Could you expound on that?
A. This school, when it was Franklin Pierce, developed an international reputation for intellectual property law –trademarks copyrights, trade secrets — globally. When it became UNH, some out there said, "What happened to that school?" Thankfully not many, but some. Outside, you'll see the steel being erected. That will be called the Franklin Pierce Center for Intellectual Property Law. It will be opened this fall. And it will, I think, restore that name to the marketplace while we're still UNH. That name had real cache and value. It will be, I think, a place where there's some practical scholarship going on and some empirical research going on and it will be a convener of some conferences and symposia.
It's a very exciting time for the school. And it will, I think, put a flag on the ground saying, "Franklin Pierce is still here." But we are also very proud to be part of the university, because through that affiliation, I think our reach will be wider than it would have been. And I think the 21st century will not look kindly on small boats.
The university affiliation will also allow us to have joint degrees. We'll have four or five of them this fall. We will also have a lot of interdisciplinary activity here with some of their professors coming here and some of ours going there. We also hope to partner more aggressively at the Intellectual Property Center with the Whittemore School of Business.
Q. So Franklin Pierce's name is still an important part of the state's only law school.
A. I'll tell you. I was out in San Francisco in early January. I wasn't dean yet, but I was out meeting with alumni, and I had dinner with two fellows who graduated from this school. So I said to them, "Is the Franklin Pierce name well known out here?" Without a moment's hesitation, they said in Silicon Valley, California, the name Franklin Pierce is highly respected.
We have a member of our board who's from Seoul, South Korea. I was speaking to him about two weeks ago, and I said, "Is our name well regarded there?" And he said, "There are probably more lawyers in Seoul, South Korea, who graduated from Franklin Pierce than any other school offering intellectual property law. That's the gold standard here."
So here we are on White Street in Concord, and it's quite amazing, the reach of this school. We have people who are in very prominent places. The chief patent counsel for Johnson & Johnson is a graduate of this school. The general counsel up until recently of Genzyme in Massachusetts is a graduate of this school. We have graduates in high places in Microsoft. It's quite extraordinary, the reach of this place.
Q. The announcement of your coming here said something about increasing involvement of the school in the community and the state.
A. I was over the other day at the State House trying to get the opportunity to have some of our students do internships over there. I think that will happen. We'll be starting very shortly something called UNH Law Public Policy Forums. They will be nonpartisan. We're part of the university system, so I said to the speaker, for example, "If you have an issue that you think would benefit from a kind of public dialogue in conference mode or in speech mode, please think of the law school."
We are hopefully going to have a conference here in October dealing with the Violence Against Women Act, which is up for reauthorization. Judge (Susan B.) Carbon, who is from New Hampshire, is head of that office in the Justice Department. We've been working with her and people at UNH to find out what's happening in the United States, what the challenges are, how that statute is working.
At the end of May, this forum will host the American Bar Association Task Force on the Preservation of Justice. So Ted Olson and David Boies of Bush v. Gore fame, they chair that task force that's going to be meeting here and holding public hearings here.
I want to root this law school in a different way in this state. That doesn't mean I want to lose our national or global fingerprint, but I don't think you have to choose.
Q. Does the fact that you were chief justice give you some pull that you can use on the school's behalf?
A. I don't know. I think once you put "former" in front of somebody's name, the calls don't get returned as quickly. But I have never referred to myself as Judge Broderick. I'm John Broderick, who happened to be a judge. When I first came here I was no longer judge and I was not yet the dean and people said, "What shall we call you?" And I said, "Call me John. That's the name my mother gave me, and my father and I like it."