Q&A with: The Music Hall's Patricia Lynch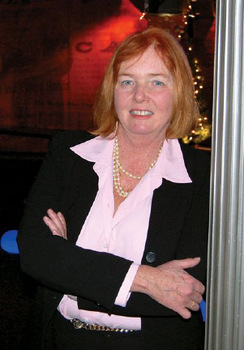 Patricia Lynch, executive director of The Music Hall in Portsmouth, has a favorite phrase when it comes to running a regionally vital arts organization. "The math doesn't lie," says Lynch about the crucial values of accounting and accountability. The same could be said about her talents as a financial manager and an arts organization visionary since she arrived at The Music Hall in May 2004.
Lynch has led what has been a vast transformation of a facility that had been in disrepair for years. Last September, The Music Hall unveiled an entirely reconstructed and renovated $2.2 million Beaux Arts-influenced lobby that is part of a long-term $10 million plan to cement The Music Hall's stature as an active historical landmark and a premier arts center offering an increasing range of programs — and one of the region's economic anchors.
"I think what we've seen is a renaissance at The Music Hall because people were willing to think bigger than they had. There are so many people who have contributed to this. It's been an honor to be here," Lynch says.
A native of the Midwest and a published playwright, the energetic Lynch previously had successful stints as chief executive and artistic director of Brass Tacks Theatre in Minneapolis, Minn., and as executive director of The O'Shaughnessy, the second-largest theatrical venue in St. Paul, Minn.
During Lynch's tenure in Portsmouth, annual attendance has soared past the 100,000 mark and membership roles have more than doubled.
Q. How is the Music Hall weathering the economic storm?
A. We are holding our own but cautiously optimistic. The numbers are down slightly, but we are pretty much on par with expectations for 2008. There's no doubt that these are challenging times, but we are doing all sorts of things to be proactive.
Our main focus is to manage resources and keep our commitment to the community. People are still going out, our movie attendance is up and the diverse performance programming we have, such as "Writers on a New England Stage," "Met @ the Music Hall" and "Intimately Yours," draws crowds from across New England.
Q. Do you have a management playbook?
A. It's important to be well-rounded. People are often surprised by how much financial acumen I have. I have a combination of good artistic instincts and financial strengths. I understand markets. If you put on programs that don't work, nobody's happy.
I've had 30 years of being in show business trying to create community through the art — a community from elementary school students that we bring in for workshops to the local business owners who thank us for their increased business.
Q. What are your leadership strengths?
A. I work very hard as a leader to inspire and teach. I've had so many people help me along the way, from a bank vice president who taught me about finances to learning about market demographics and trends from others. You have to pay it forward. If they (your employees) grow, we're all going to grow.
Q. How is the Music Hall an economic anchor for the region?
A. There are huge benefits to having a major cultural institution. We are a well-known center of social life and virtually connected to every part of the community with our programs and community outreach. We are a big economic driver because of that major activity.
A lot of community-building is engaging the community and having them participate in revitalizing the building and making them part of this journey. I believe that will help us in the long run.
With our diverse programming, we have become a destination stop, and we partner with restaurants, hotels and museums like Strawbery Banke. There is also a quality-of-life factor. It's a bonus for human resource managers in the area to mention The Music Hall to people they are recruiting from outside the area.
Q. What's the best part of your job?
A. The fact that this great professional staff, the board and the public are all on this great adventure together is inspiring. The success here belongs to thousands, and I think we are in mid-climb. We have seen a transformation from a cookie-cutter facility in dire need of renovation into a major performing arts center which impacts so much in the downtown area and the region as a whole. This is like the Bay Area, because it has a well-rounded cultural experience, but with a much more manageable human scale.
If you took this American treasure away there would be a big void in that experience.