Q&A with Senate Majority Leader Jeb Bradley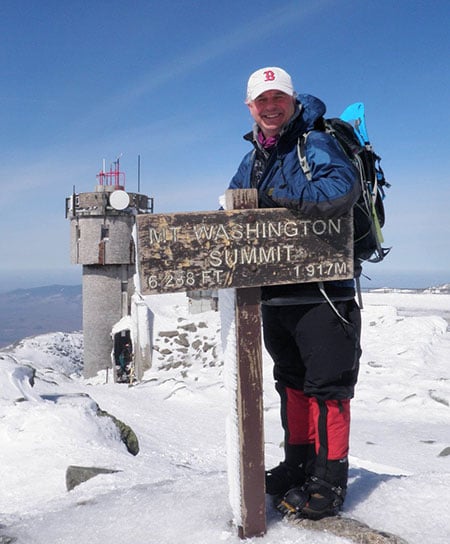 Senate Majority Leader Jeb Bradley, R-Wolfeboro, mountain climber (he's a member of the Appalachian Mountain Club's Four Thousand Footer Club) and former 1st District congressman (he served two terms, from 2003 to 2007), took a break to sit down with NH Business Review the day before the NH Senate passed its version of the budget on May 31.
Q. What got you into politics?
A. I was involved in high school with some environmental issues and joined in the first Earth Day celebration. I did some traveling after I graduated Tufts, and after that I started a business. Eventually I ran for the planning board in Wolfeboro.
Q. How about climbing? Is that how you got into the environment?
A. When I was 19, I went to an Outward Bound program in North Carolina and learned basic mountaineering technique. I just really wanted to see the world's largest mountains and I did and I had a bug in me ever since.
Q. You are perceived as being very friendly to the utilities? Is that a fair impression?
A. I do believe that you can protect the environment while you have reasonable economic growth. Part of economic growth is a reliable energy infrastructure system.
Q. What do you think of electric restructuring now? Are you backing off by pushing Senate Bill 128?
A. Restructuring in 2000 was about competition, but always about price. PSNH holding onto their power plants worked well and benefited consumers. New England being at the tail end of the pipe for natural gas has left us at a very high level of price while other regions of the country have seen their costs go down.
The way SB 128 is written, the Public Utilities Commission will rightfully get the opportunity to weigh in on whether a Power Purchase Agreement will lower prices. My bill, if it will lower costs, is a good thing. People complain that it is going back on competition. It isn't. It is just another form of competition.
Q. You seem to be in on every major bill affecting business.
A. I've always been pro-business. I'm a former business owner. I grew up in a family that owned a hardware store. I owned a natural food store. I was a painting contractor. I developed commercial real estate. I think that the absolutely best social program is a good job.
Q. What is the most important thing you have done as an elected official?
A. Being part of the team that saved the Portsmouth Naval shipyard. I personally knew the head of the BRAC commission, Tony Principi, and the case that we made was that shipyard is the most cost-effective repair shipyard in the country and our submarine capability was integral to the nation's defense. There are 5,000 people still working at the shipyard in good paying jobs.
Q. How about at the state level?
A. I would say several things We passed SB 133 a couple of years ago that said that workers' compensation insurers don't have to pay 100 percent of the medical claims and that there can be some negotiation. Workers' comp costs have come down about 10 percent. And tax cuts have been very successful – our business tax revenues are 12 percent ahead. Medicaid expansion has helped 50,000 people. It has led to some greater stability than in other states.
Q. What are the most important things you are working on now, besides the budget?
A. HB 469 would allow reinstitution of the health insurance high-risk pool. We want to make sure that we can respond to changes in the Affordable Care Act
Q. A recent special election in Wolfeboro resulted in the election of a Democrat for the first time. Are you worried?
A. I don't read too much into that. The Republican candidate only lived in Wolfeboro for seven years, and he was running against an institution. The winner, Edie DesMarais, founded the Wolfeboro Area Children's Center 30 years ago.
Q. When you were in Washington you seemed to be more of a hard-right conservative. Is that a fair description?
A. Labels are funny things. In 2006, when I lost, I had an 86 percent approval rating from the League of Conservation Voters. In 2008, I had a really difficult primary with John Stephen, who was running to the right of me.
Did I support efforts against terrorism? Yeah, I did that. Did I support tax cuts? I still support tax cuts. I haven't wavered from the sort of a core principle of trying to solve problems. I was certainly on the moderate side of the Republican Party in Washington.
Q. In Concord, you are trying to work with both sides. How viable is that?
A. It is difficult to govern. Whether it was President Trump or Clinton, or Sanders it wouldn't matter. It is extreme. It's only getting worse A lot of that comes to New Hampshire too, but there is a certain level of respect that comes with being glorified volunteers. Washington is all about "no" right now. I think we've shown that "yes" is still viable in New Hampshire.
Q. Do you want to go back to Washington?
A. I have no interest in going back to Washington. I like New Hampshire.
Q. Do you ever see yourself as governor?
A. No – it's more likely that I just get back to climbing mountains.