Q&A with Saint Anselm College President Steven R. DiSalvo
'The whole cost of education issue is one of the top things we'll focus on going forward. We don't want to raise the tuition too much, and we want to continue to offer substantial financial aid'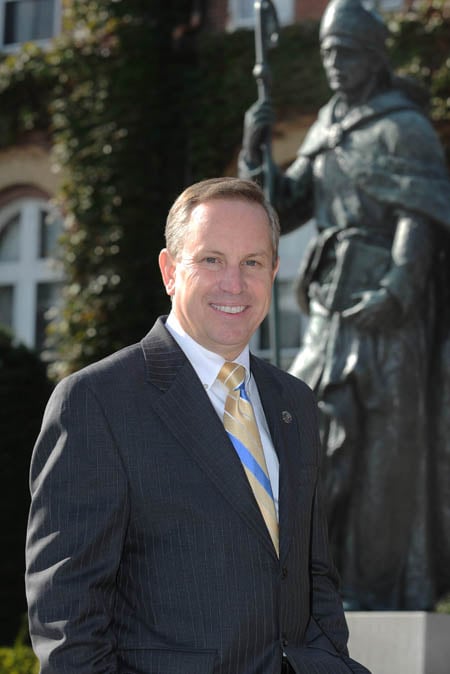 For the first time, the letters following the Saint Anselm College president's name include MBA and not OSB (as in Order of St. Benedict).
Steven R. DiSalvo, who also has a doctorate in educational leadership, was inaugurated by the Catholic liberal arts school in October. All 13 of his predecessors were monks.
Charles W. Pollard, chairman of the college's board of trustees, said a desire to find a leader with business and fundraising prowess was a factor that led the school to consider naming a layperson president for the first time in its 125-year history. The presidential search committee landed on DiSalvo, who was president of Marian University in Wisconsin for three years and previously held executive positions at several philanthropic organizations.
"The search was intended to encompass both monastic candidates and lay candidates. There was no attempt to say it would be one or the other," Pollard said. "We did think fundraising strength was very important. We also thought the economic challenges would make a business background a plus. And anyone we seriously considered had to have a real strong passion for the Catholic, liberal arts college tradition."
The New Hampshire College & University Council's 2013 economic forecast states that economic and demographic trends have created a challenging environment not only for the Granite State's schools, but also for its students, who carry the largest debt load in the country with average of $32,450. Such issues were at the front of DiSalvo's mind as Saint Anselm enters its quasquicentennial.
Q. What sort of unique challenges, if any, does being the first non-monk president of Saint Anselm College present?
A. At the foundation of everything is preserving the mission of the institution. Whether it's curriculum, alumni relations or anything else, it always comes back to mission preservation. How do we live the mission every day? At a place like St. A's that is just steeped in tradition, that's easy.
People have been introducing me as the first lay president, but I'm also the first parent (three boys in high school and college). I look through the eyes of a parent at issues such as affordability. That brings another interesting perspective.
Q. What is your top, immediate strategic goal for Saint Anselm College?
A. The whole cost of education issue is one of the top things we'll focus on going forward. We don't want to raise the tuition too much, and we want to continue to offer substantial financial aid.
Fundraising is a big part of that; we want to be able to infuse more money into our endowment and our scholarships. But we also need to control our costs and make sure we contain expenses so that more money can be funneled back to students and student needs.
Q. What are some things you do as a leader on a typical day?
A. I start every day with a stand-up meeting with my senior leadership team. We literally stand up in my office and talk about the issues of the day. It creates outstanding communication and allows vice presidents to get a look at what's going on at the college outside of their areas of responsibility.
I try to eat lunch two to three times a week with students. I ask them two questions: What do you absolutely love about Saint Anselm, and, if you could change anything, what would it be?
Q. What is the most outside-the-box idea you have ever had in your professional career? What was the result?
A. I worked at Loyola (University) Chicago in the mid-'90s, and I wanted to get a sense of what was going on at other campuses, so I arranged a bus tour of 10 colleges in five days for senior leadership, some faculty and some staff. Each person met their counterpart at the institutions and spent the half-day learning how they do their job, what they do best and what they need to improve on. At lunch each day we did a debriefing and best-practices exercise. We got some of the best ideas for improving our campus from those conversations.
Q. What do you have in the works for 2014?
A. On the admissions side, we're going to be much more purposeful about casting a wider net. That's because the demographics are changing. There aren't as many 18-year-olds, so we can't rely on a 50-mile radius anymore.
Q. What makes an effective college president?
A. An effective college president has to listen, learn and lead. Listening requires a college president to get out and talk to our customers, who are our students. Learning means learning about the culture of the institution and the people who live and work here. The leadership piece means making decisions that aren't always popular, but decisions that need to be made.
Q. Professional pet-peeve?
A. I expect people to follow up in a timely fashion. If I don't get a response, that's worse to me than getting a response I don't like. Bad news doesn't get better with time.
Q. What do you do to relieve stress?
A. Someone taught me this advice years ago: Your smartphone has an on-off switch.
Q. Questions have been raised about the decision to give $2 million from the state's Tyco International settlement to Saint Anselm College to create government ethics and investor education programming, with the accusation essentially being that it was a sweetheart deal for the school. Do you have any response to the criticism?
A. I read some things about it, and I had some conversations with folks about it. To my knowledge, it was a robust process, and other schools could apply and did apply and we were chosen. I think the process was fair, and we will honorably represent higher education in delivering courses that will meet the needs of that grant.
Q. Have you fleshed out what the program will look like beyond the tip-of-the-day investor education emails by business writer Jack Falvey?
A. We've got a couple things in the works, but we haven't gone public with it yet. Keep your eyes on the website.