Q&A with RKM founder Kelly Myers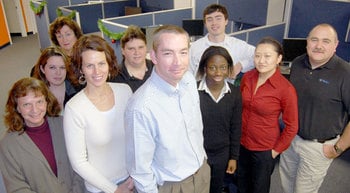 Why do consumers act as they do? It's a question that drives RKM Research and Communications in Portsmouth. Since 1997, the firm has conducted more than 1,200 market research studies for a diverse national client base.
Founded by Kelly Myers and Kara Breese, the goal of the company was to create the next generation of market research by combining a wide range of academic thinking and a strong methodological approach to give companies better information about their customers.
Breese and Myers – who also co-founded the University of New Hampshire Survey Center — wanted to move beyond the academic polling arena and into private market research because they wanted to see their research translated into concrete actions to benefit their clients.
In conjunction with the Business and Industry Association, RKM recently released the 2011 New Hampshire Business Outlook Survey, which found that confidence in better economic conditions for 2011 remained steady from 2010 — and as a sign of growing confidence, future capital spending is expected to rise significantly.
RKM has grown steadily over the years and has recently added staff to handle an increasing workload for qualitative and quantitative research that combines its own methodological formulas with out-of-the-box thinking.
The firm has eight full-time analysts and as many as 50 part-time workers who conduct telephone surveys.
Myers talked to NHBR recently about being a thought leader and why a liberal arts college background still matters.
Q. Who do you hire as analysts?
A. Our business has been growing steadily for the past several years in terms of revenue and a diversified client base and that's primarily due to the high quality of analysts that have come to the company.
Our best analysts are people who come out of a liberal arts college in New England with a high GPA. They are students who have done well in school and have degrees in English, literature, sociology or psychology.
We're not filled with computer geeks because I can teach them all the technical skills they need to know — in fact, in today's economy you can learn any technical skill that's available.
Q. Who are some of your clients and how do they find you?
A. Most of our clients are in the New England region, but our largest clients are national. We work with Comcast, American Water (a utility) in New Jersey and Banner Health in Phoenix. At least 80 percent of our customers are long-term clients. We are known through word-of-mouth, our website and through the white papers.
Q. What are these companies seeking?
A. Basically, how to connect with consumers at a more visceral level.
We strive to understand what creates emotional value with customers. We study consumer behavior so that companies can better focus their sales and marketing strategies, and use the information and analysis to better directly communicate with their customers.
Q. How do you do that?
A. There are a lot of market research firms that don't do a good job of measuring what really drives consumer behavior.
We're much more focused on understanding behavior. I'm much less concerned about what they think than what they do. It's going back to understanding the fundamental things that drive humans.
Our work draws on several academic disciplines, including marketing, cognitive psychology, behavioral economics, sociology, communications, linguistics and evolutionary theory.
The common theme is to understand what drives human behavior, first and foremost. It's important to know the way humans have evolved and to realize the power of emotion and the less significant impact of cognition on behavior.
Q. How has your company evolved?
A. We like to see the direct impact of our research on these businesses.
One of the advantages of working at a company this small is the broad institutional knowledge we have developed. For example, work that we do for a hospital might allow us to ask better questions for a community bank that wants to differentiate itself from larger national banks.
I'm amazed how much has not changed in this industry and how many firms continue to use outdated measuring techniques.
We're not necessarily interested in becoming the largest (firm). We've found our niche as a boutique firm. We want to be the most sought after by senior brand managers who understand we are thought leaders.
We also take pride in having a diverse staff with 40 percent of our interviewing staff having some type of disability.
Q. How confident are you about the economy?
A. I'm very optimistic for our company and also optimistic for the overall economy, especially in New England.
We heard from the survey responses that business owners are planning to make greater capital investments, which is always a precursor to economic growth and job development.
We also live in very well-educated part of the country and that's an increasingly important component to economic growth — especially in a world where we compete internationally.