Q&A with: RiverWoods CEO Justine Vogel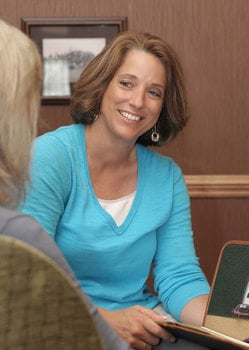 The timing could have been better. In the fall of 2008, after the financial crisis dam had burst, the directors and management of RiverWoods, the nonprofit retirement community in Exeter, had a difficult decision to make – go forward or halt plans for financing a planned $74 million project for its third campus, The Boulders.At a time when the largest retirement community projects around the country were being canceled – and the remaining ones ranged in size from $5 million to $10 million – RiverWoods chose the least cautious path and moved forward. Construction began in late 2008, and The Boulders opened in March, on time and on budget.
To top it off, RiverWoods officials say they are 20 months ahead of schedule in paying down the project's short-term debt.
RiverWoods' president and chief executive, Justine Vogel, a trained CPA, said the decision to proceed – not an easy one, given the economic turmoil – reflected a legacy of faith in mission and the perseverance to make it happen that has been part of RiverWoods since its first conception more than 25 years ago.
It was the brainchild of two Seacoast residents, Maryanna Hatch and Rosemary Coffin, who believed there should be a better way to grow older. Hatch and Coffin encountered numerous skeptics and had a long road to travel before RiverWoods opened in 1994. There are now three campuses – The Woods, The Ridge (which opened five years ago) and The Boulders – and more than 500 residents. It also employs more than 400 workers and has been named one of the best places to work in the state.
RiverWoods is one of more than 2,000 continuing care retirement communities (CCRCs) in the country that provide housing and nursing care to their residents for the rest of their lives. RiverWoods is one of the highest rated CCRCs in the country and part of an exclusive 10 percent minority that are accredited.
Typically, a resident will enter anywhere from age 62 or older, and they enter as an independent person, someone who is able to live safely on his or her own. Residents' contract includes the provision of assisted living or skilled nursing care, as needed.
"We believe everyone understands that we are here to make people's lives better," Vogel said. "When that's your goal, you really do have a great job to come to every day."
Vogel joined RiverWoods as part of the pre-opening team, serving as director of accounting before being named chief financial officer, chief operating officer and then president in 2007.
Q. Why did you go forward with the $74 million expansion in 2008 when the economy was taking a nosedive?
A. There is an underlying theme of perseverance at RiverWoods, from our founders Maryanna Hatch and Rosemary Coffin to today. When you're a stand-alone organization, you must take a little pride in taking a few body blows. The market meltdown was not your average body blow, but it's the kind of thing we're used to. We knew we had a great concept, two campuses that were already successful, and there were more people who wanted to live this way.
The board went through a very deliberative process to determine the risk versus reward. There has always been an underlying belief that we are doing something good at RiverWoods and we went forward with that in mind.
Q. How much of an economic impact do you have on the local economy?
A. I'd say it is pretty significant. We generate $20 million in annual revenues and employ 425 great people – and for many of them it's their first job, where they come and learn how to work.
During the biggest economic downturn most of us have ever seen – well, I think some of our residents have seen worse – the construction of The Boulders put $50 million in the local economy and was the second-largest project in the state at that time. We have 600 residents who believe in shopping locally. They also vote and contribute their time and money to many local nonprofits. We pay $1 million in property taxes.
Q. Why remain a nonprofit?
A. We have been approached before to join up with other large nonprofit organizations. When you're a nonprofit your only shareholder is the mission – and our mission is that we believe that at 75, you should be living and not exiting. It's not about making anyone rich, just about doing good things. We have to be financially strong to survive, of course, but the draw to join a larger organization was security – and about seven to eight years ago we decided to become a stronger, larger organization.
Q. What makes RiverWoods stand out in the continuing care retirement community universe?
A. We have a "three-legged stool" policy approach, with many of the decisions made from discussions and input from the residents, board and staff. A lot of CCRCs are faith- or affinity-based, but our residents don't want parents, they want partners and want an organization they can be proud of.
We have three residents who are voting trustees, and they are very respected members. We believe everyone understands that we are here to make people's lives better. When that's your goal, you really do have a great job to come to every day.
Q. What are your selling points?
A. Almost all our residents have some kind of connection to the area or the state. We believe it's a really smart financial decision, but we don't sell it as a financial decision. RiverWoods is a lifestyle choice for people who are making their own choices.
We hear from people who say, "I'm too young" or they're not ready, but we also challenge people to define independence. Being at home but having to deal with continual (maintenance, financial) issues can make living at home more like a ball and chain. We think independence is having the time and energy to do good things every day.
Q. What's the best conversation you've had lately?
A. Hard to pick just one. I just had a conversation with one of our founders (Maryanna Hatch) a few weeks ago. We are trying to document our history on video, and she told stories I hadn't heard. They had so many hurdles and an amazing amount of perseverance. They had a great idea, no money, and they made it happen. They managed to raise $35 million with no money down. It's inspirational.
With so many residents and employees, you never have an absence of interesting conversations.