Q&A with: Revenue Commissioner Kevin Clougherty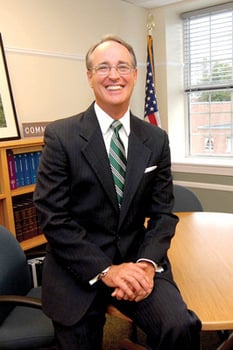 Kevin A. Clougherty knows numbers. He has encountered budget numbers, audit numbers and revenue numbers during three decades as a corporate executive, public servant and educator. But even Clougherty, the longtime finance director for the city of Manchester, hadn't faced anything quite like the historical state budget crisis when Gov. John Lynch appointed him as commissioner of the Department of Revenue Administration last November.
Nevertheless, one of Clougherty's goals is to make more efficient the state's myriad collection of taxes and fees. He wants to make the state's tax code fairer and easier to understand for taxpayers in a state that has no broad-based tax and depends on business taxes and taxes on meals and hotels for much of its revenues. When an expansion of the state's interest and dividend tax to cover limited liability companies was passed last session by the Legislature, Clougherty says he looked at it as less a revenue-enhancer than a matter of fairness.
"We didn't look at it as a revenue-raiser but as way to make sure that everyone was being taxed fairly," says Clougherty, who also served as the state's first deputy chief treasurer. "It's been very apparent for a long time on the interest and dividend tax that corporations paying dividends were being treated differently than LLCs in distributing their profits. This is a fairness issue. We either need to tax it fairly or have no tax it all."
---
Q. What was it like to become revenue commissioner while the state is amidst a financial crisis?
A. The attraction of the job is in the challenges it presents. It is very important to modernize the state's tax collection and administration functions and make the department more operationally efficient and responsive, not just to help in the current economic recession but equally important to lay the foundation for better, more efficient tax administration in the future.
Q. What are some examples of this?
A. The DRA has operated for many years with computer systems that are primarily transaction-oriented for collecting and processing tax returns and refunds. The cost of replacing these systems would be considerable, approximately $30 million.
However, the existing systems, although they are old, are still functioning fairly well. Therefore we are in the process of upgrading these base systems and adding some functionality that will create a data warehousing environment, thereby allowing much better analysis of the data collected and processed, and resulting in valuable information being created for policy development and tax compliance
Also, the New Hampshire CPA Society is helping the DRA review all of its forms from a "tax preparer" perspective to ensure that any consolidation of tax forms or introduction of new options for electronic payment will be as "taxpayer-friendly" as possible. The CPA Society is also working with the DRA to help make audits of New Hampshire cities and towns more affordable and effective.
Q. What is the most difficult aspect of the Department of Revenue Administration's mission?
A. Enforcing the state's tax laws fairly and evenly during a recession.
Q. What was your input on the $110 million medical underwriting fund inclusion into the 2010-2011 state budget?
A. Another state department administers the fund so the DRA had no input on the subject.
Q. What is the best part of the job?
A. The people with whom I get to interact or work with on a regular basis — elected leaders, my fellow commissioners and department heads, the DRA staff that I see every day, the practitioners out in the field trying to do what is best for their clients and of course the taxpayers.
Q. What lessons have you learned so far that you would share with your public administration graduate class?
A. "Gracious professionalism" is a philosophy that Dean Kamen and Dr. Woodie Flowers instill in the participants in the FIRST Robotics Competition. Treat everyone with whom you interact with respect and fairness. As an adjunct professor for the UNH Graduate School of Public Administration, I try to convey that same message. Even though there are cultural, technological and budgetary hurdles, you can overcome them if you are honest, respectful and open in your approach to making changes. Most of all, listen and understand what the person you are talking to is saying.