Q&A with retired radio exec Ray Garon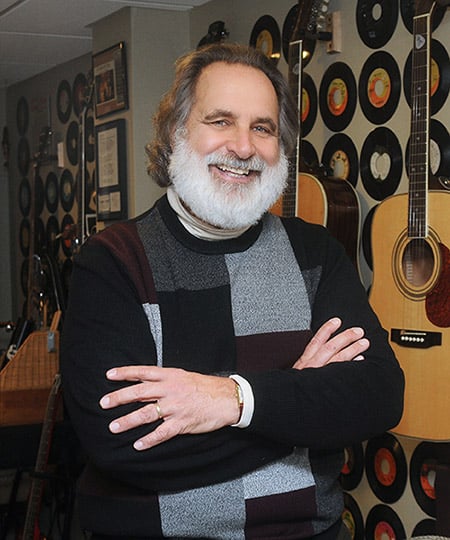 Ray Garon first walked into radio station WKBR in Manchester over 50 years ago, when he was 10 years old. At 18, he got his first job changing tapes to keep the music playing and updating commercials and weather.
Throughout the intervening years, Garon's career in radio spanned from engineering to production to the programming side, as well as sales, marketing and management roles. As he says, "I've done it all."
He left his home station a few times – to serve in the U.S. Air Force, work in radio advertising at WLNH in Laconia, and work for a small chain of radio stations, among some other jobs – but he always returned to the Manchester Radio Group (WZID, The Mill, WFEA, Hot Hits).
Garon served as president and general manager of the radio stations for 23 years, until his retirement in October. These days, Garon works as director of special projects at EVR Advertising in Manchester while exploring his musical talents.
Q. What sort of perspective did working in many different of facets of radio provide you?
A. I think it strengthened my appreciation for what radio is, because it's free. It's an appliance, so for most people it's a convenient little jukebox. But I found it's also, for some people, companionship, and I think for a lot of charitable organizations, local radio has become a trusted partner. And for a lot of businesses, local radio has become a valued advertising resource that helps get the word out about a business and helps their business grow.
Originally I really wanted to be a DJ – it was all about the fun, but I learned local radio really served a neighborly purpose and helped people during times of crisis, during times of emergency. That's what kept you going, knowing you were relevant, you were a neighbor and a help to a lot of the people in the local community.
Q. What do you say to people who thought broadcast radio was passé with the advent of satellite radio?
A. I've been asked that question a million times. There's a couple of ways to slice it up. Yes, there is a misperception that local radio is no longer as relevant as it used to be years ago. But what's unfortunate is that people don't realize, even though they say they think radio is not as popular, the statistics show radio is listened to as much as it always has been.
Q. How are songs selected?
A. Well, different companies do it different ways. A common way is you have one or two people paying attention to what music you should be playing, and there's enough data out there for you to get a sense of what's popular. Plus, people talk. People email you, you have an interaction with your audience. You have people tracking the popularity of a song, and so you make a creative decision, it's time to add this new Taylor Swift song. It's pretty easy to get a copy of it.
Q. What are your last impressions from your career with WZID?
A. Right to the very end, I had a fabulous staff that I worked with and it's only right they get some kudos and recognition for how good and polite they are, and dedicated. I had a good career and I have no regrets, and I have a lot of luck, but it only comes with good people. They didn't fall to a lot of the conglomerate thinking. Saga Communications [owner of the Manchester Radio Group] still believes in the values of what good local radio should be.
Q. What does your new job at EVR Advertising entail?
A. I'll be involved in various agency functions, from business development, managing some audio and video production to client service and creative input. My management, marketing and media background will allow me to be somewhat of a utility player.