Q&A with: Red Arrow Diner owner Carol Sheehan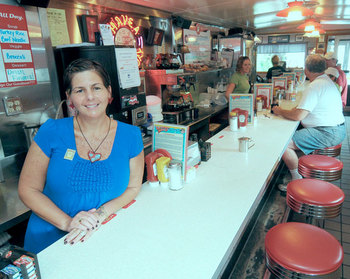 If you said Carol Sheehan, owner of Manchester's Red Arrow Diner, was a "daddy's girl," you'd be right — and also very wrong.
In 1987, when she was in her early 20s, Sheehan embarked on a journey with her father George Lawrence and another business partner to buy the Red Arrow Diner, which had sat vacant for two years.Running a restaurant, after all, was in her blood. Her family runs the Belmont Hall & Restaurant on Grove Street.
But it was her very own common sense, energetic spirit and careful attention that brought the Queen City landmark back to life.Fast-forward to 2010, and you are just as likely to hear the Bedford resident on the radio with her talk show, "Food for Thought with the Taste Buds," with co-host Michelle Trumble, as you will see her in the Red Arrow corporate offices planning the business's expansion — or slinging hash while meeting presidential candidates at the diner.
Yes, Sheehan still serves blue-plate specials (on blue plates) at the Red Arrow on occasion, calling it "a great way to get customer feedback."And while Sheehan, 46, still asks her dad for his advice, she is definitely not afraid to blaze her own trail.
Q. You bought the diner in 1987. What prompted you to take on that project?
A. It was the first time since 1922 that the diner had been vacant. Roger Bouchard, who became a co-owner, approached me and asked me if I wanted to own a diner. I was 22 or 23 years old. I said, "Why not?" So we bought it.
My dad came on board too; the three of us are partners with the real estate. I own the business myself.We found the old recipe file while we were cleaning. It had the original recipe of the beans, meatloaf. It was really cool.
We opened it up and brought it back to life.When I first started running it, we weren't open 24 hours. It was seven days a week, 6 to 2, then stayed open for dinner Friday and Saturday nights until 8.
Then I got married. My husband, now my ex-husband, at the time had been laid off, so he started running the diner. I had a child, a special needs child, so I was busy with him.Then in 1997, I really started getting into it. I joined Roadside Magazine, and met this really awesome guy, Randy Garbin – he's into diners — diners are his life. He would host these "diner-ramas," where diner enthusiasts would spend the weekend traveling and visiting different diners.
Randy came to my diner one day and didn't tell me he was there.He e-mailed me and told me the only thing I needed to change was to make it smoke-free. Back in '97 or '98 it was pretty rare to have a non-smoking restaurant.
I took that to heart.In May of 1998, I was voted one of the Top 10 Diners in the country by USA Today. That was huge. It totally blew me away.
Randy kept talking to me about going smoke-free. So I did a lot of research. The statistics showed me one out of four people smoked at that time. I thought, well, how can I miss?I talked to my dad – I talk to him about everything. He didn't think it was a good idea. I wanted to talk with one more person, my good friend (Union Leader columnist) John Clayton. He thought I was nuts. But I really thought it was the right thing to do.It was now September '98. I put up signs we were going smoke-free. I had picketers that morning that went non-smoking.
Clayton's column about me that first morning was plastered on the front page of the Union Leader. So I got more media, more attention.From that very day, we had immediate results in the positive.
And as for my dad – Belmont Hall went smoke-free Jan. 1 (1999).It was a big decision. It was the first time I did something my father told me not to do. It was very difficult.
Q. How do you describe the food that the Red Arrow serves?
A. It's like coming home and having a home-cooked meal. Literally, all of our food is all homemade. It's always been diner food. People don't go to the diner when they're on Weight Watchers, but you can.We have really funky breakfast specials, like pork pie eggs Benedict. The pork pie is known around here – it's my grandmother's recipe from way back.
We have great eggs Benedict. We also do great hash brown specials, with hash browns with grilled onions as the base. Then you add chili, ham, whatever.Our food is diner-y and it's fun.
Q. You use a lot of family recipes at the diner?
A. Yes. For example, the meat loaf recipe is my recipe. No peppers — I hate meatloaf with peppers.We'll also get suggestions from customers and the waitresses. We're always looking to do different things.
Q. The Red Arrow is one of the musts for visiting presidential candidates. Do you get much time to prepare before they arrive?
A. This past election, I literally had a front-row seat. It was fantastic. Every candidate – except for [John] McCain, he's the only one who didn't come – came in.
They do call about a day or two ahead, the aides. With Hillary Clinton, I think we had a week's notice. They'll set up a time and want to meet the owner.
WashingtonPost.com was doing a big thing with us this past election. They were at the diner every week. They actually left us a video camera in case somebody came in when they weren't there.
One of my waitresses who's really into politics did a shout out to Hillary Clinton on WashingtonPost.com, telling her she needed to come to the diner. Her campaign called us soon after to set it up.
When she came out of the car, she came over to us and spoke with us for 10 minutes. She was so gracious, so nice and so wonderful. We were joking with her. She met every customer at the diner. She had lunch. She was there for a good two hours.
When she was getting ready to leave, she asked for me personally to thank me. She was my favorite.[John] Edwards came a couple of times. He and his wife Elizabeth, of course, have lost a son, so I had kind of a personal thing. I lost a son, too.
The year before the primary campaign, I had gone to a Compassionate Friends convention – it's an organization for parents who have lost a child – and Elizabeth was the keynote speaker. She was wonderful.I shared that with Senator Edwards as we sat and talked. I had her book, too, and he offered to come back with Elizabeth and have her sign it. Sure enough, they came back, and I got to meet her.
Barack Obama was the one candidate that we did not know was coming.It was Saturday morning, I'm pulling up Lowell Street, and I usually park in the driveway on the side of the diner. I go to park, and there's this big, black Suburban. There's a guy standing outside, which should have tipped me off.
I'm calling out, "Excuse me!" and he's ignoring me. I told him he's blocking my parking space. I'm thinking, "Who does he think he is?"He comes over to me and says, "Ma'am, I'm Secret Service. Barack Obama is in your diner right now." I was so embarrassed, I apologized. Then he got me into the front door so I could meet (Obama). He was very nice, very gracious.
Q. Who was the best tipper?A. That would be a waitress question. I don't know.Q. Red Arrow has been featured on Food Network's "Diners, Drive-Ins and Dives." What was that experience like?
A. That was so cool. Food Network had been to my diner years ago for a little segment.We had to figure out what items we wanted to feature. One was the American Chop Suey and the other one was Corned Beef and Cabbage Dinner – it looks very colorful.At the time, we had just perfected our home-made Twinkies, so I wanted to use that too, but they said (host) Guy (Fieri) never does desserts; he's not a dessert person.When Guy came that Saturday they were filming, he sees the Twinkies, and wondered what the heck they were. He asked his producer, "We're doing these, right?"He was great. He's so down-to-earth, he interacted with the customers. We had a blast.
Q. You recently started franchising. What went in to making that decision?
A. The idea to franchise really happened after the Food Network show with Guy Fieri. It gave us a lot of attention.I got a phone call one day afterwards from a franchising consultant firm, FranCorp in Chicago. I barely knew what a franchise was. So I flew out to Chicago to learn a little more about what it entailed. I came back and talked it over with my dad.My franchise director, Kim Capen, was actually working for me at the time as a cook. He then pulled me aside and told me he had been doing that to see how I was as an owner and how the business was run. He said, "You have something that is franchisable, and I want to be your franchise director."With the economy, it seemed like it was dead for a little while, but now my franchise director has a hot prospect in Keene. Another place where we get so many requests for a location is Concord. There are a lot of people looking to invest some money or put together something for their children.
Q. What's been the reaction to franchising? There's a perception sometimes that once you franchise, the quality will go down.
A. It's been difficult. We've had a few of the old-timer employees go — they haven't liked the changes with the franchising.The waitresses have also been kind of upset. We've had a couple of meetings.We have not changed any recipes, we've fine-tuned them, so they can be recreated exactly like what you are served in Manchester. We need to think food costs as well.
Q. How did your radio show, "Food For Thought with the Taste Buds" on WTPL-FM 107.7 The Pulse, come about?
A. I had been a sponsor and a guest of "The Big Guy and the Missus," a radio food and restaurant program on The Pulse.One day, the hosts decided not to do the show anymore, giving very little notice.About a month later, the sales guy that sold me to be on that show said I should do a restaurant/food program. I thought he was crazy — like I even had the time to do that.Then I started thinking about it; I could get some free media for the diner. So I met with the owner of the station along with my sales guy, and they told me I had to have some sponsors.
But it all came together.
I have about 20 sponsors currently for my show, and I still have about four or five that have been with me from the very beginning.It's a two-hour show, Sundays, from 11 a.m. to 1 p.m. We do a lot of food trivia, lots of call-ins and interaction with the listeners. Guy Fieri had been a call-in to the show a number of times. I'll also have guests on, sometimes sponsors. We do recipes and grilling tips and different fun things.
Q. The Red Arrow supports many causes, both locally and nationally. Tell me about some that are most important to you.
A. Two are very important. The New Hampshire Association for the Blind and Compassionate Friends, a national organization.They are both connected to my son, Jesse, who was blind.We do two major fund-raisers. One we're finishing up the details, selling raffle tickets for breakfast for two for a year. One hundred percent of the proceeds go to Compassionate Friends.
This is also spelled out in the franchise documents. They must support those two charities. Every state has an association for the blind.We do a lot of other, smaller things. I get phone calls on a daily basis, asking if we can help. We're always donating a mug with a gift certificate.
I also do some things for Special Olympics, and also with High Hopes Foundation. They gave Jesse a wish.
Q. What's next for Red Arrow?
A. Really to focus on the franchising right now. We're just looking at New England for now. You need to be close by when you're just starting out. We might also possibly open up a third company-owned location, we're looking into that. That will be the last company-owned one though.
Cindy Kibbe can be reached at ckibbe@nhbr.com.