Q&A with NH Charitable Foundation CEO Dick Ober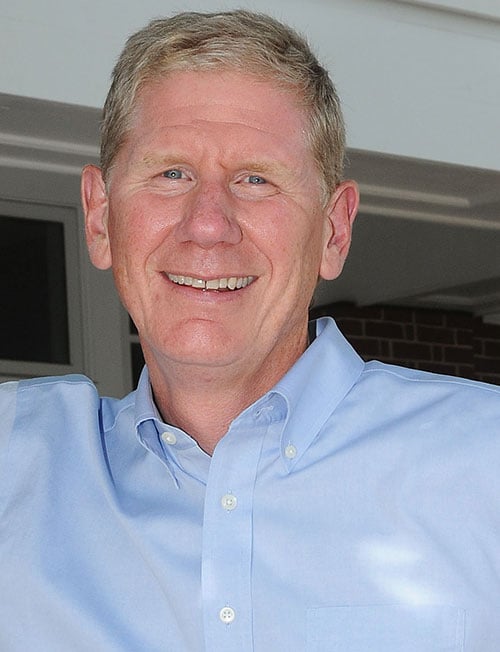 Since the age of 20, NH Charitable Foundation President and CEO Dick Ober knew he wanted to do something to help take care of the place he called home.
"I learned, fortunately very early in my career, my very first job, that you can combine your passion for community with a profession, and so I've worked in the nonprofit sector for 30 years in New Hampshire," says Ober.
For much of his career, Ober worked at the Society for the Protection of New Hampshire Forests and Monadnock Conservancy before joining the NH Charitable Foundation in 2008 as vice president, and then president in 2010.
Ober has served on numerous nonprofit boards and public commissions, including the NH Park Advisory Council and Energy Efficiency and Sustainable Energy Board. He also is a professional writer, having written books and contributed to other books and magazines about the connection people have to place and the different way it is expressed.
Ober believes in "the powerful responsibility we have to be good stewards of the place and people who live in those places."
Through 5,000 grants and scholarships a year, the NH Charitable Foundation provides $32 million to nonprofits and students in the Granite State. It is the largest funder of nonprofits north of Boston and largest provider of scholarships in the state.
Q. Tell me about your work in land conservation.
A. For more than 20 of my 30 years I worked in land conservation, and that was based on my deep love for the outdoors and my recognition that environmental stewardship is a really important part of community life – that taking care of the natural world and natural ecosystems was a real necessity. After 23 years of working to identify and save hundreds and hundreds of conservation areas, special places that define our sense of amenity and sense of communities, I realized there were many other ways to serve the community.
I believe in the powerful connection between people and the places they live. That is the single most important thing to know about my career. I believe place shapes who we are as people and we have responsibility to give back to that place.
Q. How did you become involved with the NH Charitable Foundation?
A. Some years ago, I started to recognize there were other problems and challenges facing New Hampshire and its community and people, and I wanted to expand my horizons beyond environmental protection. I've been a friend of the foundation and partner for a long time. In 2007, I was given an opportunity to come here, and it was the exact right job for me at the right time and there really isn't an institution in the state to instate positive change as the NH Charitable Foundation does. I truly believe it is one of the critical institutions in New Hampshire to help sustain, preserve quality of life and to help those who are not as fortunate to also lives good lives here.
Q. What are the benefits of the NH Charitable Foundation?
A. A private foundation has one donor or one family, and they do great work, but a community foundation is the collective resources and collective decisions and priorities of hundreds and hundreds of people.
We have 1,700 charitable funds, set up by 1,700 individuals and families for hundreds and hundreds of purposes. These donors come to us to get more out of their charitable giving, to help get more impact out of their charitable giving.
We open about 70 new funds a year, and some are set up to protect the environment, some for social services, some to help the homeless, some to promote the arts, some to promote humane societies, some to promote education. The beauty of a community foundation is that there is no one person making a decision, we are a collective approach to collective philanthropy. What we believe is our essential purpose is we connect generous charitable owners with effective organizations and ideas to solve important problems.
Q. The foundation's current strategic plan is set from 2012-2015, what are your plans moving forward?
A. We're looking at aspiring goals for the next five years.
We have a very substantial fund established by people who deeply loved the North Country – Neil and Louise Tillotson – and it's now our responsibility to help them achieve what their hopes were for improving quality of life in the North Country.
We have a wide range of programs we're funding in the North Country that are virtually always developed and run by the people of the North Country. We believe in their huge energy and great care for the people who live there and we're trying to facilitate a wide range of activities in leadership training, early childhood development, a whole suite of activities to help improve the vibrancy of the North Country, which is our most rural part of the state and the part of the state with the fastest economic engines.
Q. Any other areas the foundation is focused on?
A. The state faces challenges based on our aging population and the changing nature of our economy in ensuring there is a vibrant workforce. We are in a partnership with many leading New Hampshire businesses and higher education institutions to ensure there is a better match between what community colleges, universities and other higher education offerings there are and what the needs of employers are.
We are committed to helping fill that gap both by bringing employers and education leaders together, and then use our scholarship money – $5 million a year to 2,000 students a year – to target it to New Hampshire students who want to attend New Hampshire institutions so they can develop the skills they need so they compete effectively and be a part of our workforce moving forward.
Q. How would you recommend young people get involved?
A. Stay Work Play is a great organization trying to encourage more people to live in New Hampshire. I spoke to them a few years ago; it should really be Stay Work Play Give. Charitable giving and volunteering isn't a nice thing to do in New Hampshire, it's a part of who we are.
Because we have small government, we believe in the power of individuals and small groups to do great things, and New Hampshire works best when people step out of their daily lives of taking care of themselves and their families and their businesses and their jobs, and think, "What else can I do to help my community?" Once someone recognizes that is part of working in New Hampshire and the rewards of giving back, fantastic things happen. I think people should give back in three ways: your time, your talent, and third is treasure.