Q&A with N.H. Snowmobile Association Executive Director Gail Hanson
Gail Hanson will be the first person to tell you snowmobile clubs are nearly as busy in the summer as they are in the winter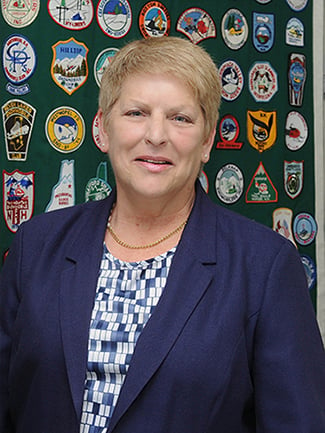 Gail Hanson will be the first person to tell you snowmobile clubs are nearly as busy in the summer as they are in the winter. As executive director of the New Hampshire Snowmobile Association for more than 11 years, she would know.
With more than 56,000 registered sleds and 110 local clubs, snowmobiling in the Granite State is more than just recreation: it generates some $586 million to the economy, according to the Institute of New Hampshire Studies at Plymouth State University's "2010-2011 Economic Impact of Spending by Snowmobilers on New Hampshire Economy." Keeping track of such a large group is more than a full-time job for Hanson, who also serves as the association's voice on the Statewide Trails Advisory Committee and works closely with the state Department of Fish and Game and Bureau of Trails.
For her efforts, in June, she was named the 2013 recipient of the George A. Eisenhuth Award for distinguished service to snowmobiling, presented by the industry's international honorary society, the Iron Dog Brigade.
Q. What kind of honor was that for you to receive the Eisenhuth Award?
A. I was totally surprised; I was shocked. Normally, the people that win this award own companies and are presidents of manufacturers.
It's an honor and privilege to be able to promote the sport I love in this state. I'm pretty fortunate to have a job that also allows me to go out and enjoy the sport.
Q. Update us on the state of the snowmobiling industry here in New Hampshire.
A. Snowmobile sales nationwide are up 12 percent this year. The market here (in the Northeast) is good so far. Last year it was down, but it bounced back.
Overall, you're seeing more women getting involved in the sport. You see more and more families on the trails. It's really being pushed by all of us as a family-oriented activity. The past two school vacation weeks in Massachusetts and New Hampshire, I saw large groups — I mean, 10, 15, 20 in a group. All of them had little kids, 3- and 4-year-olds with them.
So I think the industry here is good. Of course it could always be better.
Q. Compared to pre-recession, has it come back?
A. We hit our bottom low about two years ago. We've started to come back. You see that registration-wise, membership-wise. We haven't gotten everything back, but we're probably 80 percent back to what we were.
Q. The new 1,000-mile network of trails in the North Country opened in June. How will that help the snowmobile industry in the Granite State?
A. Basically, you're going to be able to ride from Pittsburg to Berlin. Now you can go down and get services.
Q. The Northern Pass is a big issue for many who are involved with New Hampshire's open spaces. Where does the Snowmobile Association weigh in on this?
A. It's very hard, where the association has the number of members we have – it's very hard to get the membership to say, "We're against this," and "We're for this." It just wouldn't work. So we're watching.
Q. So what do snowmobile folks do during the summer?
A. During the summer, they're working on trails. In this office, we're like the backbone of the 110 clubs in the state. We're preparing things to get out to them, so they can get things out to their memberships. We have people, clubs already joining for next year. I'm prepping the newsletter – the first issue of the season goes out in the beginning of September. We still have board meetings once a month.
We're busy right now with Fish and Game and the Bureau of Trails on Reciprocity Weekend in February, where the trails are open to Vermont, Maine and New Hampshire. In the background, we're also working on getting reciprocity for the entire season back between all three states.
Q. What type of snowmobile do you ride and what's your favorite trail?
A. I ride an Artic Cat – I'm definitely a "cat girl." I love riding up north, up through Pittsburg.
Q. Do snowmobile clubs and ATV clubs work well together, especially in preserving the condition of trails, or is it a bit contentious?
A. We're both caretakers. We all want to preserve and protect the land, and enjoy the sport. You have a lot of snowmobilers that have ATVs.
Overall, we've just got to help out with the economy. The more tourism we can bring to the state and the more we have to offer, the better it is for everybody in New Hampshire.
So, yes, we all try to work together and try to be happy with each other.
Q. How closely to you work with property owners, who own 85 percent of the snowmobile trails in New Hampshire?
A. One hundred percent, all the time. If we didn't have landowners, we wouldn't have trails. The landowners are great; besides the clubs, they're like the backbone of the sport.
The state has a great policy. As long as the owner is on the list as a landowner with the state, they are covered by a $2 million policy. So they're covered in case there's an accident or something.
The clubs work with the landowners. Every year, they go out and get permission, make sure the trails are clean and everything is picked up between the seasons.