Q&A with N.H. Public Radio President Betsy Gardella
'I would say that we really make the most of the fact that we are a small-market station,' said Betsy Gardella, president and CEO of NHPR. 'We think of ourselves as an innovation hub for public media.'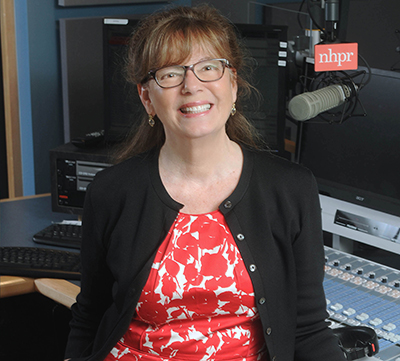 Betsy Gardella's interest in radio may have started with a New York City nighttime DJ, but she soon found her passion was as much for mission as it was for media.
President and CEO of New Hampshire Public Radio since 2005, Gardella has been behind many of the station's advances – from the state-of-the-art broadcast center that opened in late 2008 to its robust social media channels.
Q. How did you come to a career in radio?
A. I have always loved the radio. I grew up in the New York City metropolitan area. I was just in love with one DJ, her name was Alison Steele, and she was "The Nightbird." It never really occurred to me [to make it a career]. I've always gravitated toward mission-driven organizations and the nonprofit sector.
I worked in the performing arts for many years in New York City. It was really great, but very demanding of my time.
When I became a mom, I really wanted to be home with my girl. I worked for a very brief period of time in women's health. I was in my office one day, and I got a call from a headhunter. He was doing a search for WNYC, which is New York's public radio. It was one of those moments where I thought, "Why didn't I think of that?" This was in the mid-'90s. I had been a listener of WNYC at that point for 15 years.
So that was my first [radio] job –I was the VP for marketing and development at what is the largest public radio station in the country. I've been in public radio ever since.
Q. What drew you to New Hampshire?
A. I'm one of the families that left New York after 9/11. It was a very traumatizing event for my daughter, who was then a fourth-grader.
We chose the Twin Cities [in Minnesota] because it's just a great radio community. We really planned to stay there. Again, I got a call from a headhunter.
New Hampshire Public Radio has a strong reputation in the public radio system. I knew of the station. I also had family there, so I knew the state. I went to college in Boston. There was a "coming home" feeling to it.
The first step was that they flew me out for an interview with the search committee. I was excited to get a sense of leadership. I was so impressed with the chair of the search committee, who was Steve Reno, who was then the chancellor of the university system. The board chair was a woman named Sylvia McBeth. I thought, "If this is the caliber of leader that this station attracts, I would be lucky to be considered for this job."
Then they brought me back in, and I was able to meet with the staff and hear more about what they had ahead of them – the capital campaign to build this broadcast center was right at the top of list.
I've done a lot of fund-raising over the years, so I think that made me a particularly strong candidate for the job.
Q. In 2009, you were elected to the NPR board of directors. What's your role there?
A. I was just elected to a second term.
NPR is a membership organization. Most of the board members are station managers like myself. We are elected by our peers. These are, in fact, competitive elections. It's an honor to be elected, and a responsibility, because you are representing your member stations.
My most important board service at NPR is I chair the resource development committee. All of the revenue areas and marketing and communications report to my committee.
I also serve on the NPR Foundation board, which is a group of citizens who fundraise to support NPR's work.
It's incredibly helpful to us in New Hampshire because I hear what NPR is up to, I hear what my colleagues across the country are doing. It allows me to really come back and share with my board and my staff some very forward-thinking ideas.
Q. What does NHPR do better than other public radio stations?
A. The first thing I would say about NHPR is that, of the markets that I've worked in – I've also done a fair amount of work in D.C. and, oddly enough, in Nashville – I think the service that we provide in this state is more important because there's just not a lot of media here. We're the only statewide, 24/7 news and information service.
But I think it's also important because we as a state are opinion leaders. We can really connect our listeners with the information that they need. They can really vet the candidates, for example. We have a national role.
The second thing I think makes us unique is that, for a small-market station, we have an extraordinary news operation. In part, I think it's the primary that serves as a magnet for really talented reporters and hosts and producers.
The third thing I would say is that we really make the most of the fact that we are a small-market station. We think of ourselves as an innovation hub for public media. We can try things here and participate in pilot programs because we're small and nimble.
Q. Has NHPR's audience changed over the years?
A. When I arrived in 2005, I think we had about 135,000 weekly listeners. We have about 185,000 weekly listeners today, so that's pretty good growth in a state this size.
The core audience for public radio is the baby boomer generation. One of the great things about baby boomers is that they have a forever-young sensibility. As we're trying to make sure that our programming is relevant for the next generations, baby boomers love it. They want to be in the know, they want to be contemporary.
It's amazing how New Hampshire, in general, how technologically savvy our radio listeners are here. We can take advantage of that and use it to experiment with shows and topics and the presentation of content that we think might appeal to a younger demographic. And that younger demographic, which for our long-term sustainability, we're very interested in.
Q. And what about that younger demographic?
A. What's so cool about the Millennials is that they're really the first generation that's grown up sitting in the back seat listening to public radio. If you look at some of the Pew research studies, Gen Xers and Millennials are consuming tons of news information, but they're not doing it on television or radio; they are doing it online.
When we host the Concord Young Professionals, for example, I'll say, "How many of you listen to public radio?" I'd say 80 percent to 90 percent of them raise their hands. Then I say, "How many of you are listening on the radio?" Almost all of the hands go down. They listen on their phones. They podcast the shows they love.
There was a time when we thought, to be relevant, our content had to be meaningful to the consumer. Now we know that our method of reaching the consumer is the first measure of our relevance. And then the content has to be great so that they're coming back.
Q. In this day and age of social media – not to mention Internet radio and satellite radio – where does public radio fit in?
A. We have such a great advantage in that we produce audio. It lends itself to the digital world. It also lends itself to the fast-paced world that we live in now.
I think another advantage that we have as public media is that it's such a great business model. In the most idealistic and democratic way imaginable, we invite people to contribute what they can to keep us going. I would bet that every company in America would love to have such customer loyalty that their customers pay for a service that they get for free.
Q. Some people hold the assumption that NHPR, and NPR in general, is politically liberal in its philosophy and programming. What would you tell those people?
A. I think there is that general impression. Our mission is to provide balance and in-depth analysis. We are not opinion journalism. If you dissect the voices that you hear on the air both locally and nationally, you would hear a tremendous balance of opinion being brought by the commentators on public radio. What the research says is that listenership to public radio follows the political affiliation of the community that it serves. If New Hampshire is a third Republican, a third Democrat, a third independent, we imagine that's the composition of our audience. What we also know is that those independents tend to more often vote Democratic than Republican. These are the facts and we recognize that.
In New Hampshire, I think [NHPR is] regarded as a very fair and balanced service. There was a editorial in the Union Leader a couple of years ago around the issue of government funding, and they actually called out "The Exchange" as one of the best, fairest and most balanced programs in all of public radio.
When I think of some of the state's most prominent Republican leaders, I know that they are listeners and that they value the service we provide.
I know, from the NPR board as well as our board, there's a real diversity of thought on the board. We're looking for that. We want to thread that needle.
Q. Update us on ClassicalNH, the low-power classical music station you're running in partnership with Highland Community Broadcasting.
A. We've only been involved for about a year. We're trying to make a go of it. We have the signal here in Concord. There's a ClassicalNH app. And on the NHPR app, you can also get the second stream. And you can also stream it on the website.
We are actually going into a planning phase with them. We're trying to figure out what we can do to make it a little more dynamic by bringing in more local programming onto the airwaves. I think it remains to be seen if we can generate the support for the service that we need to keep it growing.
Q. What will NHPR look – or sound like, as the case may be – in five years?
A. Gosh, I wish I knew! I think that a lot of what we're doing now, we will continue to do. I think that the changes that we will have to make internally will have to do with things like what kind of training we can provide the staff, how we will change our workflow, how we integrate digital tools in the day-to-day.
I think the way in which people access and consume media will change. It's incumbent upon us to be innovative and entrepreneurial in the way in which we manage our business. Our core commitment is to quality content, and that will not change. I can't imagine a world where that's not valued.
Q. If you weren't at NHPR, what would you be doing?
A. In my dreams, I would be a philanthropist. There's a quote that I love, "Responsibility is like the sky; it's everywhere you look."
If I had a magic wand to wave or if I won the lottery, I would create a foundation to support all the great work I see around me.
Q. What is your favorite NHPR program?
A. I can't say! I can tell you that my favorite project in June was Sam Evans-Brown's series on the Core Curriculum [new educational standards adopted by New Hampshire in 2010]. He's the education and environment reporter. He did a series on Core Curriculum that was just fabulous.