Q&A with N.H. Institute of Politics Executive Director Neil Levesque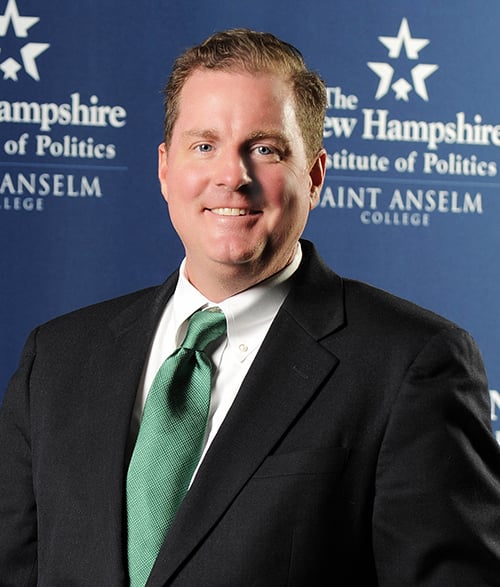 Neil Levesque's busy season has arrived — and it's sure to last the whole year.
Such is the nature of any job closely entwined with New Hampshire's first-in-the-nation presidential primary, and Levesque's position, as executive director of the New Hampshire Institute of Politics at Saint Anselm College, certainly is one of them.
You may have noticed Levesque appearing a lot in the media lately, both local and national, because now that the calendar reads 2015, all anyone wants to talk about is 2016. But the frequent political commentator is getting even more attention than usual because he also has been named chair of the New Hampshire Presidential Primary Centennial Anniversary Commission.
In addition to discussing politics and the New Hampshire primary in the media, Levesque also manages the institute, its staff of three, its media studios and an auditorium that hosts six to eight events a week.
Sound stressful? Levesque doesn't see it that way.
"It's hard to have a bad day at work or get old when you work with 20-year-old students who are full of life, big ideas and just haven't been burdened with the idea that they can't do something," he says. "Every day that I work with Saint Anselm students is a great day at work."
Q. What are your goals for 2015?
A. We really want to have the New Hampshire Institute of Politics at Saint Anselm College be the foremost center for public policy and politics in New Hampshire. It's a gathering place now for different business groups, students of Saint Anselm's, media personalities [and] public policy experts all to get together and combine efforts. It's the perfect place to do it.
Q. Any specific events lined up that we should be marking on our calendars?
A. The Republican National Committee has decided that there are going to be nine primary debates and one in New Hampshire. We hope to be the location that's chosen for that.
But we have many different platforms that we will be bringing presidential candidates and their supporters and media types, who know a lot about the presidential campaign, onto the campus for. We have the popular "Politics & Eggs" series with The New England Council. We have our "Bookmark Series," which features authors, and, of course, many presidential candidates become authors as well. And we have public policy speeches in general here that we'll be offering to the campaigns.
Q. What is your message to the business community, specifically?
A. Our institute is really the place where businesspeople can get together with people in politics and public policy and homogenize in a way that you can find out what's coming down the pike, what types of things might be affecting your business. We've seen everything from health care, small businesses [and the] insurance industry all affected by politics, and it's the perfect place for businesspeople to become involved.
Q. What can you tell us about the work of the Presidential Primary Centennial Anniversary Commission?
A. The governor signed a law creating a statutory commission, which has been filled with some outstanding members of the community who are all focused on really two things around the 100th anniversary of the presidential primary.
The first is celebrating this great milestone for the people of New Hampshire, but also helping to tell our story to external audiences outside New Hampshire, so they understand why it's very important that New Hampshire continue to have this primary. The commission is really going to be a resource that other groups that are doing events can use as a resource to tell our story.
Q. Your institute states that it "is committed to the protection of the New Hampshire Presidential Primary." What does that mean exactly?
A. We believe that New Hampshire should be first in the nation and we should continue to hold this primary first. So part of our mission is really to continue to do what we do best, which is really tell the story to outside audiences. We're not here to brag about how great we are. We're here to tell a story as to why this is important to the rest of the country.
Q. What's the elevator pitch version of that story?
A. New Hampshire should be first in the nation because we provide a service here where candidates are grilled and they become better candidates. Money is not a central focus of their campaigns. It's who is working hard and who is giving good messages to the voters that wins out here in New Hampshire.
Q. What advice do you have for other leaders?
A. Some people wonder why we capture so much activity here at Saint Anselm College, and the reason is that we get to "yes." Big media companies, students, media professionals, businesses — when they come here, they want to do something, and if you can get to "yes," you can get whatever it is they want to do accomplished.
So, if Mitt Romney wants to come with Paul Ryan for their first appearance outside the Republican convention in 2012, and they want to put 6,000 people on our lawn and give us three days' notice, and it's Friday afternoon and you're about to go out of town with your wife for the weekend, the answer is "yes," and you get it done. It's the same if you were selling a product. If your customer calls, and they want something done, the answer is "yes."