Q&A with: Ms. Senior N.H. Dianne Durkin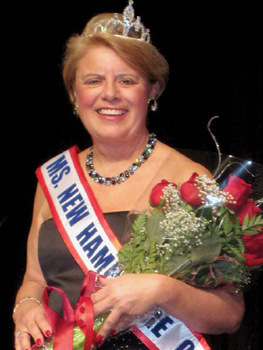 Dianne Durkin, founder and president of The Loyalty Factor LLC, advises clients – which include Monster.com, Fidelity Investments and Wellesley College — on how to maintain customer, employee and brand loyalty.
Durkin, who's authored a book, "The Loyalty Advantage," and is a motivational speaker, was the recent winner of the Ms. Senior New Hampshire pageant. As the state's senior queen, Durkin hopes to increase the visibility of seniors in New Hampshire and encourage people in the state to embrace the pageant and other cultural events.
---
Q. What inspired you to begin The Loyalty Factor?
A. I firmly believe that employee loyalty drives customer loyalty, which drives brand recognition, and I think it always begins internally. You have to work with every single employee in the organization to help them feel like they're an integral part of an organization and in doing so, you build your loyalty. I felt that a lot of companies were not necessarily taking it to the core of the company, which is the people, and I wanted to do that, so that's what inspired me.
Q. How did you apply your previous work experience at Gulf Oil and Digital Equipment Corp. to The Loyalty Factor?
A. At Digital, I ran their largest international marketing program, and so I really had to interface a lot with customers, and that was really a wonderful way for me to build relationships on an international level.
Q. How does Loyalty Factor help to humanize corporations?
A. We help people to really understand how to work effectively together, and how to communicate well with one another, to help people feel safe, comfortable and understood, helping people to really build the rapport and long-term relationships. In doing so, if people can relate at a personal level in an organization, so much more work gets done. They are far more effective, they are far more productive. The retention level is much higher in organizations where people feel valued, and that's really what we try to do with organizations.
Q. What's the most important thing a company can do to make their customers and employees feel valued?
A. Use the two most underutilized words in the English language: "Thank you." So many times people forget to use those words or others, like "great job," or "I really appreciate what you did for me today." Or "I really appreciate the hard work you're putting into the organization."
Q. Do you think enough companies show their appreciation for their employees?
A. No, I don't. There are some companies that are exceptional at it, and there are other companies that are not, and then there's a bunch of companies in the middle. I think the primary reason for it is there's so much pressure, financial pressure, stockholder pressure, competitive pressure on companies that oftentimes managers and leaders get so involved in the financial and business aspects that they forget the people aspect.
Q. What are some of the worst things you find these companies are doing to alienate their employees and customers?
A. Not listening to them, not letting them voice their creative and innovative ideas. People generally can see things that upper management does not see as things that could be improved upon, and leaders and managers often don't listen effectively or ask the right questions of people.
The other thing they don't necessarily do is engage people in solving the solutions. Individuals within an organization have a whole lot of energy to really come up with solutions, and a lot of times, they're not given the opportunity to do so. If given the opportunity, they will surpass all expectations. It's all about challenging people and helping them be challenged.
Q. How much improvement have you seen in the companies you've been dealing with through The Loyalty Factor?
A. In some of our companies, we've seen customer relationships increase from 59 percent to as much as 79 percent. I have another company who started off at about 72 percent, their customer satisfaction levels went up to 90 percent. I have another company that measured satisfaction on a five-point scale, and they started off at about 3.8 and they are now at about 4.8.
Q. What kinds of things do you promote these companies do to build more of a rapport between employees?
A. I think the No. 1 thing we promote is training individuals on how to build that rapport with other people, whether they be in person — meaning are they are a sales organization or if they're on a phone, like a customer service organization. The other piece is training leaders and managers how to appreciate, recognize and value people. And part of recognition is not just money. Money is not the most important thing. A good pat on the back, a wonderful "thank you," or a "job well done" means so much more to people than the monetary reward.
Q. How important is a company's loyalty to its employees and customers during difficult financial times?
A. It's very important, because it costs 10 times more to get a new customer than it does to keep an existing customer, so you really need to listen to and keep your existing customers happy.
The same thing with employees. It costs a lot of money to replace employees and retrain them for the future, and the reality of the situation is, when the market turns around, we're going to need a lot of these people. So you need to keep your really good people, because your good people will be the first ones to leave.
Also, when times turn around, we're going to see an increased labor shortage, because of the baby boomers retiring, so it's even more important for companies to retain their younger talent — what I call the "shining eyes" in the organization.
Q. Which of your skills contributed to your win in the Ms. Senior New Hampshire Pageant?
A. It was my conviction to really help New Hampshire be one of the primary states as part of this pageant. I think many other states have embraced this pageant, much more than New Hampshire has, and one of the things that I said to the judges during my interview was that I really wanted to help the state become very well known and help people within the state understand that 60 is the new 40.
I also said I wanted to give this pageant a whole lot of visibility in the state and that I was committed to travel throughout the state to do opening remarks at various concerts, health symposiums, various other events. I think the judges felt my energy for sure, they felt my passion, and I'm very committed to it. I'm booking close to six to eight engagements a month right now.
Q. What does the pageant mean for the visibility of seniors?
A. I think it gives a lot of credibility that seniors have a lot to offer. And that, at 60, they're just coming alive and that their experience levels need to be utilized in all kinds of venues.
Q. Does this relate to the looming labor shortage at all?
A. Yes, because I think especially baby boomers right now, who thought they were going to be retiring, are not going to be able to retire. At the same time, they want to have some balance in their life, so they're going to be looking for part-time work, and I think companies and organizations need to be open to looking at new ways of bringing people on board and using their expertise, but also providing them with the balance of life that they so desire.
Q. How did you feel when you were crowned?
A. Elated, I guess, is the best word, feeling that this would help me make a real difference in the state as well as with people. And helping them really get energized about their age and what they can achieve. I feel like it's a platform for me to really make a difference in people's lives.
I saw that when I visited the VA hospital in Manchester, when all these gentlemen were coming out in their wheelchairs and they all said, "We want a picture with the queen!" I had so many of them come up to me and say, "Thank you so much for visiting me," or, "Thank you so much for coming over and thanking us for our service." It just put smiles on people's faces, and putting a smile on somebody's face like that, it's worth a million bucks.
Q. You give motivational speeches on a broad range of business topics, but what motivates you?
A. What motivates me is I think it really is all about making a difference with people's lives. I also teach at UMass Lowell and at Plymouth State as an adjunct professor. I had a student that came up to me and he said, "You are the best professor I have had in my entire college life." Another student told me, "You have taught me more in one semester than I've learned in four years." That's what keeps me going, knowing that I am making that type of a difference, and that I'm giving people information that they can use immediately, and that's going to help them have healthier, happier lives, both on an intellectual level as well as an emotional level.