Q&A with Lorraine Merrill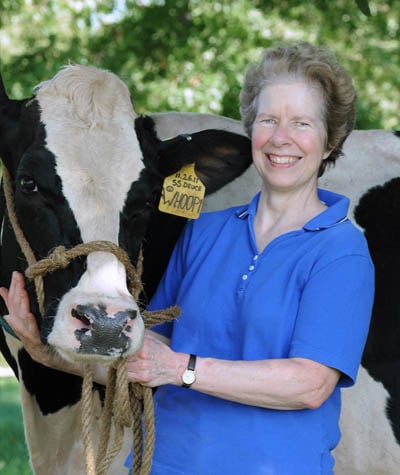 After working her entire life as a dairy farmer, New Hampshire Agriculture Commissioner Lorraine Merrill – the sixth person and the first woman ever to hold the position – is serving her second term in the job. Merrill grew up on the Stewart Farm in Stratham and continues to run the dairy farm with her husband, son and daughter-in-law.
A University of New Hampshire graduate with a degree in early childhood education, Merrill worked in a variety of fields, with experience as an agricultural and general interest journalist, an elementary school teacher, a member of a local school board, and a trustee for the University System of New Hampshire. Merrill believes that background was the perfect mix for her current position.
Q. How did you come to be commissioner of the Department of Agriculture, Markets and Food?
A. My predecessor was Steve Taylor, who was an icon of state government and agriculture in New Hampshire. He held this job for 25 years, so when he announced he was retiring, there was a lot of discussion. I had a lot people who came to me and said, "You would be great for this job." I've been doing this for six-plus years now and I feel very fortunate to have this opportunity.
Q. What do you like best about the work you do?
A. There's a lot of variety – there aren't two days that are exactly alike. I have a deep appreciation for farmers, farming, agriculture and all its contributions to the state. Farmers and people involved in agriculture are just some of the best people you'll find anywhere.
The department itself is very small really, with just a little over 30 people working. We have such a fantastic staff. I always say that our department staff has the farm work ethic. They are all really committed to the mission of the department and serving the public.
Q. Farming seems to be a more viable business option, but even with this growth, what are some of the challenges farmers face in the state?
A. The big challenge is the economic and financial viability or profitability. When people want to talk about sustainability, you look primarily at the three aspects for sustainability. I think that farms in New Hampshire do awfully well on environmental and social aspects. It's the economic leg of that stool that really needs the attention and strengthening.
We have over 4,000 farms in New Hampshire, and most of them are very small. People have different goals for those businesses, but like any business it takes a real combination of people who are running those businesses. They have to be very smart. In agriculture, there are so many systems that people have to deal with. It is a challenging business and it's not a high profit margin business. It's not easy, but we've got some very smart and talented farmers and agricultural operators out there and the natural resources to do it.
Q. What do you think of all the recent agricultural legislation that's been passed over the last year, such as the bill enacting the Farm to Plate Program and others that loosen restrictions on smaller farmers?
A. We're seeing that there's so much interest in local farms and local foods. There's been a larger growth of awareness in the value of local agriculture and how fresh and healthy the food is. There's been more interest in the Legislature in supporting the local food movement, and I think that's where a lot of the activity has been.
There are all kinds of ways farmers can sell directly to consumers, and that is definitely a part of what makes farming so viable in New Hampshire. More of the consumer dollar can stay with the farmer.
Q. How do you see the future of farming in the state evolving thanks to all this work that's been done?
A. It's going to be really interesting to see what happens. At first, some people were suggesting this "local food" movement was a fad. I don't think it is. It just seems to be gathering momentum. I tell people, eating local becomes addictive, because once you get used to the quality and freshness of what's available, it's hard to go back. Just this summer, we've had reports of farmers and farms doubling or tripling their sales.