Q&A with Lobbyist and small-business advocate Bob Clegg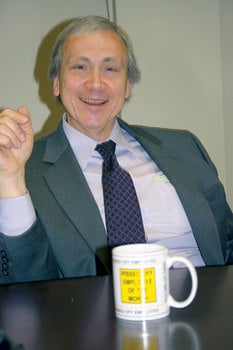 Bob Clegg is a Hudson contractor who has had a long and varied career in politics, eventually rising to become Republican leader in the state Senate. Today he works as a lobbyist and is founder of the New Hampshire Small Business and Small Industry Association.
Q. When you were senator, every time you began a speech, you would say, "I was once a small-business man." Tell us about your businesses.
A. I ended up going to work for the guy that was building my house. They were all friends of mine, and before I knew it, I bought into the business, and we just grew from there. There were different names for the businesses. CNC construction was one of them — Clegg needs cash.
Q. How did you get involved in politics?
A. I had a problem with the workers' comp rates, and I called the state representative and said, "You got to do something," and he got pretty nasty and said, "If you don't like it, why don't you come up and do it yourself?" So I did.
They put me on the Labor Committee. They had it all taken care of, and I would just vote – "We've already made our deals." And I said, "You don't understand — you don't have it right." The reforms that actually happened were based on the fact that we wouldn't say yes.
Q. Give us one highlight of your Senate career.
A. When the insurance industry attempted to remove obesity-related surgery from insurance coverage.
Q. You had had the surgery yourself, but it still was kind of like Nixon going to China.
A. Exactly! But you know it was the right thing. When you have someone taking 15 shots or pills for diabetes a day, he was costing the system before he had the surgery.
Q. Have you changed you mind about other health insurance mandates?
A. When it comes to methods that actually produce a cure, then I think we ought to look at it.
Q. You were critical of the Business and Industry Association on the Senate floor.
A. It started in the House. They came in and said, "Please increase the business profits and business enterprise tax. We want to help with the school-funding issue." Well, we increased that tax and took a lot of flack from businesses. I said to them speak to the people who claim that they are the state's chamber of commerce.
My final problem was about a bill that would make it easier for businesses to work with a leasing company. The BIA board voted to support it. All of a sudden, their big member, Liberty Mutual, said you can't do that, because we won't make as much money. What about all the people that are involved in these employee leasing organizations? All the companies that do business with leasing companies are smaller companies.
Q. Is that why you started your organization?
A. We started the Small Business and Small Industry Association to show people that we are not interested in representing Public Service or Liberty Mutual. BIA – which we have publicly called the Big Industry Association — that's their venue. They can keep it.
Q. How are you doing in building your organization?
A. We have 498 people. Very few people have been able to afford the dues. We didn't open this to make money. Let's face it – small-business people are in business to make a living and are barely make a living.
Bob Sanders can be reached at bsanders@nhbr.com.