Q&A with Laconia Savings CEO Mark Primeau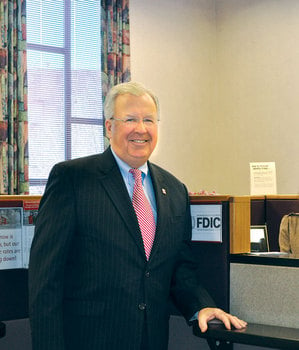 Laconia Savings Bank began as Meredith Bridge Savings Bank in 1831 and the bank's charter was signed by then-Gov. Franklin Pierce. At the time, the population of New Hampshire was around 270,000 people and Portsmouth was the state's largest city with around 8,000 residents. Manchester was an otherwise unremarkable Merrimack River town with a population around 900. The Civil War would not happen for another three decades.
Laconia itself didn't officially exist as a town until it was carved out from pieces of Meredith and Gilmanton a few decades later. In 1869, the year the Transcontinental Railroad was completed, the bank officially became Laconia Savings Bank.
Fast forward to 2011 and the bank is celebrating its 180th anniversary as the oldest and largest state-chartered bank. It's a mutual bank, which means it's owned by its customers and doesn't pay dividends to investors.
"New Hampshire is our home and we do all of our business in New Hampshire," said Mark Primeau, president and CEO of Laconia Savings Bank since 2008.
The bank, which reports more than $1 billion in assets, has 19 branches across the state and will add two new ones later this year in Rochester and Manchester. Primeau talked to New Hampshire Business Review recently about the bank's anniversary, the state's economy, and the importance of being a mutual bank.
Q. How and when did you join Laconia Savings Bank?
A. I arrived in March 2008. I was very fortunate to be recruited. I had 20 years of experience as a senior banking executive with Eastern Bank in Boston and wanted to be a CEO and president of a bank like Laconia Savings. It happened that I fit their profile and the timing was excellent.
Q. What is the significance of the bank's 180th anniversary?
A. It makes us one of the oldest companies in the state and I believe it's been one of the best managed. It shows, through thick and thin and many recessions, the bank's management had always been prudent and they kept the bank well capitalized. I've been in banking for over 35 years and I would say that the 180th anniversary is a testament to the staff management and employees. They play the central role in making a difference to the financial dreams of the individuals and the businesses we serve.
Q. What are customers looking for in a 21st century bank?
A. I think they want every convenience such as online banking and access to outstanding personal service. Every bank offers pretty much the same services, but in an old-fashioned way, customers still want to deal with people they trust and who show they care about their financial needs. In our case we have a three-legged business stool of retail, commercial and investment services and local branches with people who care about the needs of our customers.
Q.How does a bank stand out in a competitive marketplace?
A. We are the largest and oldest New Hampshire-chartered bank. This means that New Hampshire is our home and we do all of our business in New Hampshire. We believe the state really needs strong locally-run banks because without them, there would be a great loss in services and investment in our communities.
The locally focused customer service we provide, which includes significant financial support to nonprofits, has led to many referrals from our retail and commercial customers. They know that the money we make is returned to the bank as capital and not paid out to investors.
Q. How do you assess the current state of the New Hampshire economy?
A. It's getting better and we hope that will continue. The state's job growth has exceeded the national average and there's continued growth in the export sector. Despite troubles in the housing market, we think it's stabilizing. We currently have only a handful of foreclosures we are dealing with across the state.
The big fly in the ointment could be rising energy prices which is always a concern and could impact the tourist sector. Overall, while the economy may not be as robust as it could be, it is improving.