Q&A with: Jay Minkarah, Manchester economic development director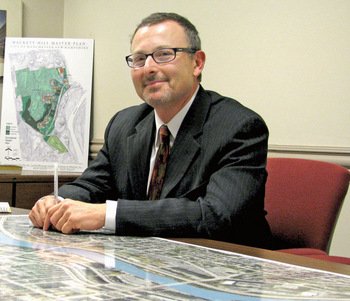 Not too many folks grow up wanting to be urban planners, but Jay Minkarah did. Arriving in New Hampshire out of college after growing up in Cincinnati, the self-described "geeky kid" eagerly took to the Nashua Regional Planning Commission. Joining the town of Merrimack in 1994 as its community development director, he flexed his economic development muscles by helping to bring to the town such companies as Fidelity Investments, BAE Systems and PC Connection, to name a few.
By 2007, the 46-year-old divorced father of three grown children began to guide the largest city in northern New England in its own economic development as the director of economic development at the Manchester Economic Development Office.
---
Q. How did you get into economic development?
A. My undergraduate degree is in urban planning, and I had always been interested in cities and how they develop. When I got older, I started seeing the problems of development — urban decay. Understanding what was happening and why was always real interesting to me.
When I was in high school, I met somebody that was an urban planner. I thought, "Wow! That's exactly what I want to do." I couldn't believe that there was a job like that.
I came to New Hampshire as soon as I got out of school and went to work for the Nashua Regional Planning Commission. I worked there as a regional planner for eight years.
The last three of those years, I was in law school at the time. I decided that was the direction I wanted to go. At that time, there was tremendous growth in southern New Hampshire. I felt that planners kept talking about the problems of expansion, but we never did anything about it.
I became somewhat disillusioned by it. It seemed like all we did was talk about problems, but we never solved anything.
I went to law school, because it's basically the legal framework with which we are working that enables this type of villain. I came to appreciate that you can't expect to dictate the process — change comes slowly. Even "smart guys" like me don't know everything. There are so many people that need to come together to make a community, so many different components. You need to understand that and appreciate that. That's why we have processes for doing things.
Q. What attracted you to the position in Merrimack?
A. I think there were a lot of things going on there that people didn't appreciate, and that got me even more interested in the economic development side of things. Merrimack is really one of our largest business centers, and people don't appreciate that. They have some of the largest employers there — Fidelity, BAE is there with a large facility, Anheuser-Busch. PC Connection.
When I got to Merrimack, the site that's now Fidelity was Digital Equipment. The job losses there were dramatic; I think there were 2,000 people laid off. What an impact on that community! Post Road Plaza was the former shopping center on Amherst Street, which was then referred to as "Ghost Road Plaza." I think there was almost nothing in it at the time. That's now PC Connection.
To me, I was able to really see these tremendous transformations that happened, the jobs that came into that community, the tax base that was built into that community, and I really came to appreciate how that came to pass.
Merrimack put in the infrastructure. By that I mean they had the access, both D.W. Highway as well as the turnpike and the exits; they had the water and sewer capacity to support that development; and they had a sufficient supply, an ample supply, of properly zoned land in the right places. Everything wasn't a fight. And their regulatory scheme was very flexible. I don't mean it was lenient; it wasn't. Merrimack was a leader in adopting new and innovative land-use controls.
Those are things that a lot of communities fail to put together. They have industrial land zoned in places where industry doesn't want to be. So many communities have requirements just because they think they should have them, not whether they actually need them.
Q. Where do you stand on the outlet mall in Merrimack?
A. I think it's a good thing for Merrimack. It's important for a couple of reasons. Merrimack has virtually no retail. Normally, I'd say the community is better off leaving industrial land industrial. But in this case, there's a lot of industrial land in Merrimack, and the fact that they don't have retail, is really an opportunity to get that. Not just because it's going to bring in other shoppers, but because it's going to provide people in Merrimack a place to shop. And most definitely the tax base it brings for Merrimack is tremendous.
Q. How different was it be on the city side of things when you went to Nashua as opposed to regional planning?
A. It was very different. On the city side, obviously, you're just working for one municipality, not several. But in the regional planning context, you're really working as a consultant. You come in, you make your recommendations, and then you leave. Ultimately, they are not your employer.
Q. Where does FairPoint's operations center project in Manchester stand? They were supposed to have a facility with some 100 employees.
A. We really don't know, but we are getting jobs here, and most of those are going to be good jobs. To the best of my knowledge, they are still moving forward with their plans to have a data center here.
Are things progressing slower than they had hoped? I think that's the case. I most certainly feel that they're going to be a more and more important part of the community.
Q. What are Queen City business owners telling you about how they're facing the economy, especially the lending climate?
A. Right now, I think things are still very, very uncertain. Nobody knows what's going to happen or how it's going to affect them.
I think the thing that's affecting people the most right now is simply the uncertainty. It does appear as though it is getting harder for people to get loans, but I think that ability to get credit right now in our area is not as bad as it seems to be nationally.
Q. Are the bars the lending institutions are setting at sensible levels or are they artificially high and reactionary?
A. We definitely have banks that are able and willing to lend. Are the standards getting tighter? It appears to be that way.
We are obviously concerned for larger projects. There's definitely an impact in terms of the ability to get financing. And we're hearing that getting financing today for some long-term projects is extremely difficult, particularly if the word "condominium" is associated with it.
I think the bigger impact right now to us is the impact on the housing market generally. That affects people in a few ways. Obviously, if you have a residential project right now, you're probably not building anything unless you're subsidized in some way.
That impacts our buildings, that impacts all the people who are involved in the trades, that impacts lenders. It also impacts, directly, not just homeowners, but businesspeople. So many people who have gone into business for themselves did so in part because they're financed through the equity in their homes. That is an area where you see people not able to tap into anymore. That's a problem, and I think it's going to take a while to rectify.
We've got businesses being hit from different directions, and I don't believe it's rippled through. Not yet.
Q. But New Hampshire is doing better than many states.
A. On the positive side, we tend to be more conservative about so many more things than most. You didn't see the kind of speculative building here that you saw elsewhere. During most of the '90s and the early 2000s, when we saw the economy booming and jobs booming, I was hearing estimates that we were building at about half the rate that was needed. That's why vacancy rates fell so low and pushed prices up.
And I think you had people here that were less likely to purchase homes with no money down and take out exotic mortgages. There was just less of that type of lending here, and that has helped to insulate us from the worst of this. We're not going to escape impact, but I do believe that we will avoid the worst of the impact.
I do believe we'll weather this — not completely unscathed, but we'll weather this. I don't like to make predictions any more, though – how can you?
Q. What are some of the out-of-the-box ideas you have to attract businesses to Manchester?
A. I would say the best things that we can do really aren't out of the box. You need to have the proper infrastructure in place to sustain the development you want. You need to have a good regulatory scheme in place. You need to have a sufficient amount of property that's properly zoned in the right location to meet your goals.
The most important thing for us to remember as a community is we need to be the right location. The rest of it is important, but that foundation has to be there. We have to have the roads and the bridges there. We have to make sure that our zoning and our planning makes sense for who we are and where we are. Maintaining that infrastructure and providing the improvements we need is critical.
One of the most important things to us is the Manchester Boston Regional Airport. It's important that we continue to invest in it and expand the airport in terms of carriers and flights. Airport development is and has to remain a top priority for us.
Another very critical component is workforce development. You need to have a sufficient number of people with the skills that are needed to drive our businesses and our industries. It is absolutely vital that we do that both in the general public school system and very much in terms of the higher education system.
Q. What company or industry would you love to have a presence in Manchester?
A. I would very much love to see a major biotech firm establish a headquarters in Manchester. I say that because we have a range of target industries, and we have some real strengths, but that's one we don't have. My hope is that the Northwest Business Park at Hackett Hill will become the location.
Cindy Kibbe can be reached at ckibbe@nhbr.com.